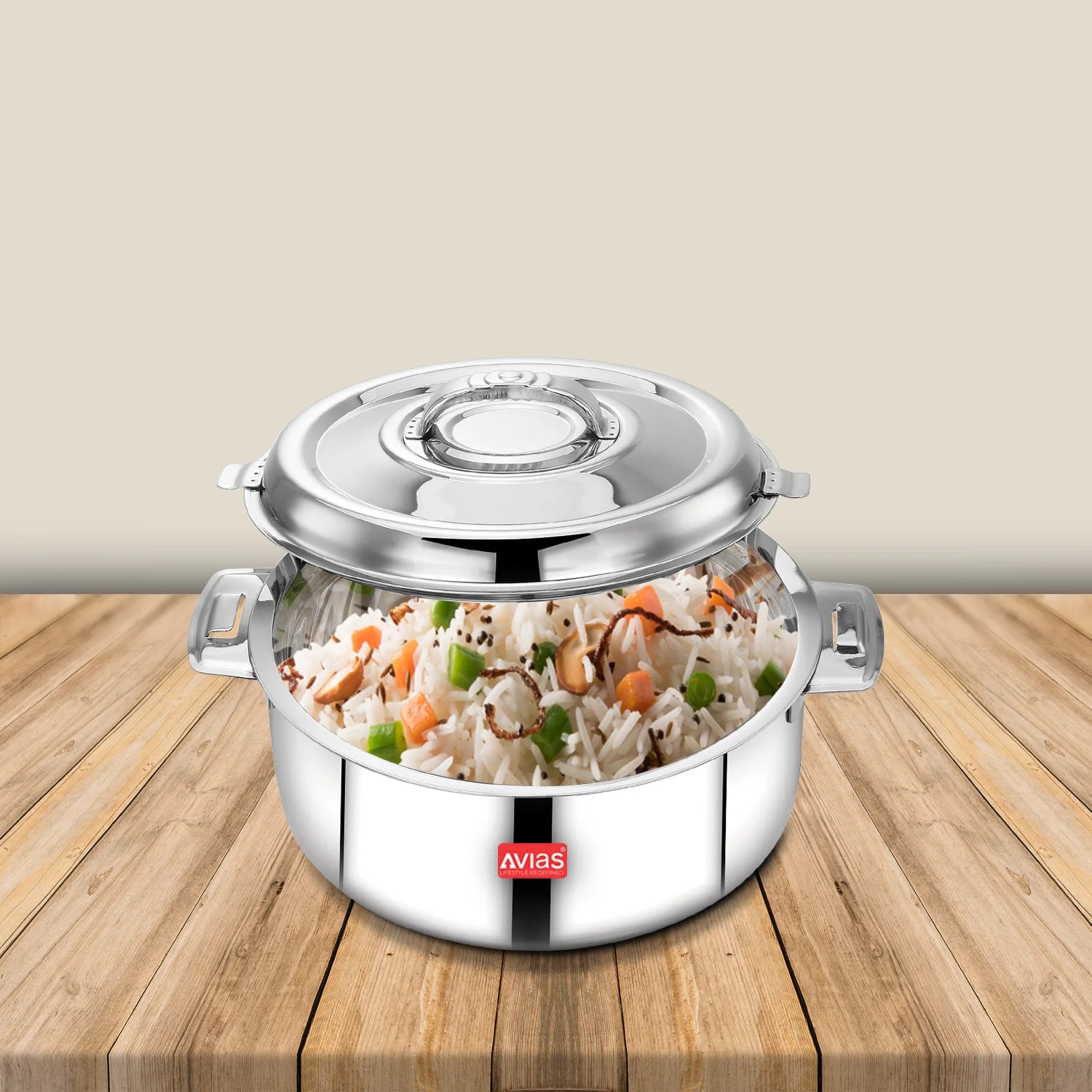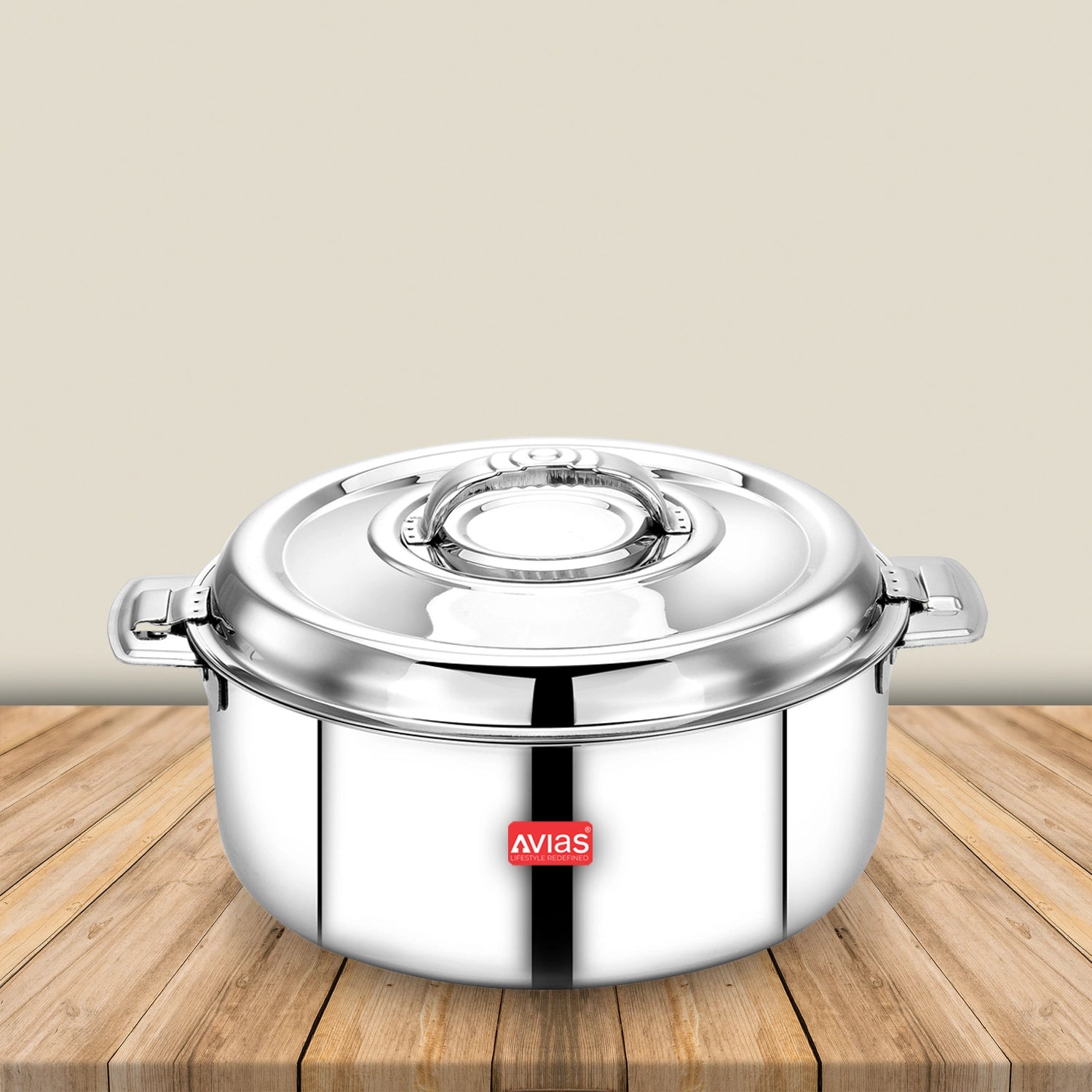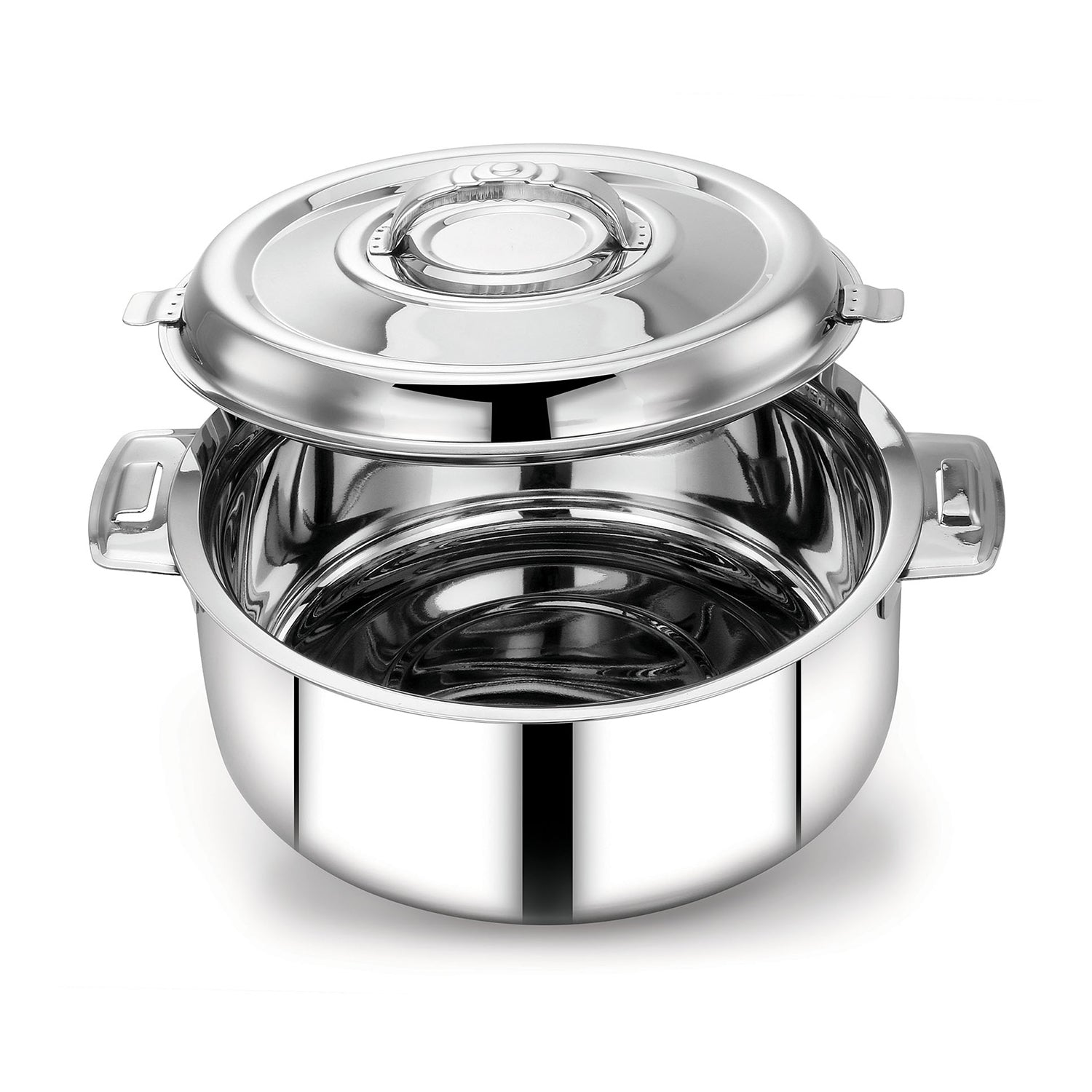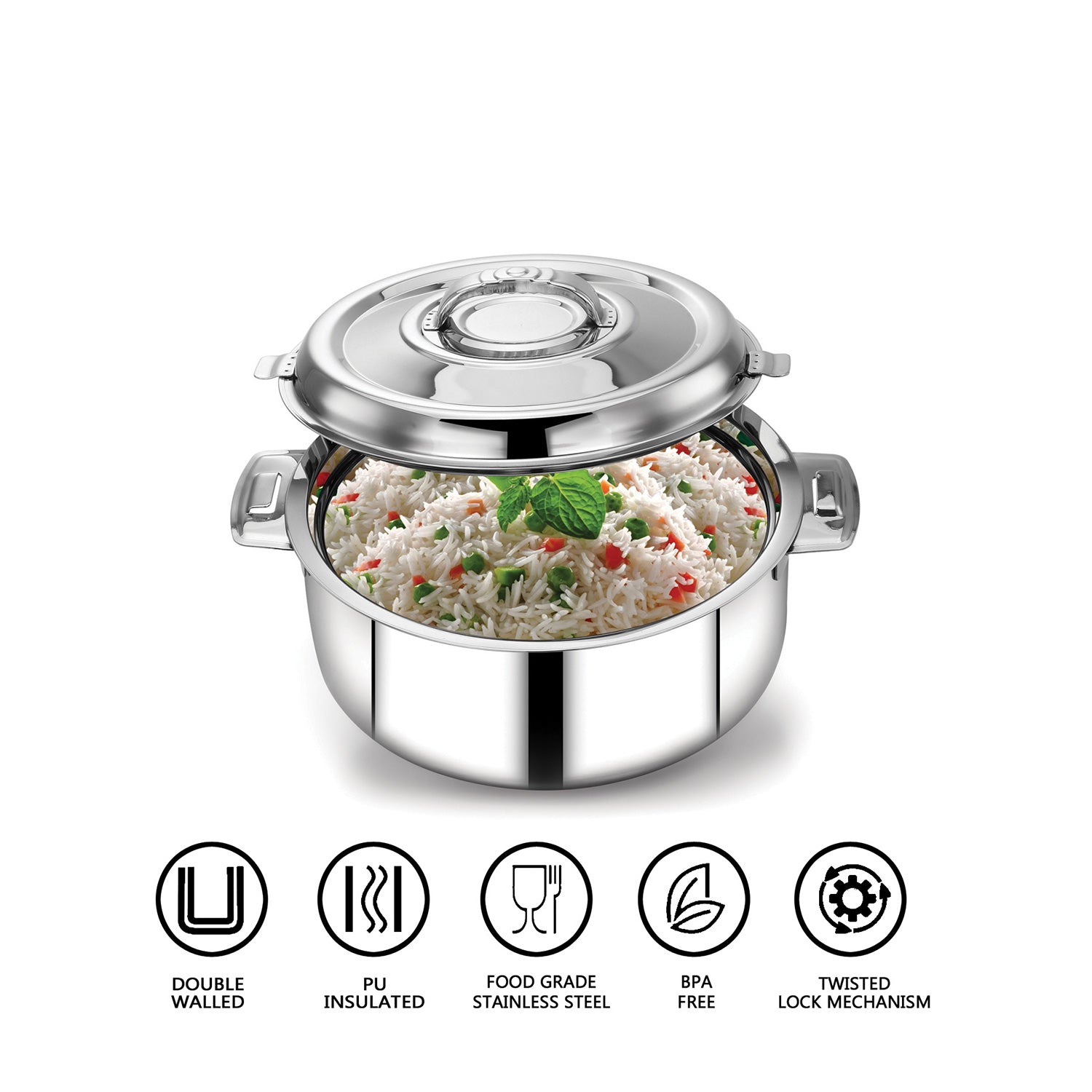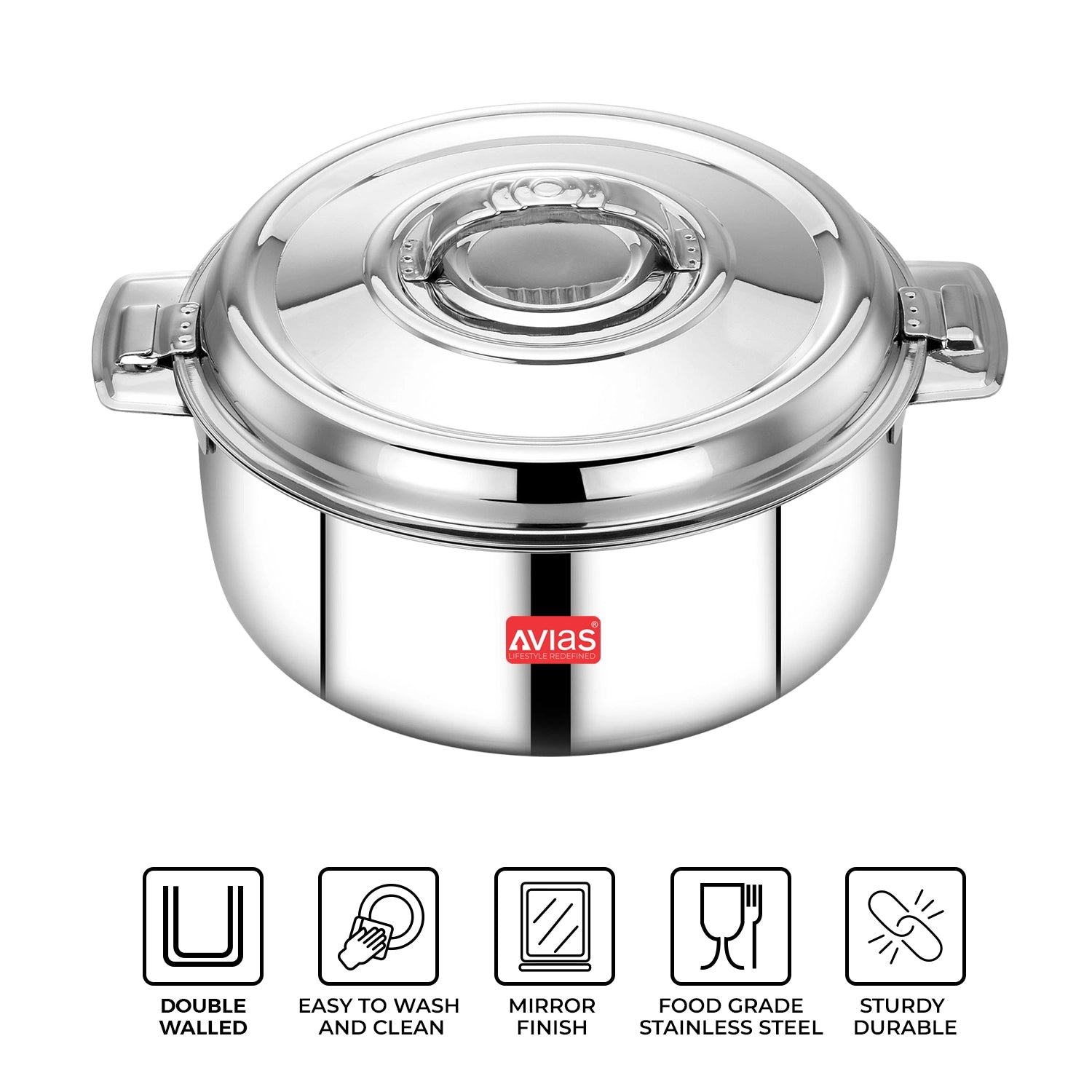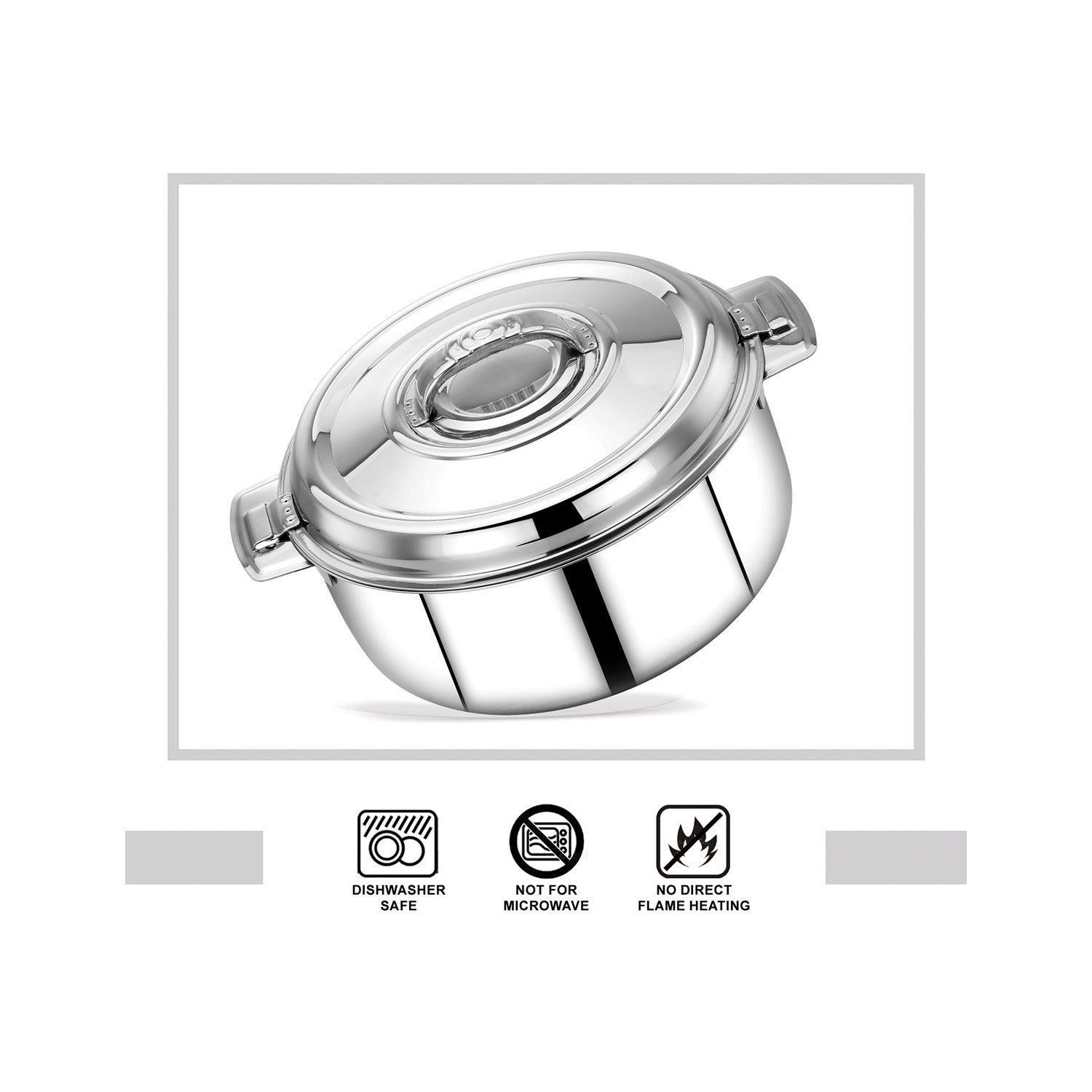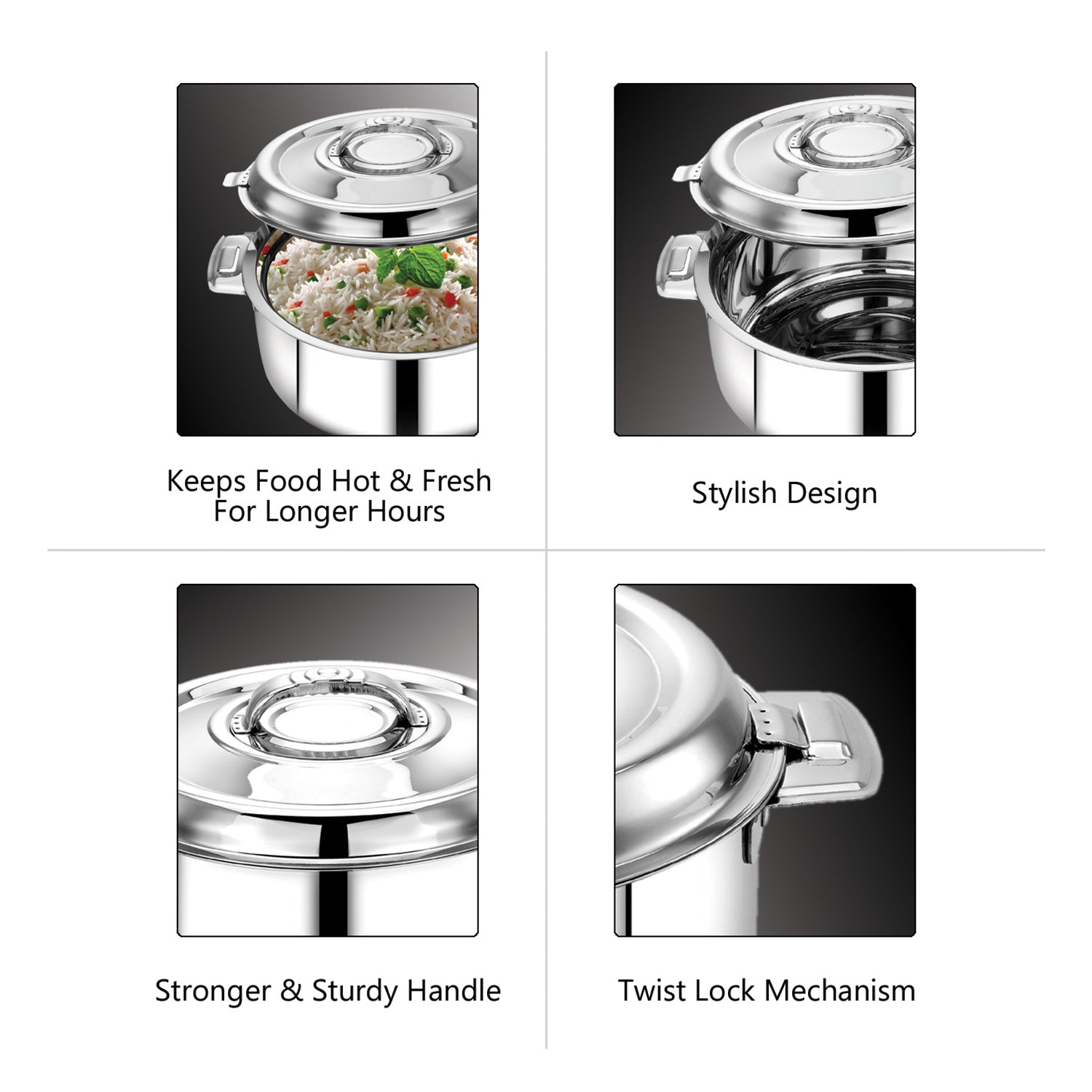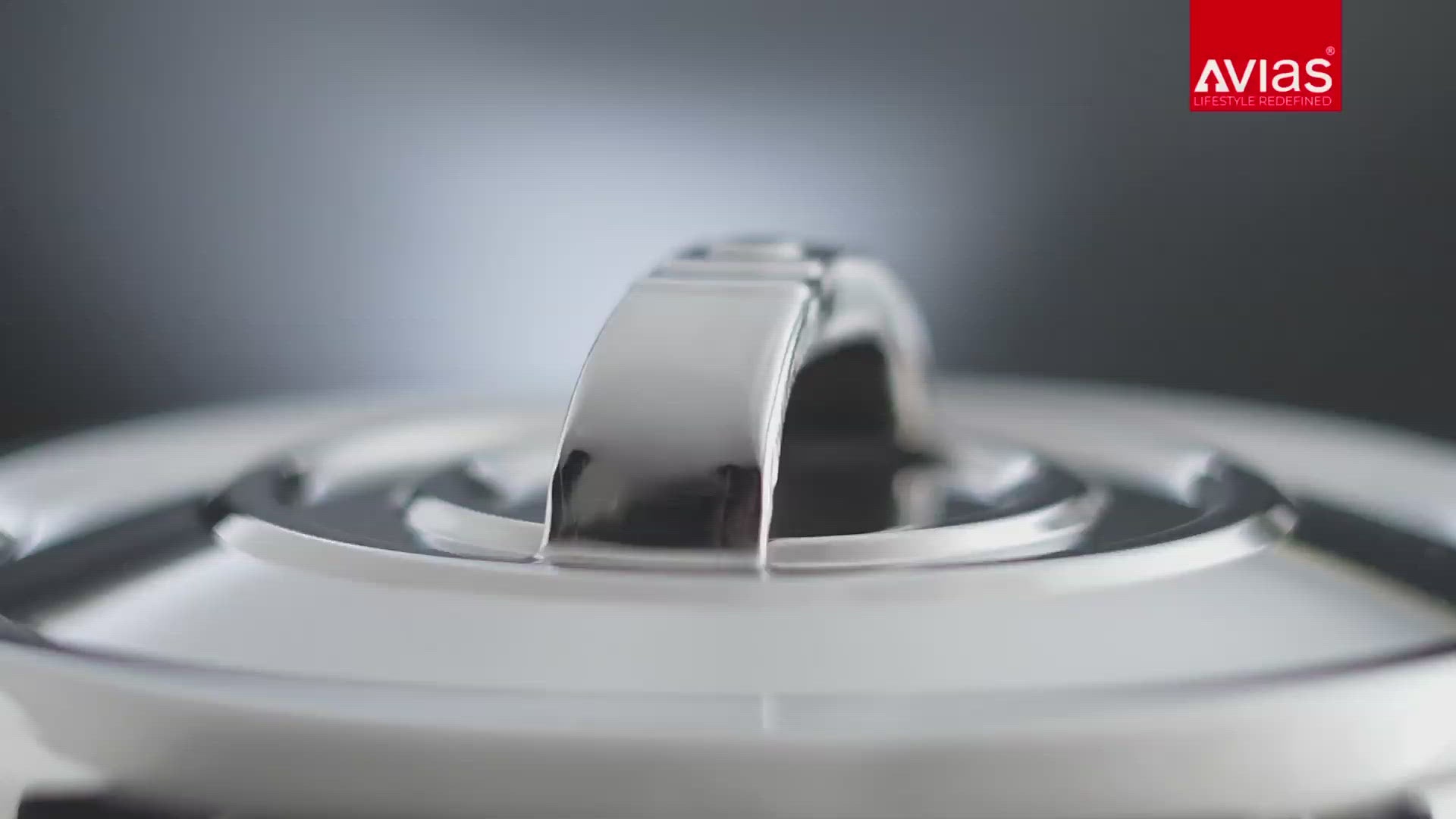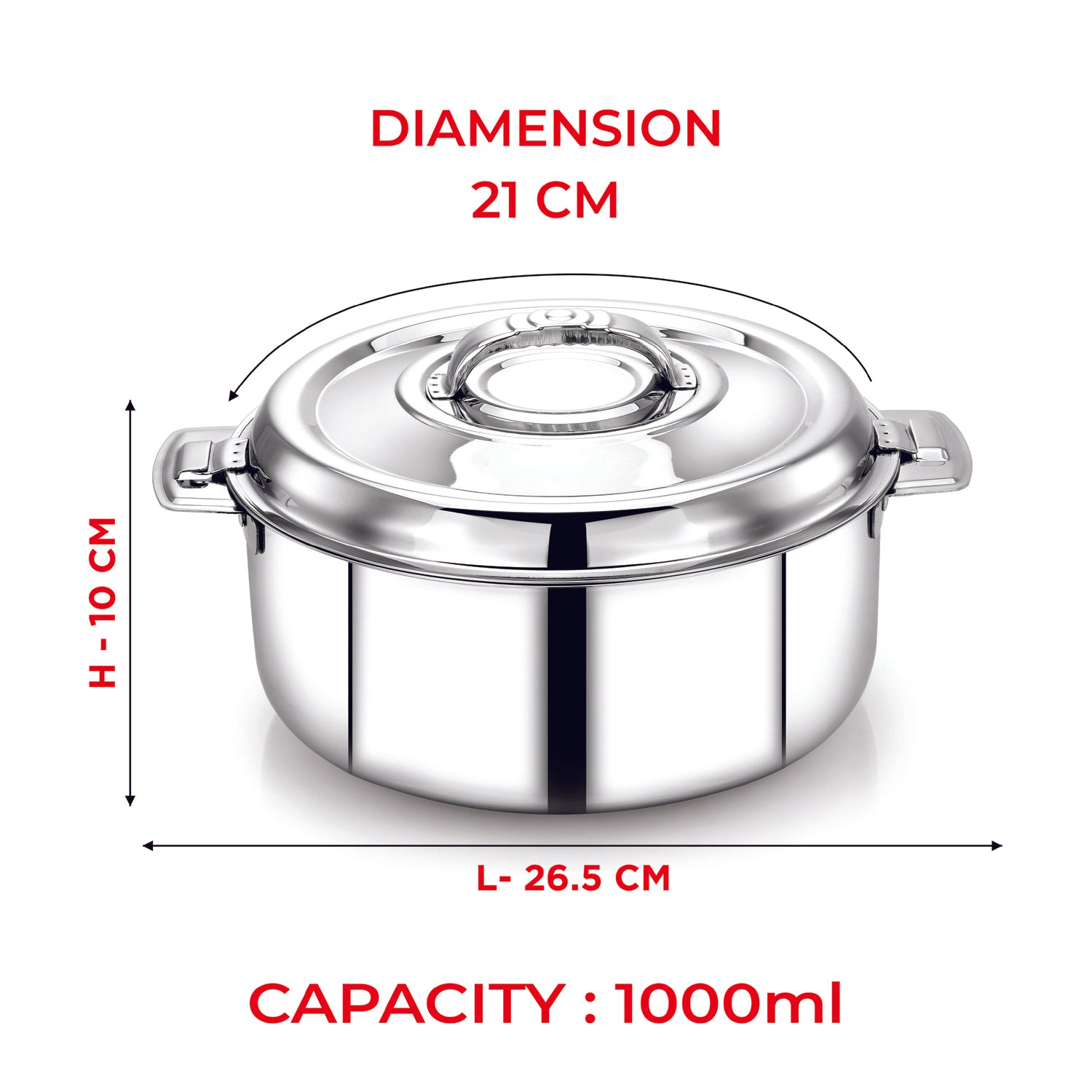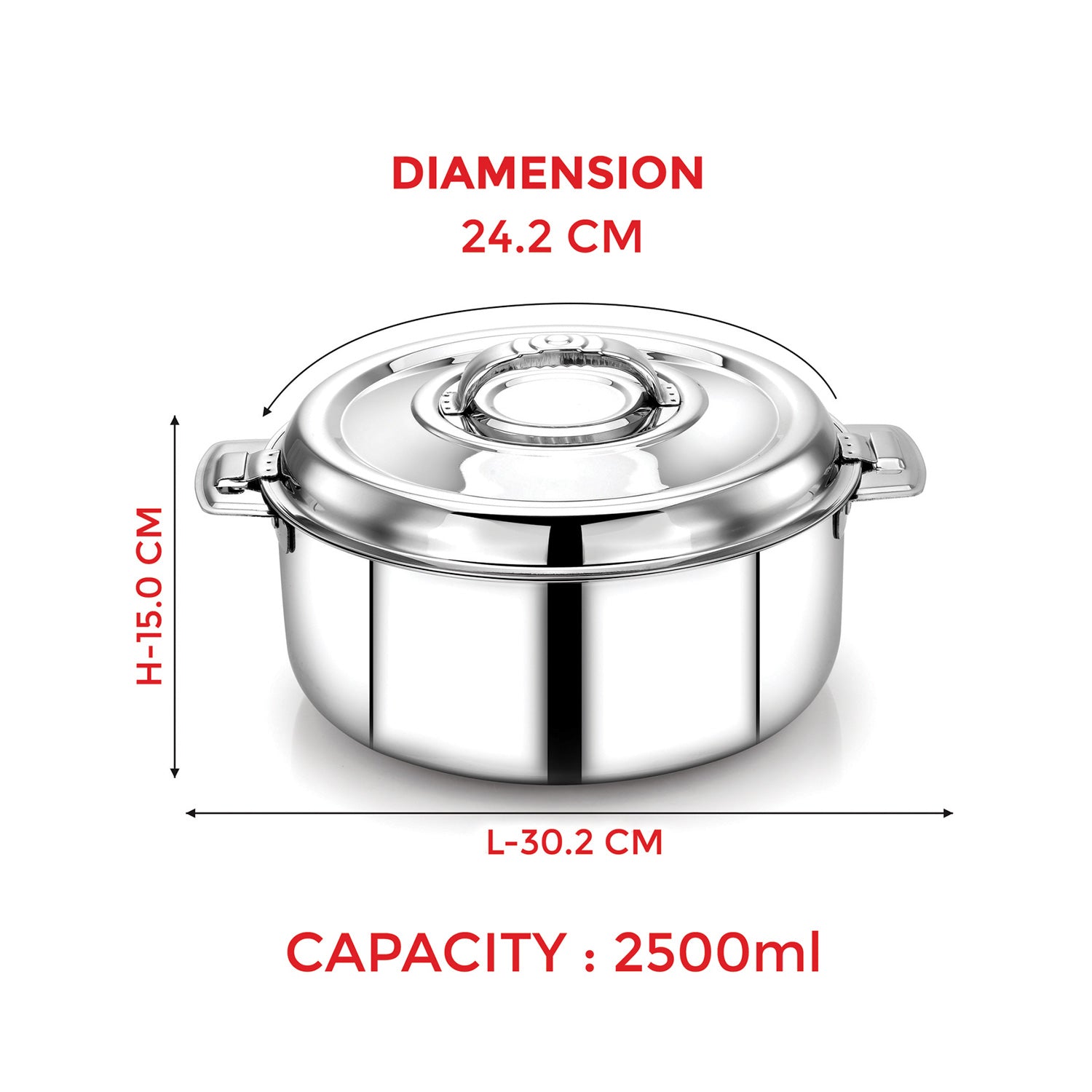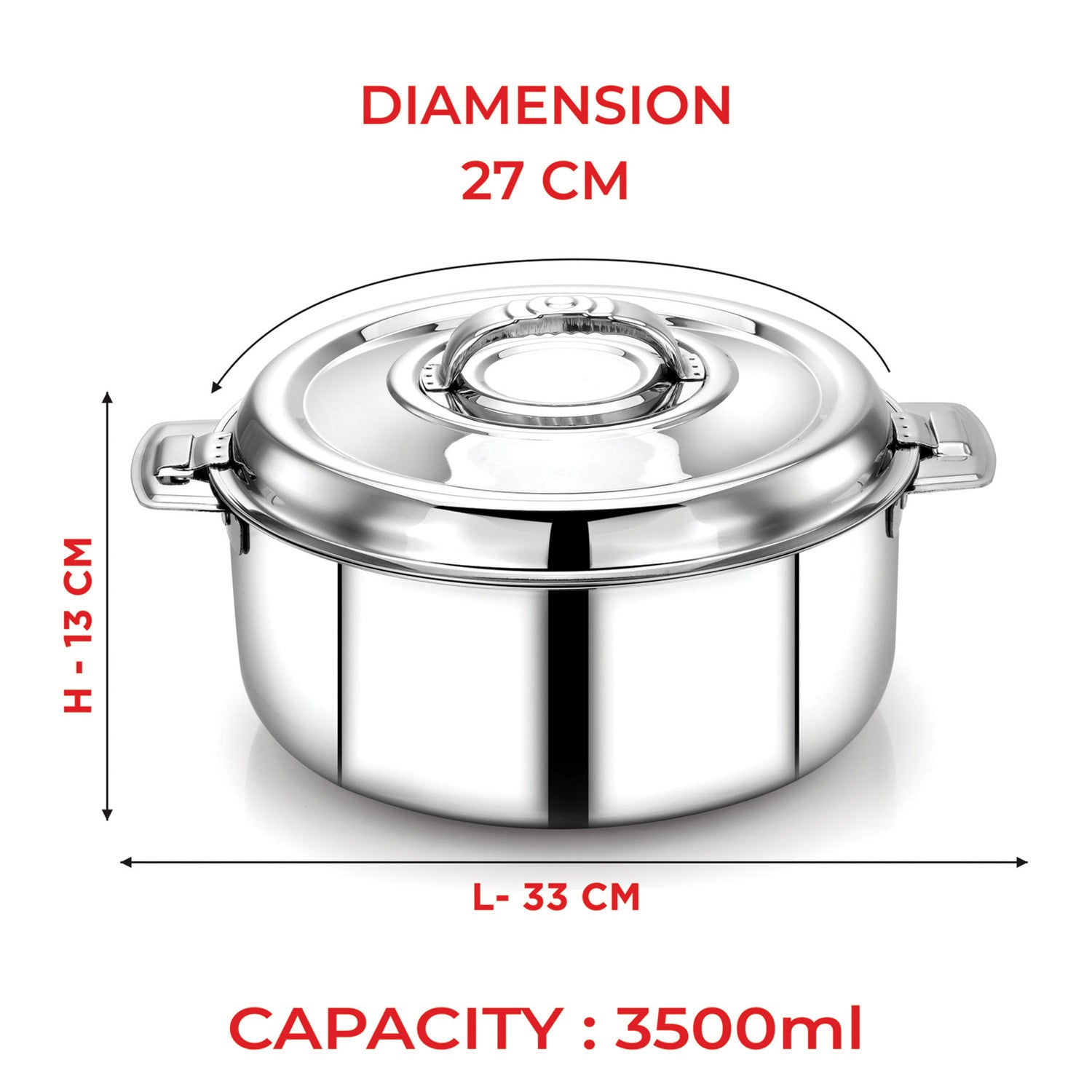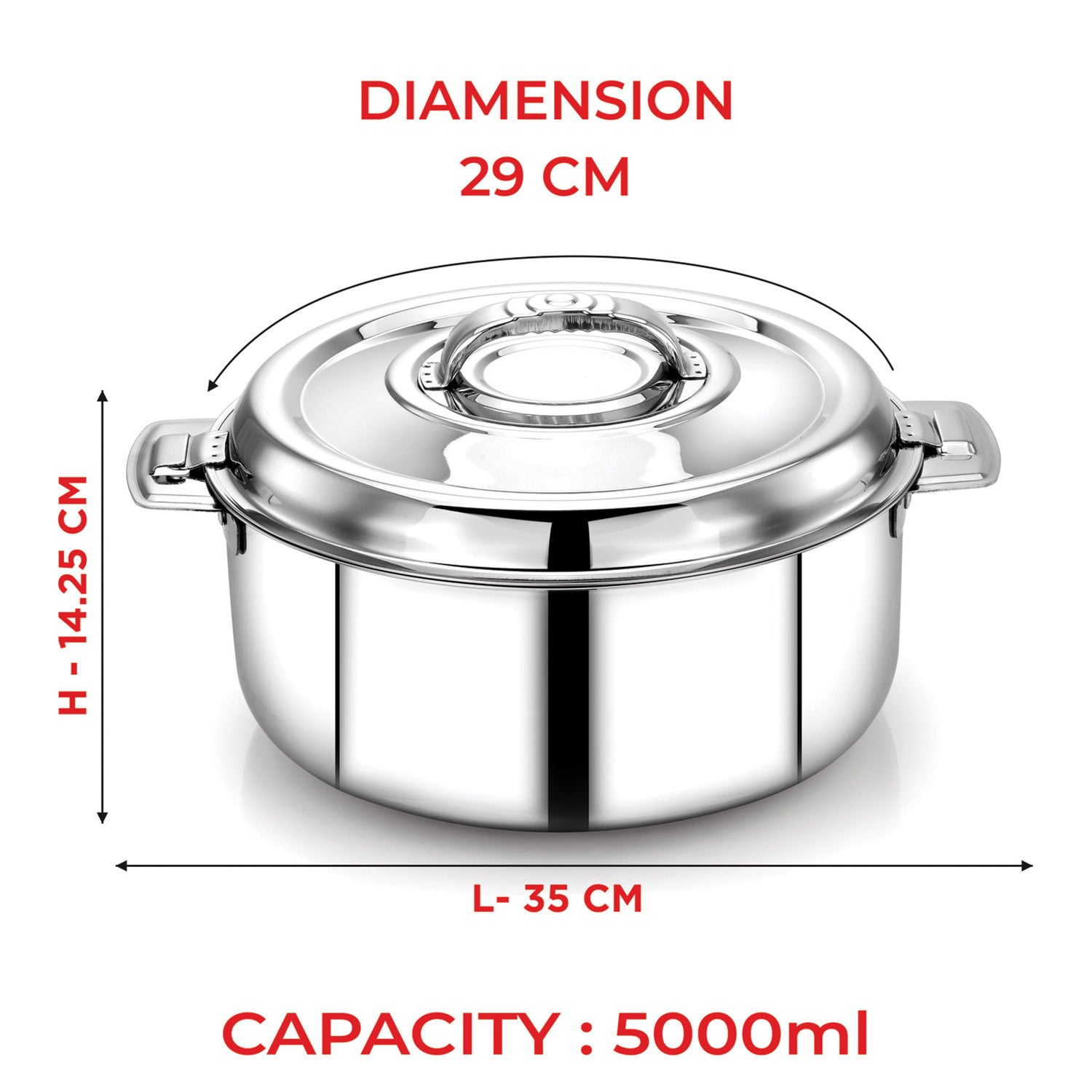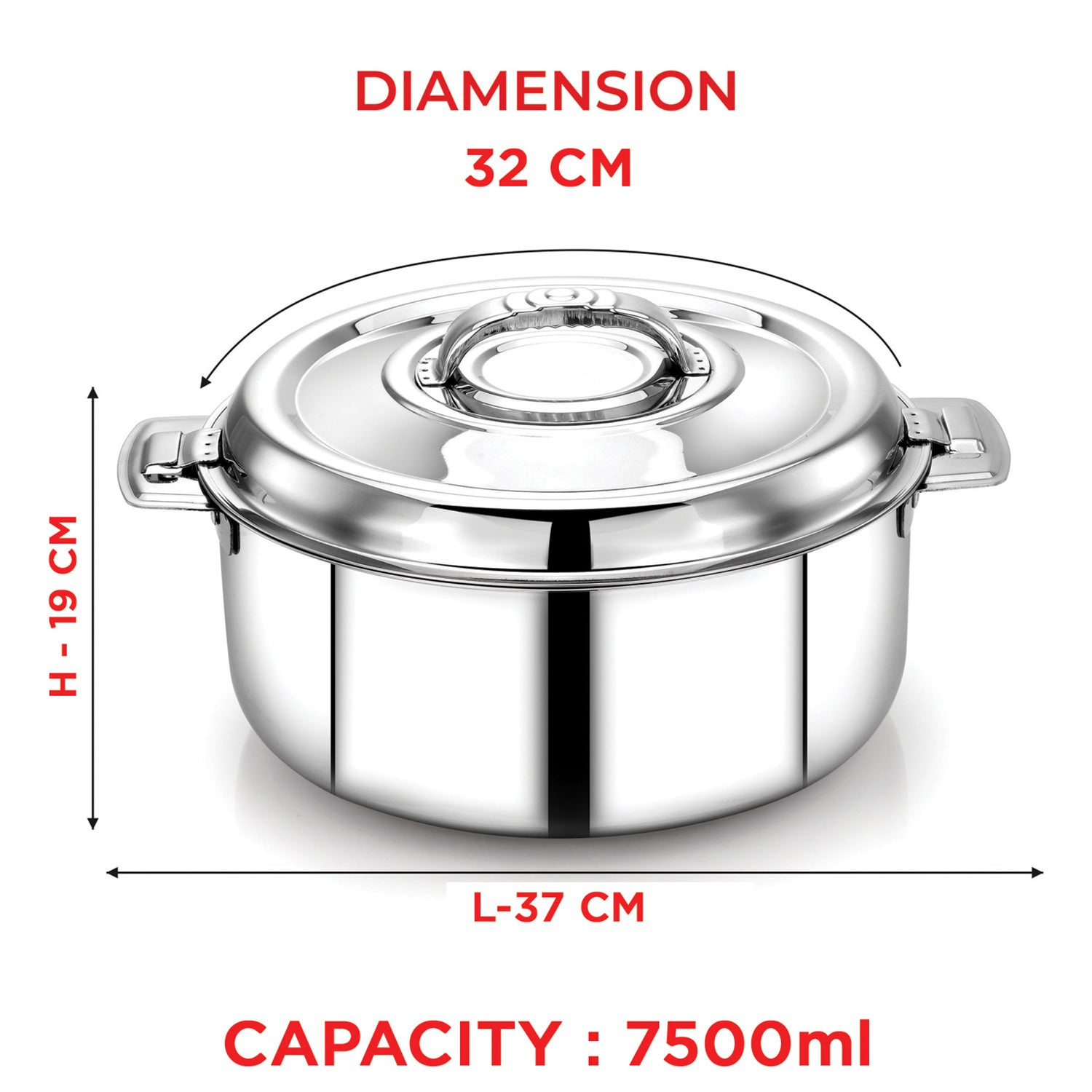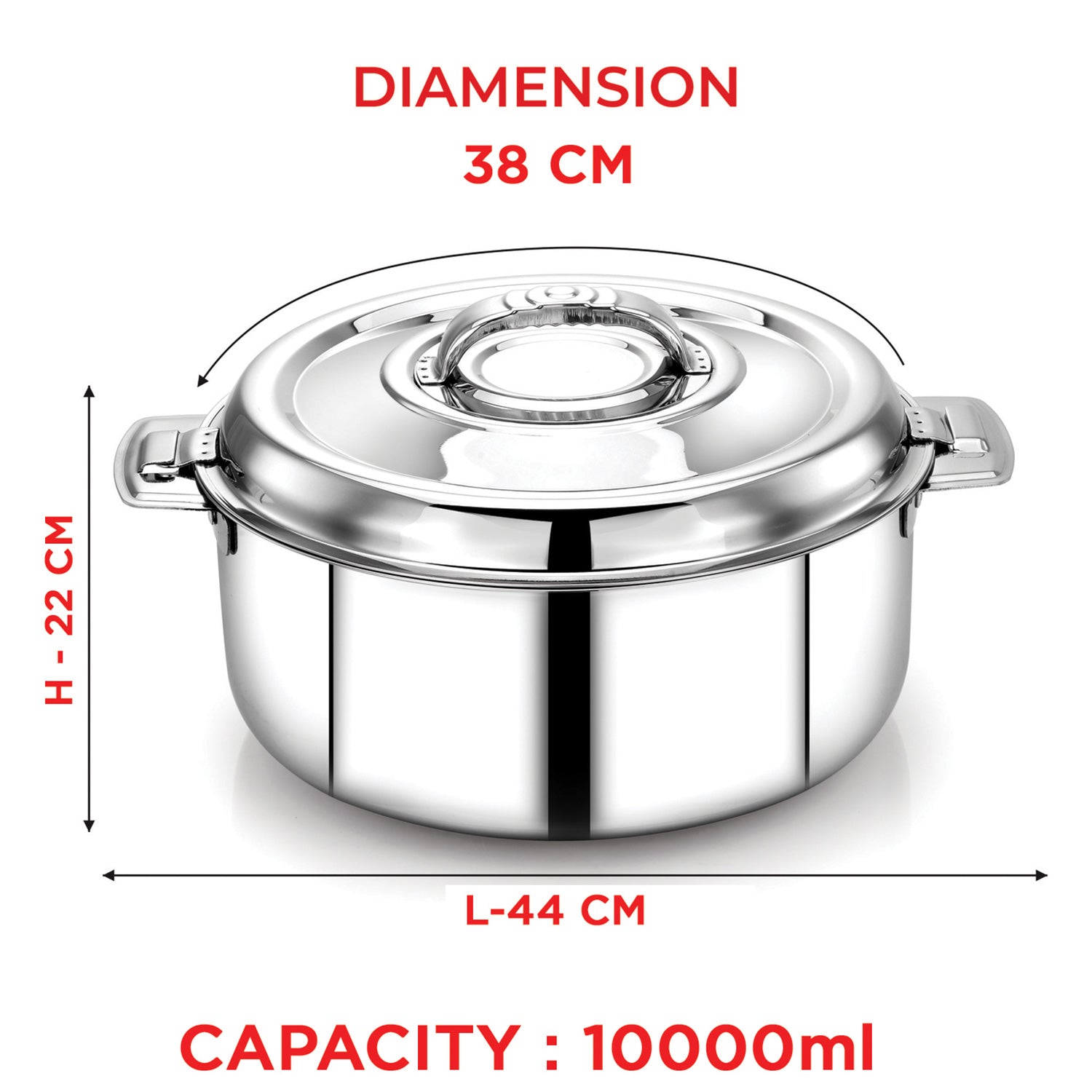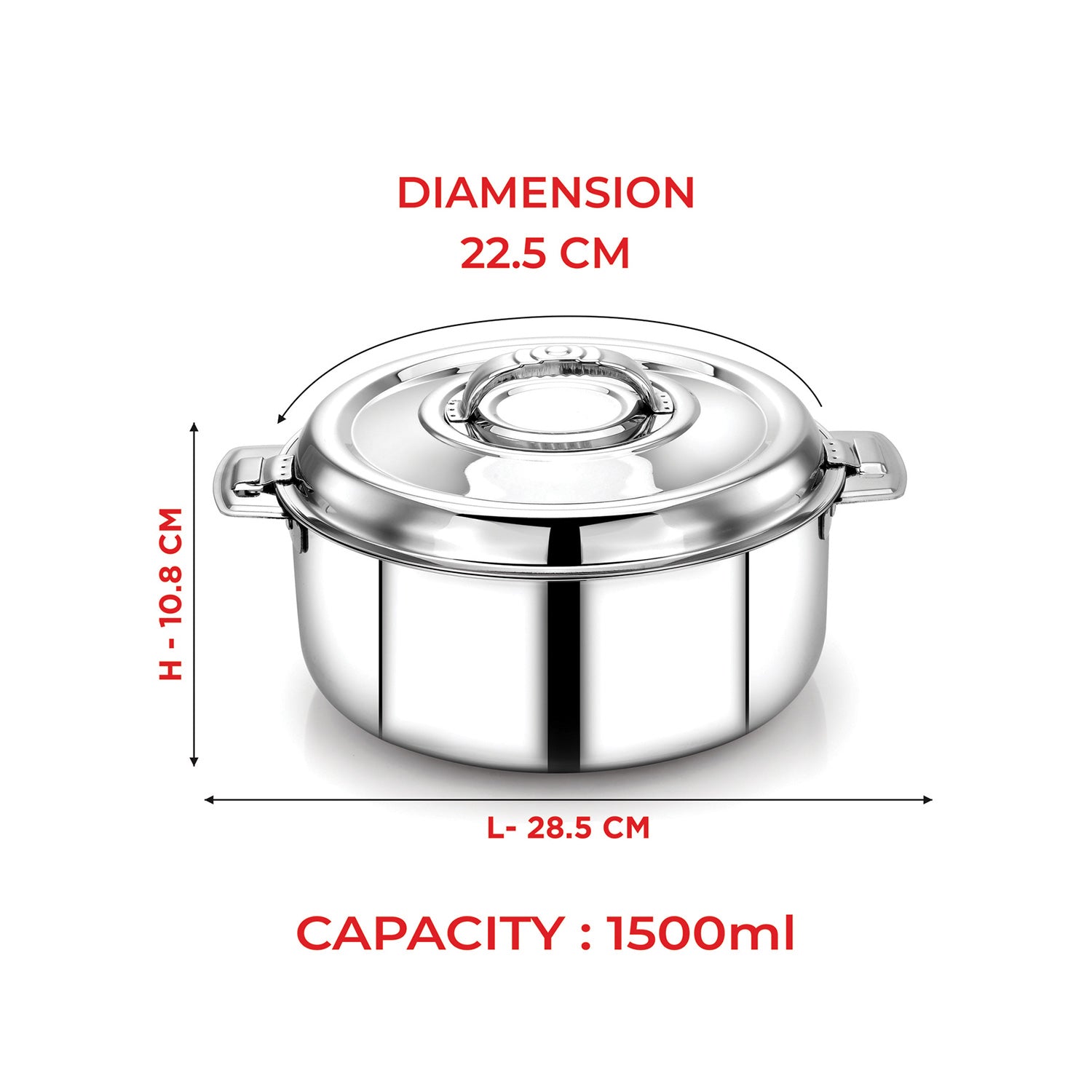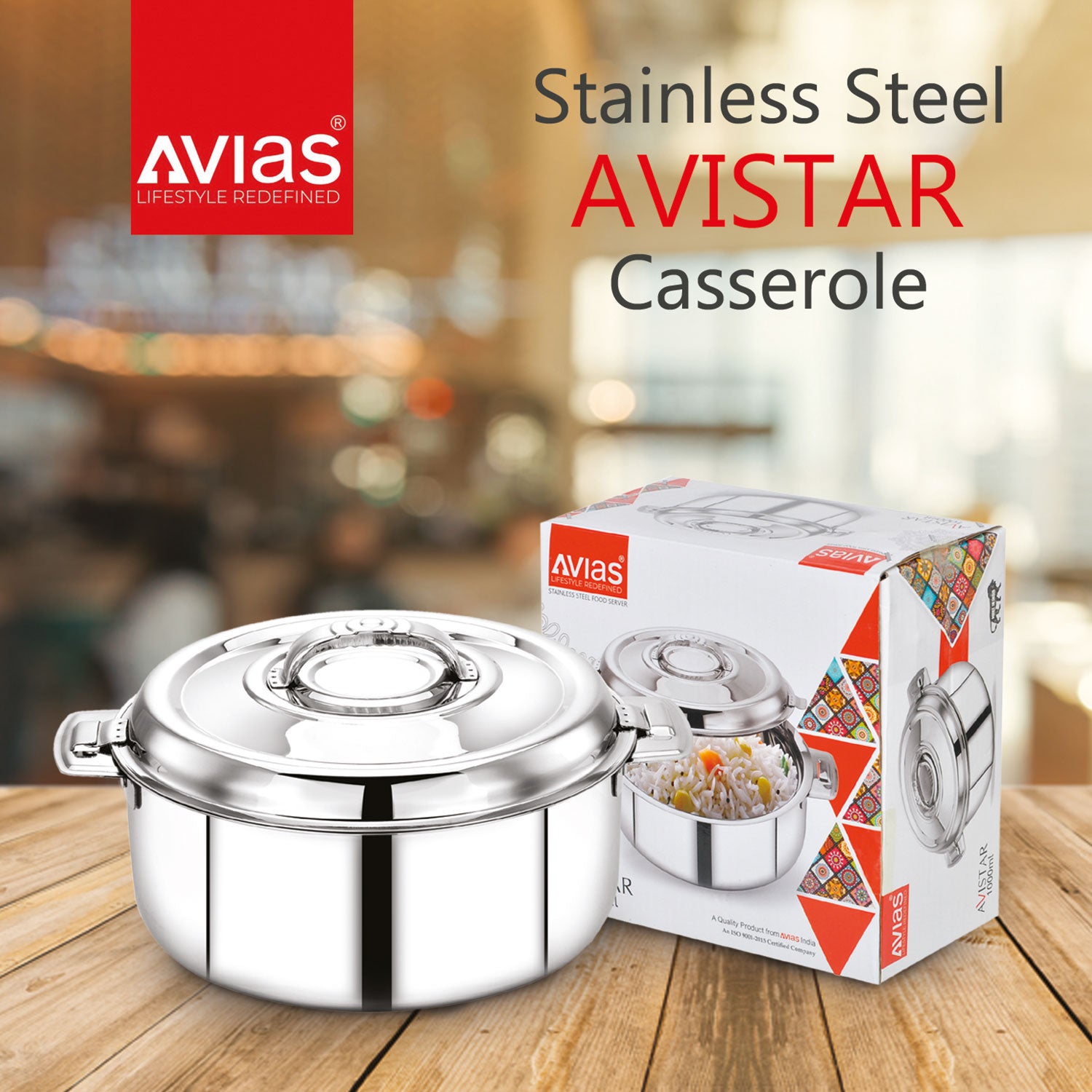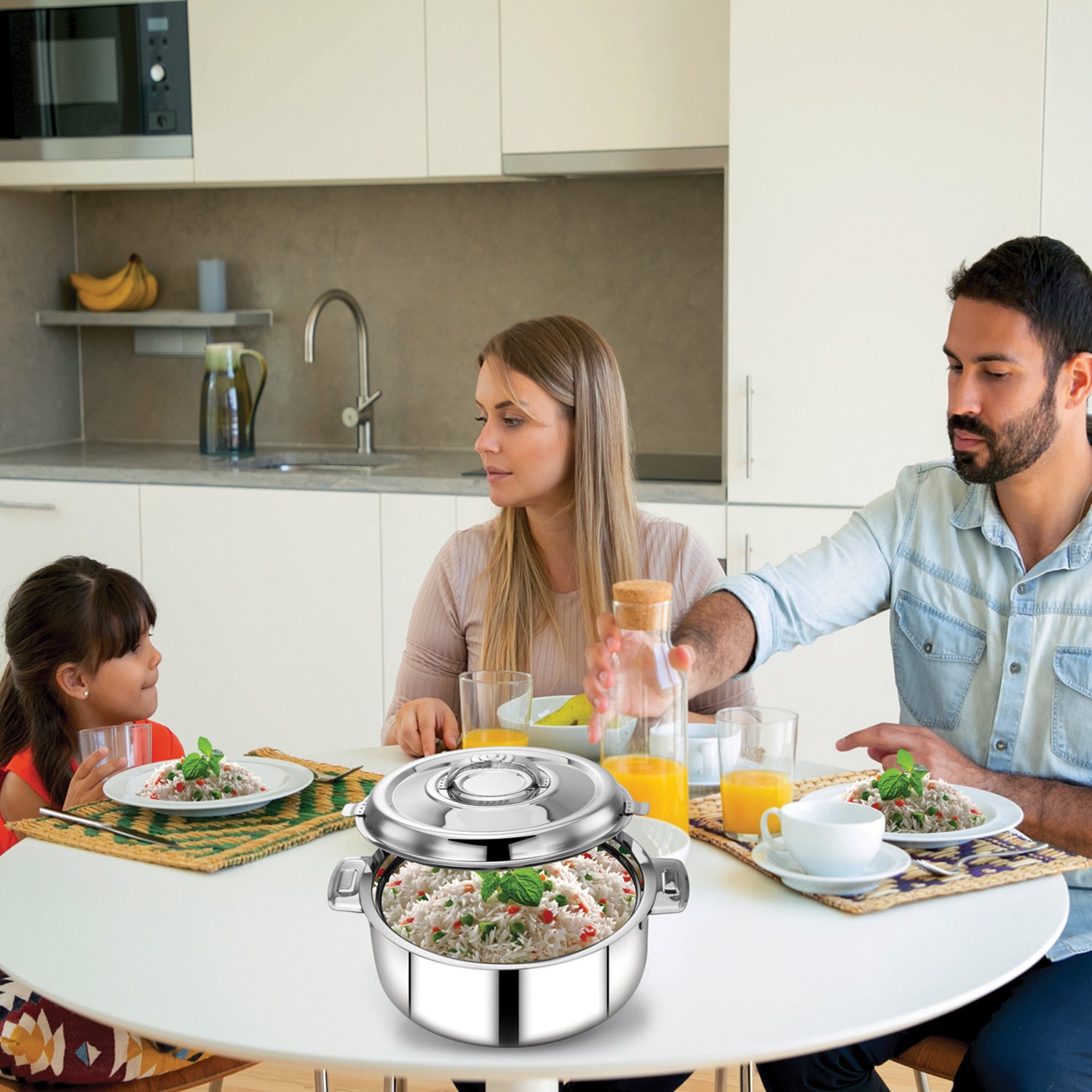 AVIAS Avistar double wall insulated stainless steel casserole/ hotpot/ chapati box/ hot case with lid | twist lock | 1L/ 1.5L/ 2.5L/ 3.5L/ 5L/ 7.5L/ 10L - Silver
Price:

Rs. 619.00
MRP:

Rs. 3,390.00
save 25%
Incl. of all taxes
1. Casserole crafted from premium food-grade stainless steel
2. Sustains temperature for food that's both hot and cold.
3. Double-walled PUF insulated consisting of SAIL/JINDAL coil
4. Simple and firm closing with a twist lock 
5. Easy Grip Handles on both sides of the hot pot
6. Preserves nutrients
Every day is a special day with Avias Avistar Casserole. This stainless steel casserole is more streamlined and spacious than normal ones and has a double-walled stainless steel body, which traps the food temperature and helps in keeping your meals hot and fresh for long hours.
Make sure to keep it off of heating with a direct flame. While food can be prepared and maintained on the dining table, no one is required to be in the kitchen for meals to be served hot, making mealtimes the ideal time for family gatherings. One can move it simply from the kitchen to the dining table thanks to the robust handles.
This hot box is composed of sturdy food-grade steel, and the practical steel casserole lid's handles make it simple to hold and open. Ideal for both your regular servings or any special occasion, such as birthday or anniversary parties, vacations, or picnics.
This hot pot with a premium design is perfect for serving your chapatis or rotis, salads, gravies, rice, etc., hot and fresh for a long time. With its stunning shape and design, your dining table will look way better. The ideal gift for any occasion, this Casserole will improve their cooking abilities. Also good for Kitchen Gifts, Marriage gifts, Birthday gifts, Anniversary gifts, Festival gifts like Diwali gifts, Christmas gifts, Pongal gifts, etc.
Color: Silver
Material: Stainless Steel
Weight: 525gm/600gm/741gm/858gm/1065gm/1305gm/1610gm
Dimensions: Available in 21cm/22.5cm/24.2cm/27cm/29cm/32cm/38cm (diameter)
Package content: 1 piece casserole, 1 piece steel lid, warranty card
Country of origin - India
Manufacturer/ packer - Avias India- 3rd floor, Twins Chambers, 824, Poonamallee High Rd, above Canara Bank, Kilpauk, Chennai, Tamil Nadu 600010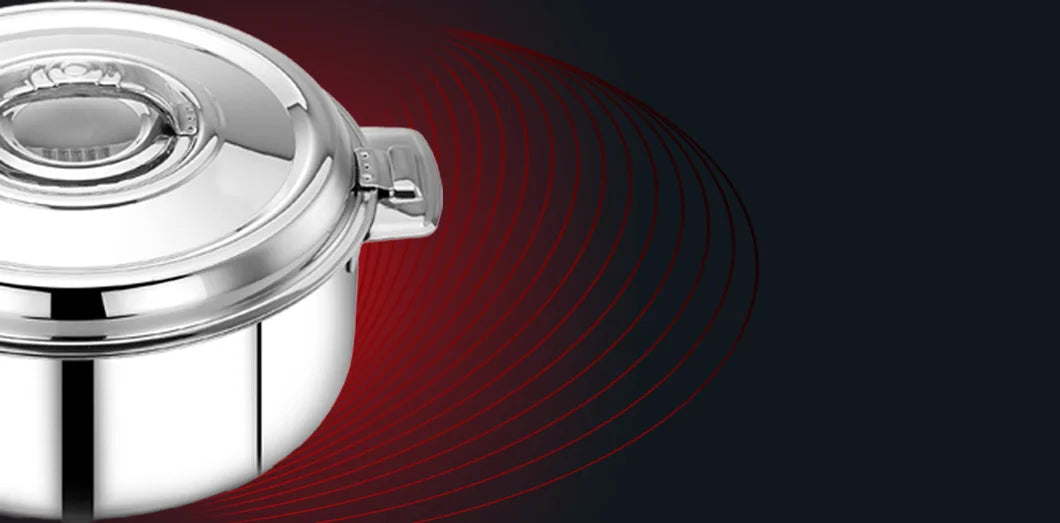 Mirror-finish polish, stylish & sleek body
Why Avistar Casserole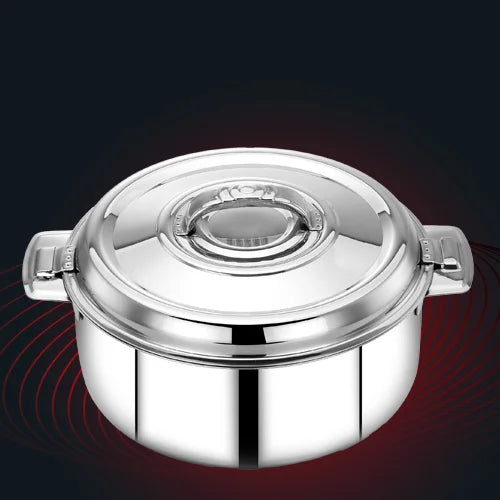 Made of High-Grade Jindal / SAIL stainless steel coil. Puff insulated, Double wall retains hot and cold for sufficiently long hours.
It gives you one of the best performances for heat retention. The product is proudly made in India.
Due to its double insulated walls, it can be used as a curd maker or ice pack storer and to keep food warm.
The Stainless steel Casserole comes in a classy top handle and in EIGHT different capacities to meet your needs. It makes it an ideal gift for your close and dear ones.
Integrated side handles make it easy to carry anywhere with eye-catching designs. The sleek finish and elegant shape make it unique and extremely user-friendly.
FAQs
What size casserole dish for a family of 4?
2500ml casserole will be suitable for a family of 4.
What are the benefits of stainless steel casseroles?
Stainless steel casseroles have multiple benefits say for:
Durable and long-lasting
Quality food server
Higher heat retention & preserving food flavors
Easy to clean and maintain
Hygienic and bacteria-resistant
Lightweight and easy to handle
Environmentally friendly and recyclable
How many hours it can keep the food hot?
Avias stainless steel casserole can keep the food hot for 3-4 hours of the time period.
Which casserole is best plastic or steel?
Is the 1000ml for the Inner storage capacity or the outer dimension?
The 1000ml unit is for the inner dimensions of the stainless steel casserole.