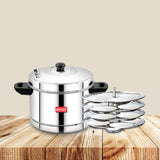 💥FREE GIFTS on AVIAS Ceres Stainless Steel Premium Pressure Cooker Inner Lid | Sandwich Bottom | Induction base | 1.2mm Thickness | 2L/3L/5L
Incl. of all taxes
High-quality food-grade stainless steel cookware
Maximum safety gasket release system
Sandwich base (SAS)
Great resiliency
Whistling device
Sturdy bakelite handles
Induction base stainless steel cookware that also allows gas stoves and other heat sources
FREE GIFTS ALERT!
💥Buy a Ceres Inner lid 2L pressure cooker , and get an idly cooker 4 plates and a 16cm Inox Cookpot for FREE!
💥Buy a Ceres Inner lid 3L, and Inox cookpot 20cm and Milano set of 3 (900ml) for FREE!
💥Buy a Ceres Inner lid 5L and get a Idly cooker 4 plates and Glitter Spice Box (Blue) for FREE!
FREE!
You may discover all the necessities for your ideal kitchen in the Avias Ceres inner lid pressure cooker is thick bottom stainless steel cookware. Because it is food-quality stainless steel, the 304 stainless steel grade, no adverse health effects result from its use. Heat is uniformly distributed by the SAS (sandwich bottom) technology, which also makes it easier to cook with little or no oil and speeds up the cooking process.
The mix of sleek style and wholesome cooking in this cooker is ideal. While cooking, the handles remain cool and are comfortable to hold. For secure and simple cooking.
This stainless steel cookware also includes a standard cover as well as a toughened glass lid. The food's color, flavor, or texture are unaffected, and it is extremely hygienic. Also good for Kitchen Gifts, Marriage gifts, Birthday gifts, Anniversary gifts, Festival gifts like Diwali gifts, Christmas gifts, Pongal gifts, etc.
Thickness: 1.2mm
Material: Stainless Steel
Capacity: 2L/3L/5L
Dimensions: Available in 17.2cm/21.6cm (diameter)
Package content: 1 - Pressure Cooker, 1 - whistle, Instruction Manual, and warranty card
Country of origin - India
Manufacturer/ packer - Avias India- 3rd floor, Twins Chambers, 824, Poonamallee High Rd, above Canara Bank, Kilpauk, Chennai, Tamil Nadu 600010
Avias: The Only Triply Engineered For Flavor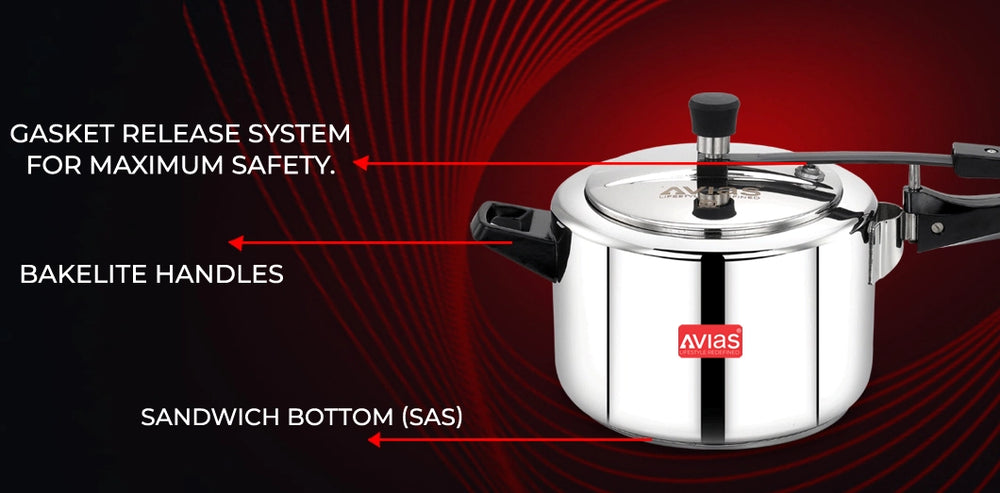 Ergonomically designed, made of quality stainless steel for better hygiene
Why Ceres Pressure Cooker Inner Lid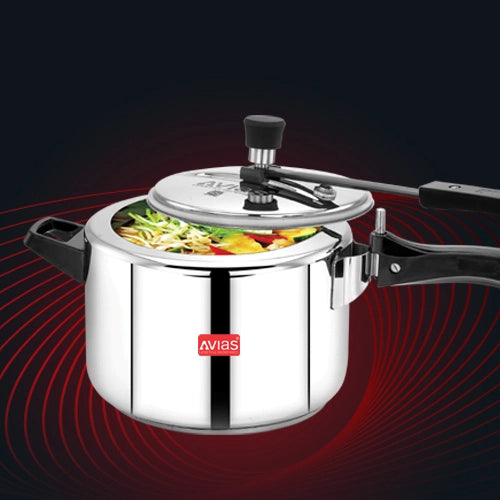 About This Product
Food grade 18/8 stainless steel which is hygienic & easy to clean.
The fusible safety valve for added safety & Gasket release system for maximum safety.
Ideal, heat-resistant handle designed to fit the curve of your palm.
Package Content: 1-Pressure cooker, Whistle, instruction manual, and warranty card.
Features
TRIPLY
REGULAR
STAINLESS
STEEL
Food Grade Stainless Steel
Fully Clad Material (Entirely from Stainless Steel)
Preserves Food Nutrients
Doesn't Go Out of Shape
Even heat distribution
Easy Cleaning
Rust-free Cookware
FAQs
Is stainless steel good for high pressure?
Yes, Avias stainless steel pressure cookers are built so strong and It is capable of handling extreme conditions such as high pressure and temperature.
Can this be used on Induction?
Yes, our pressure cookers are all induction friendly.
Is the gasket rubber or silicone?
The gasket we use in our pressure cookers is silicone because it is long-lasting.
What size pressure cooker is for 5 people?
5 Liter pressure cooker will be suitable for 5 people.
What is the difference between outer lid and inner lid pressure cooker?
Inner lid cooker: The lid is inside the main body, pressure release on the lid. Outer lid cooker: The lid is outside, and pressure release on the body.