AVIAS Stainless Steel Excello Idly pot/ Cooker/ Maker | High-quality and food-grade stainless steel | Induction and gas-stove friendly
Price:

Rs. 1,219.00
MRP:

Rs. 2,195.00
save 25%
Incl. of all taxes
 Idly maker made of stainless steel
 Durable gauge with thicker material
 Rust-resistant and hygienic plates
 Induction base stainless steel cookware that allows gas stoves
 Has bakelite handles for better insulation and grip
 Comes with a whistle mechanism
 Capacity: 3 Plates and 1 Dhokla/ Patra Plate
The Avias Excello Idli maker/ cooker has premium stainless steel construction and attractively crafted rustproof idli plates to deliver the fluffy, soft idlis that you crave.
For greater durability and safety, this idly stainless steel cookware includes a thicker gauge and an effective locking mechanism. Idli and dhoklas can be made with this multifunctional cooker.
For greater handling and grip, it has bakelite handles. It is an induction base stainless steel cookware that also allows gas stoves and other heated sources. It is dishwasher-safe and simple to clean. Also good for Kitchen Gifts, Marriage gifts, Birthday gifts, Anniversary gifts, Festival gifts like Diwali gifts, Christmas gifts, Pongal gifts, etc.
Material: Heavy gauge stainless steel
Weight : 1490 gms / 1845 gms / 1845 gms
Dimensions : 25x25x16cm / 25x25x20cm / 25x25x25cm
Package content: 1 Stainless steel Idli maker with idli plates and warranty card.
Country of origin - India
Manufacturer/ packer - Avias India- 3rd floor, Twins Chambers, 824, Poonamallee High Rd, above Canara Bank, Kilpauk, Chennai, Tamil Nadu 600010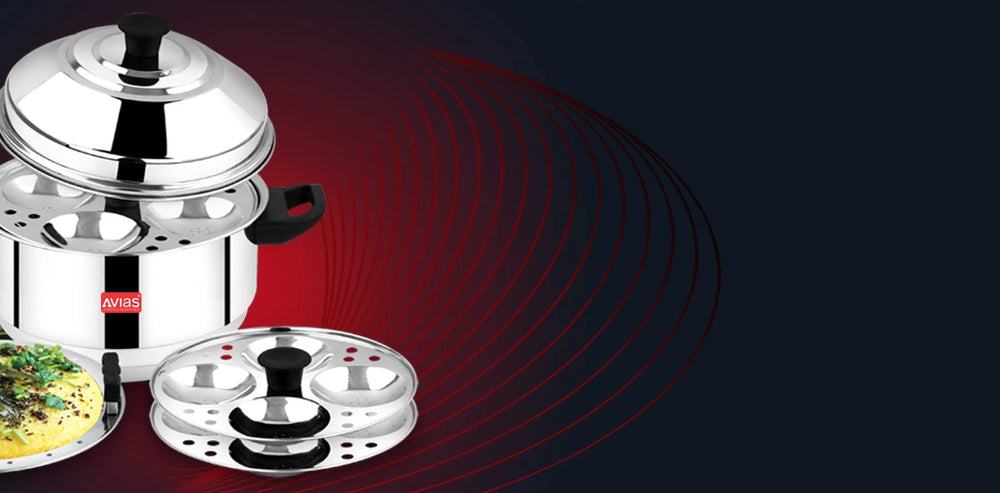 Avias Excello Idli Cooker is made of high-quality food-grade stainless steel
comes with aesthetically designed rustproof idli plates to give you those soft fluffy idlis that you desire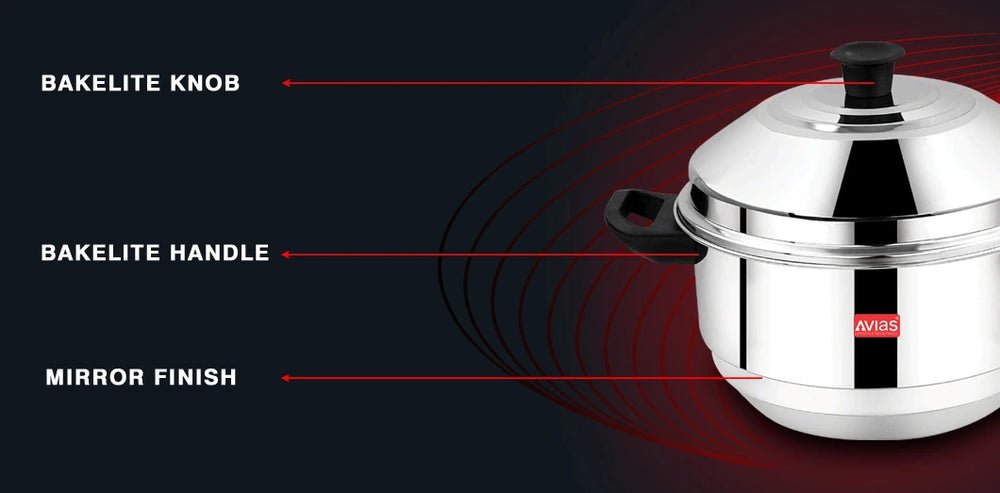 Why Excello Idli Cooker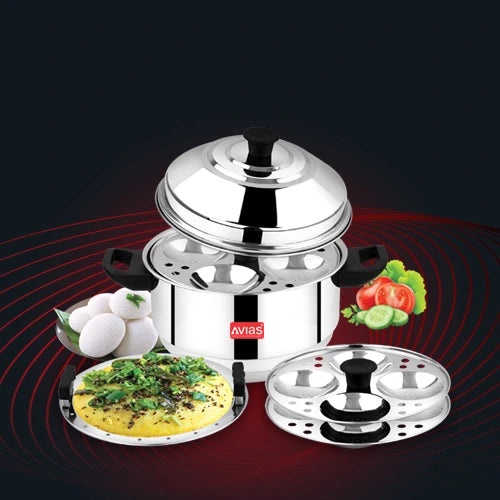 About This Product
This cookware becomes a safe and durable member of your kitchen, as it is made with 100% food grade stainless steel.
It consists of 1 idli maker, 2/4/6 plate, 1 steamer, making it comfortable and complete cookware for steaming the treats like Dhokla, Pathra and Idlis
This versatile cookware is compatible with Gas Stove & Induction Cooktop compatible feature makes it more user-friendly.
100% Flame Proof
FAQs
Is it easy to clean the stainless steel idly cooker?
Yes, Avias stainless steel is relatively easy to clean. Wash the trays with warm soapy water and a soft sponge after use.
Can I use the idly cooker to steam other foods?
Yes, you can use Avias stainless steel idly cooker to steam various dishes like dhokla, momos, and more, provided they fit in the trays.
How long does it take to steam idlis in the cooker?
The steaming time varies based on the idli size and the number of trays used. Generally, it takes around 10 to 15 minutes in Avias stainless steel idli cookers.
Can I use the idly cooker on a gas stove or an induction cooktop?
Yes, the Avias Idli cookers can be used for both gas stoves and induction.
Is stainless steel a safe material for cooking idlis?
Yes, stainless steel is considered safe for cooking idlis as it is non-reactive and doesn't leach harmful chemicals into the food.