AVIAS Ivy Lunch box | Stainless Steel Boxes with Silicon Bonded SS Lid | Durable machine wash cover bag | 2/3/4 containers
Price:

Rs. 720.00
MRP:

Rs. 1,590.00
save 25%
Incl. of all taxes
Lunch boxes that are made of premium quality food grade stainless steel
Silicone bonded SS lids to make this steel lunchbox leak proof
Attractive design
Comes with a handle on top, helping us to carry the lunch box easily
Comes in different container options.
The lunchbox from Avias IVY Tiffin box is made of premium stainless steel, which is rust-resistant and keeps food safe for consumption. It includes silicone-bonded stainless steel lids that are leak-proof and aid in keeping both dry and semi-liquid goods. Its beautiful design includes a top handle that makes carrying it around simpler.
This steel tiffin box which comes in a variety of capacities with containers ranging from 2/3/4, is simple to manage and clean. It is therefore a perfect lunch box for office, school, or college. Savour the flavour of freshly prepared meals because this stainless steel product preserves your food as nutritious, tasty, and fresh. Also good for Kitchen Gifts, Marriage gifts, Birthday gifts, Anniversary gifts, Festival gifts like Diwali gifts, Christmas gifts, Pongal gifts, etc.
Heavy gauge stainless steel
Weight: 560gm/ 760gm/ 940gm
Package content: 1 unit of stainless steel box (2/3/4 tier) ,warranty card
Country of origin - India
Manufacturer/ packer - Avias India- 3rd floor, Twins Chambers, 824, Poonamallee High Rd, above Canara Bank, Kilpauk, Chennai, Tamil Nadu 600010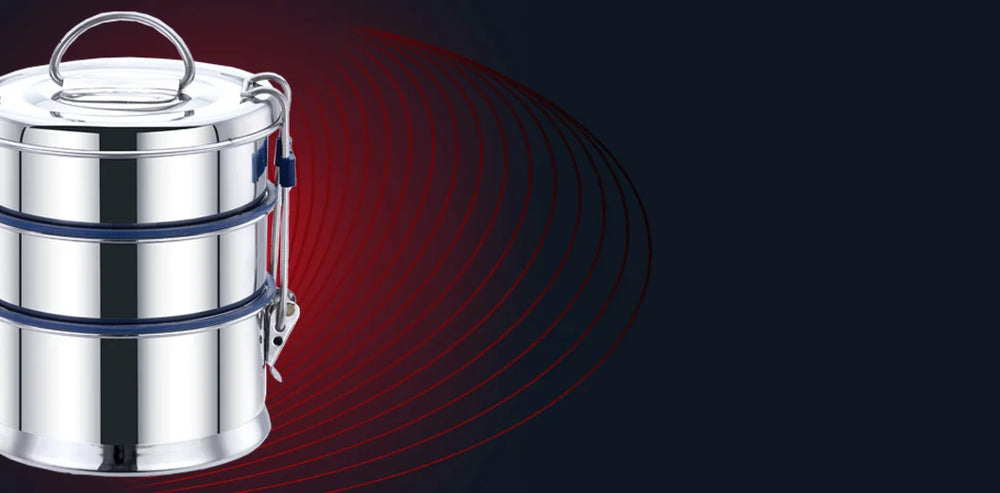 Silicone bonded SS lids to make it leak proof
Made of premium quality food grade stainless steel with an attractive design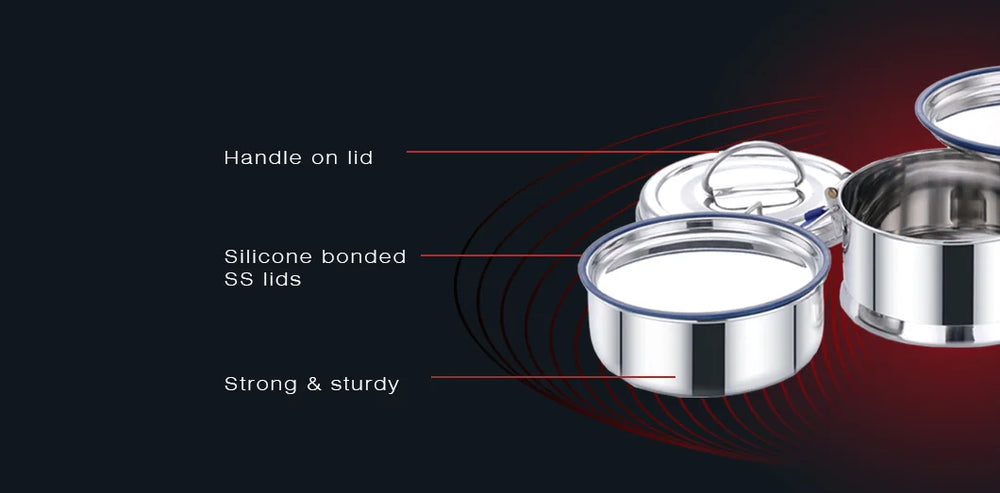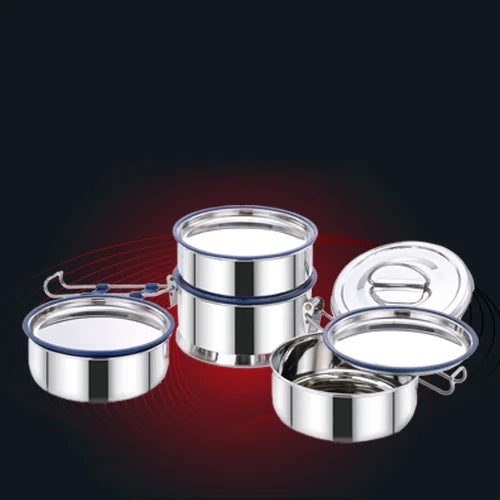 About This Product
Avias IVY Lunchmate lunch box is made of premium quality stainless steel which is highly durable, rust-resistant and keeps the food safe for consumption.
It comes with silicone bonded leak proof stainless steel lids which helps in storing both dry as well as semi liquid contents.
It's attractive design comes with a top handle which makes it easier to carry around.
Easy to clean and manage, this product comes in a range of capacities with containers ranging from 2/3/4.
FAQs
How do you clean a stainless steel lunch box?
Wash by hand or in the dishwasher with detergent will clean stainless steel lunch boxes safely and thoroughly.
Is this microwave safe and dishwasher safe?
No, stainless steel lunch boxes are not microwave safe, and yes they are dishwasher-safe.
How long does the lunch box keep food warm?
Avias stainless steel lunch boxes will keep the food warm for about 3 - 4 hours.
Are the lunch boxes Leak proof?
Yes, all Avias lunch boxes are leak-proof.
Is stainless steel good for lunch box?
Stainless steel lunch boxes are the best for storing and using for food. It keeps the food safe, warm and toxic-free.