AVIAS Inox IB stainless steel cookpot with glass lid with steam vent | rust-resistant cooware with sandwich bottom | Induction and gas stove friendly | Silver
Price:

Rs. 533.00
MRP:

Rs. 1,305.00
save 25%
Incl. of all taxes
Premium cookware made from food-grade stainless steel
The thick sandwich bottom design provides even heat distribution
Sandwich base (SAS)
Strong and quite durable
Simple to clean
Riveted handles
Induction base stainless steel cookware that allows gas stoves
Consists of 4 different sixes of cookpot with glass lid (14cm/16cm/18cm/20cm)

You can get an Inox cookware stainless steel cooking pot from Avias that features an enclosed sandwich bottom made of two layers of stainless steel and one layer of aluminium.
By ensuring a uniform dispersion of heat, the sandwich bottom technology prevents food from sticking or burning.
It is extremely sturdy and rust-resistant because it is composed of high-quality food-grade stainless steel. this stainless steel cookware has tempered glass lid with a steam release valve and riveted handles for its too-long lifespan.
It has an exquisite appearance for both cooking and serving meals thanks to the shiny finish. It is an induction base stainless steel cookware that also allows gas stoves and other heated sources Also good for Kitchen Gifts, Marriage gifts, Birthday gifts, Anniversary gifts, Festival gifts like Diwali gifts, Christmas gifts, Pongal gifts, etc.
Material: Heavy gauge stainless steel
Weight: 640gm/ 820gm/ 980gm/ 1210gm
Dimensions: 14cm/ 16cm/ 18cm/ 20cm (diameter)
Package content: 1 piece of Inox IB cookpot with handle, 1- glass lid and warranty card
Country of origin - India
Manufacturer/ packer - Avias India- 3rd floor, Twins Chambers, 824, Poonamallee High Rd, above Canara Bank, Kilpauk, Chennai, Tamil Nadu 600010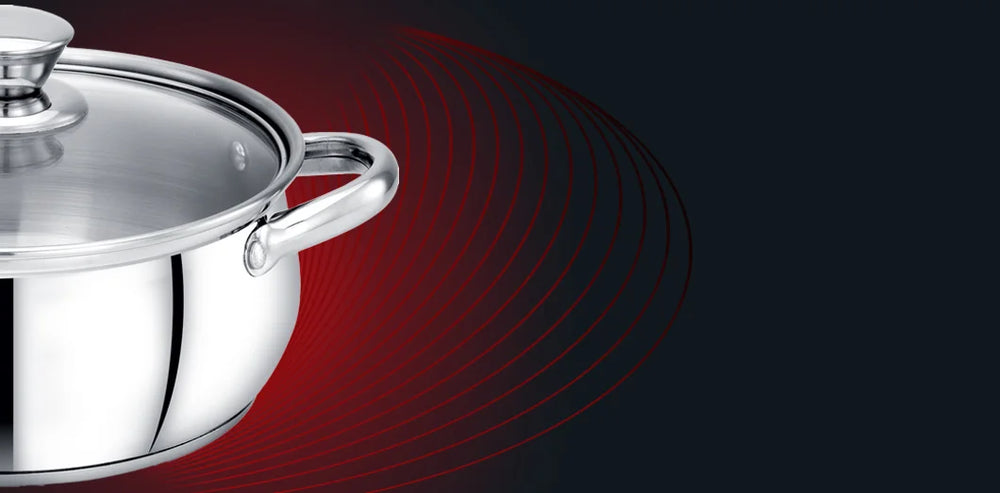 The thick sandwich bottom construction offers an even distribution of heat
Made of premium quality food-grade stainless steel with a glossy outer finish, satin inner finish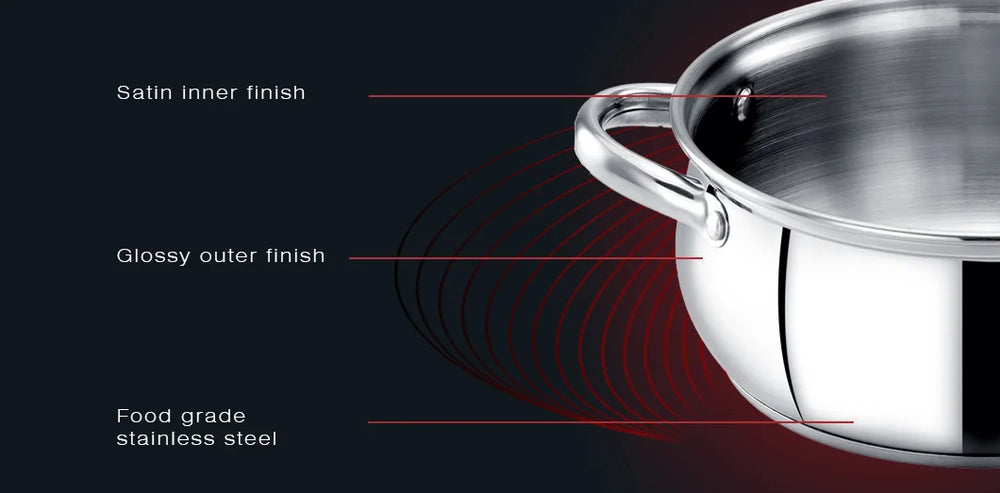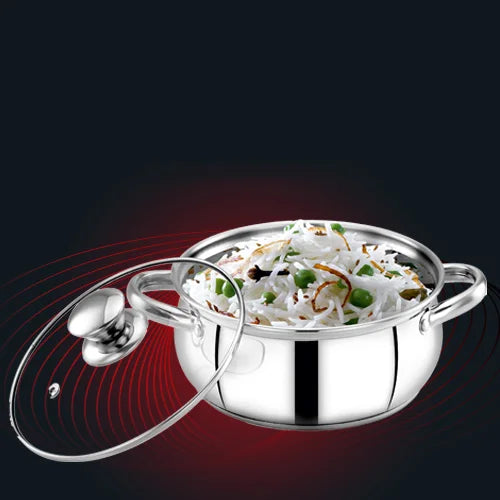 About This Product
Avias brings to you an Inox cookpot which has encapsulated sandwich bottom wherein a layer of aluminum is sandwiched between two layers of stainless steel.
The sandwich bottom technology ensures even distribution of heat whereby avoiding sticking or burning of food.
The glossy finish gives it an elegant look for cooking as well as serving food It is easy to clean and can be used on various stovetops.
It can be used to fry small appalams, fryums, porous and the list goes on!
FAQs
What is a stainless steel cookpot with a glass lid and steam vent?
Avias stainless steel cookpot with a glass lid and steam vent is a cooking vessel made of stainless steel, featuring a transparent glass lid with a small vent hole. The glass lid allows you to monitor the cooking process without lifting it, and the steam vent helps release excess steam during cooking, preventing the lid from rattling or boiling over.
How do I clean the glass lid with a steam vent?
Cleaning the glass lid is easy. Allow the lid to cool down before washing it with warm, soapy water and a soft sponge or cloth. Take care not to submerge the vent hole while washing to prevent water from entering and potentially causing issues.
Can I use the steam vent while cooking?
Yes, the steam vent is designed to be used during cooking. It allows steam to escape from the cookpot, preventing excess pressure buildup and reducing the likelihood of boiling over. Make sure the steam vent is open while cooking to let steam escape.
Is the cookpot suitable for induction cooktops?
All Avias stainless steel cookpots are generally compatible with induction cooktops.
Can I use the cookpot on high heat?
Stainless steel cookware is generally safe for use on high heat.