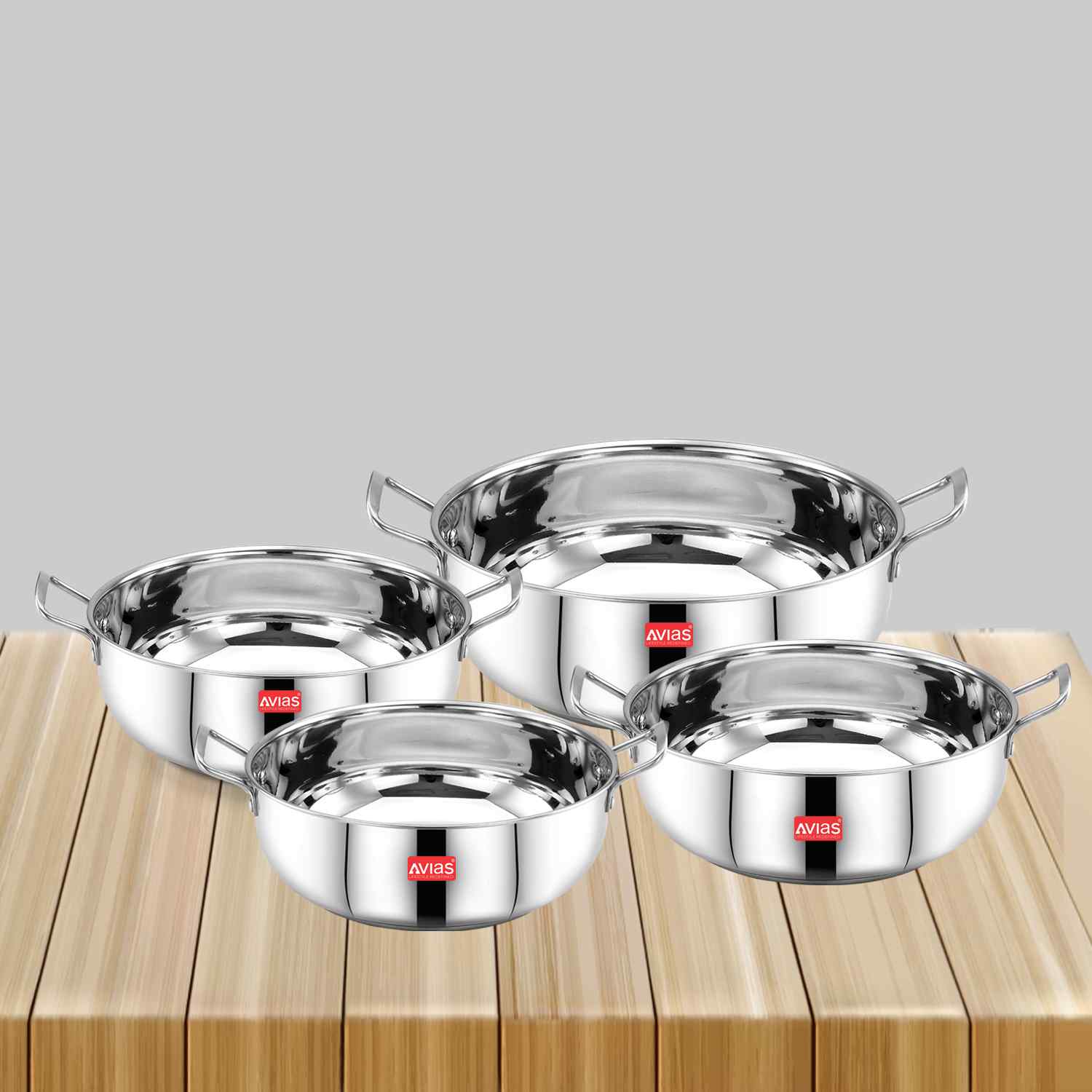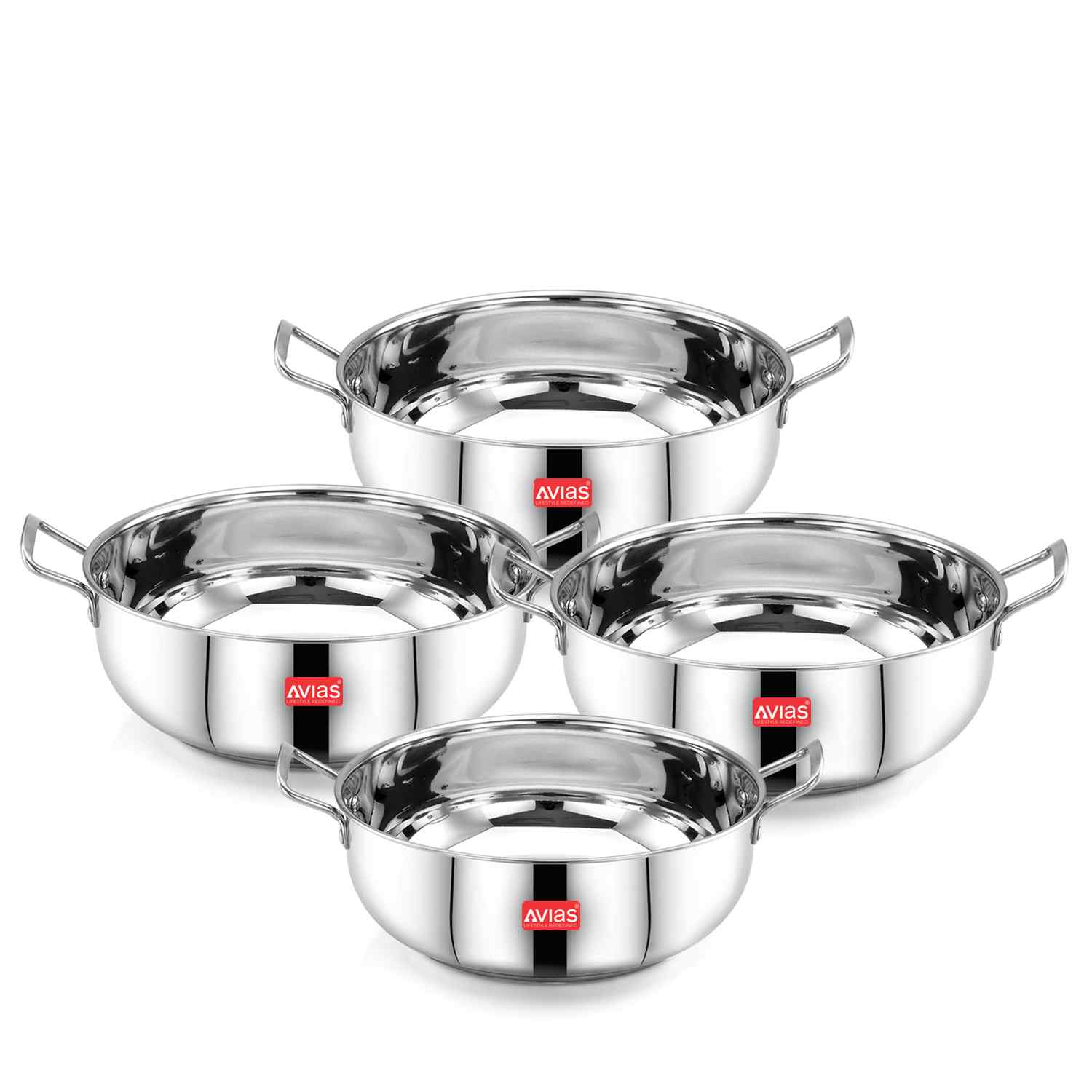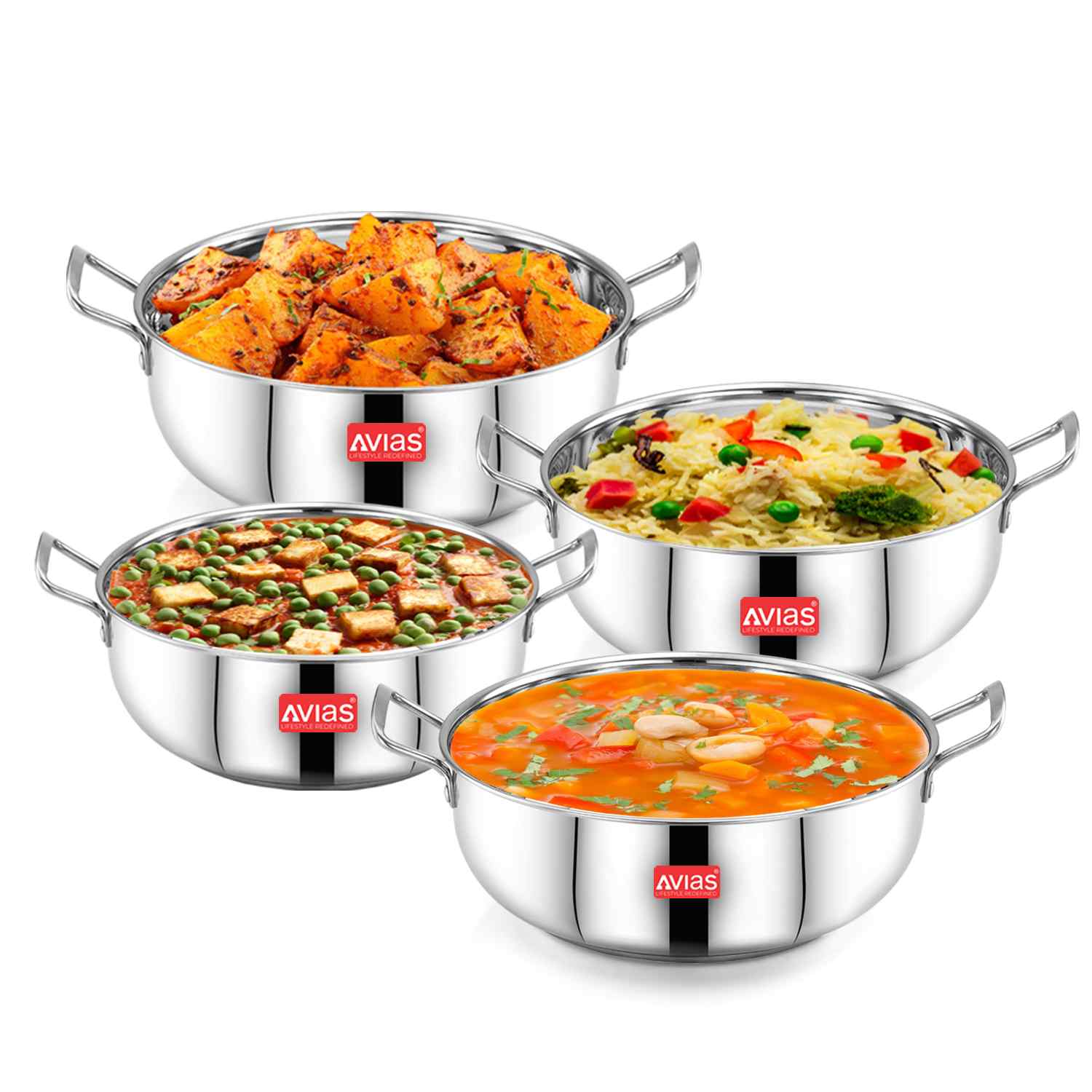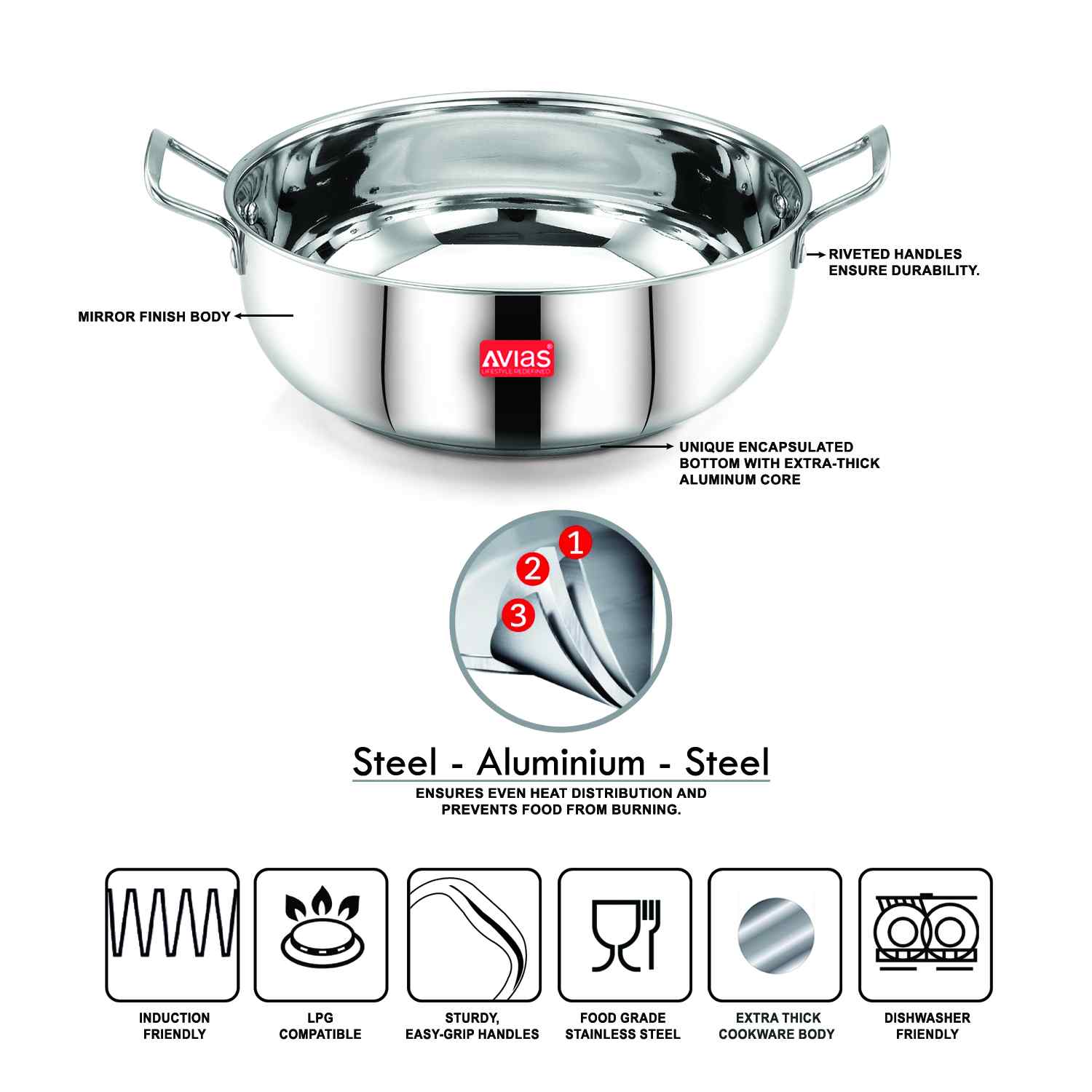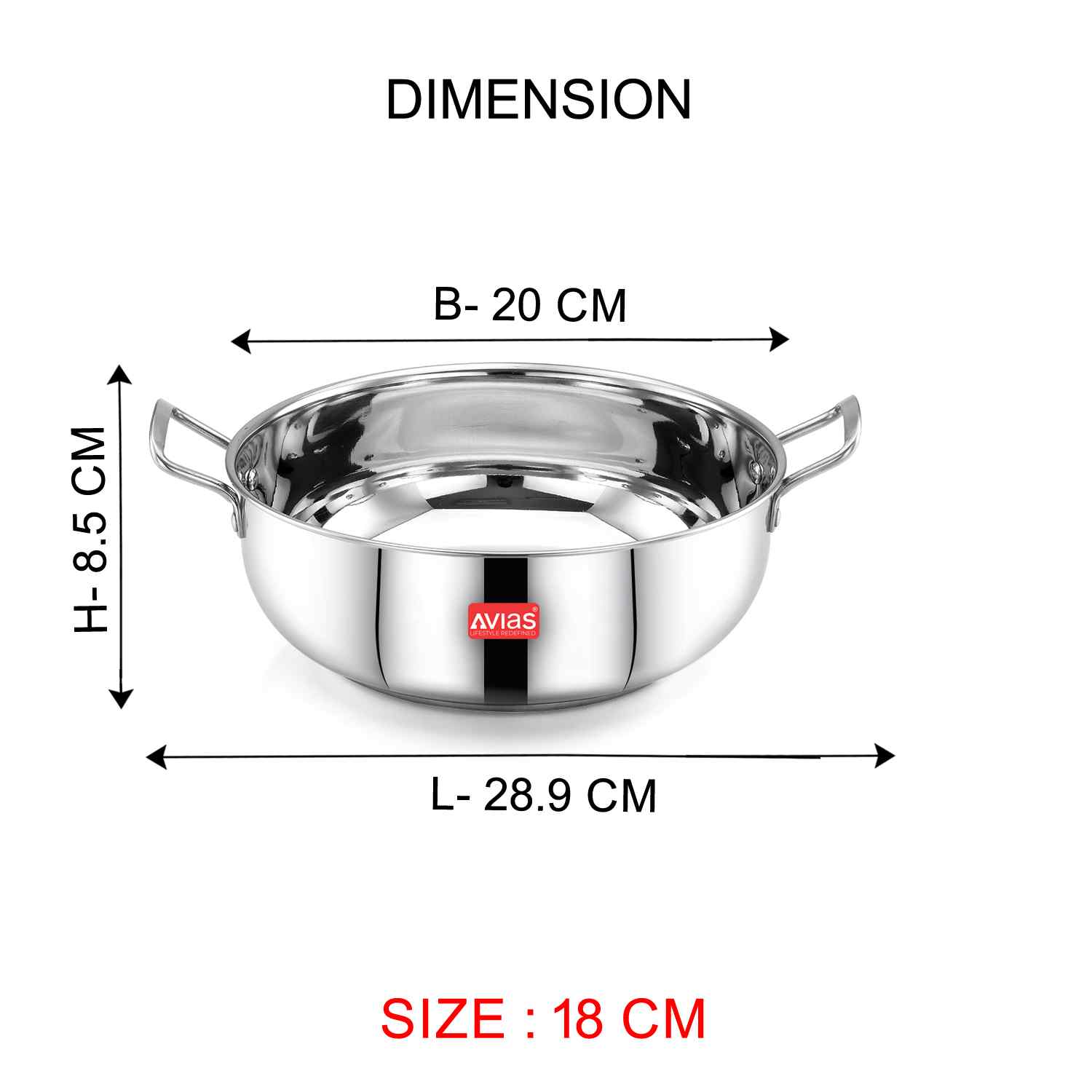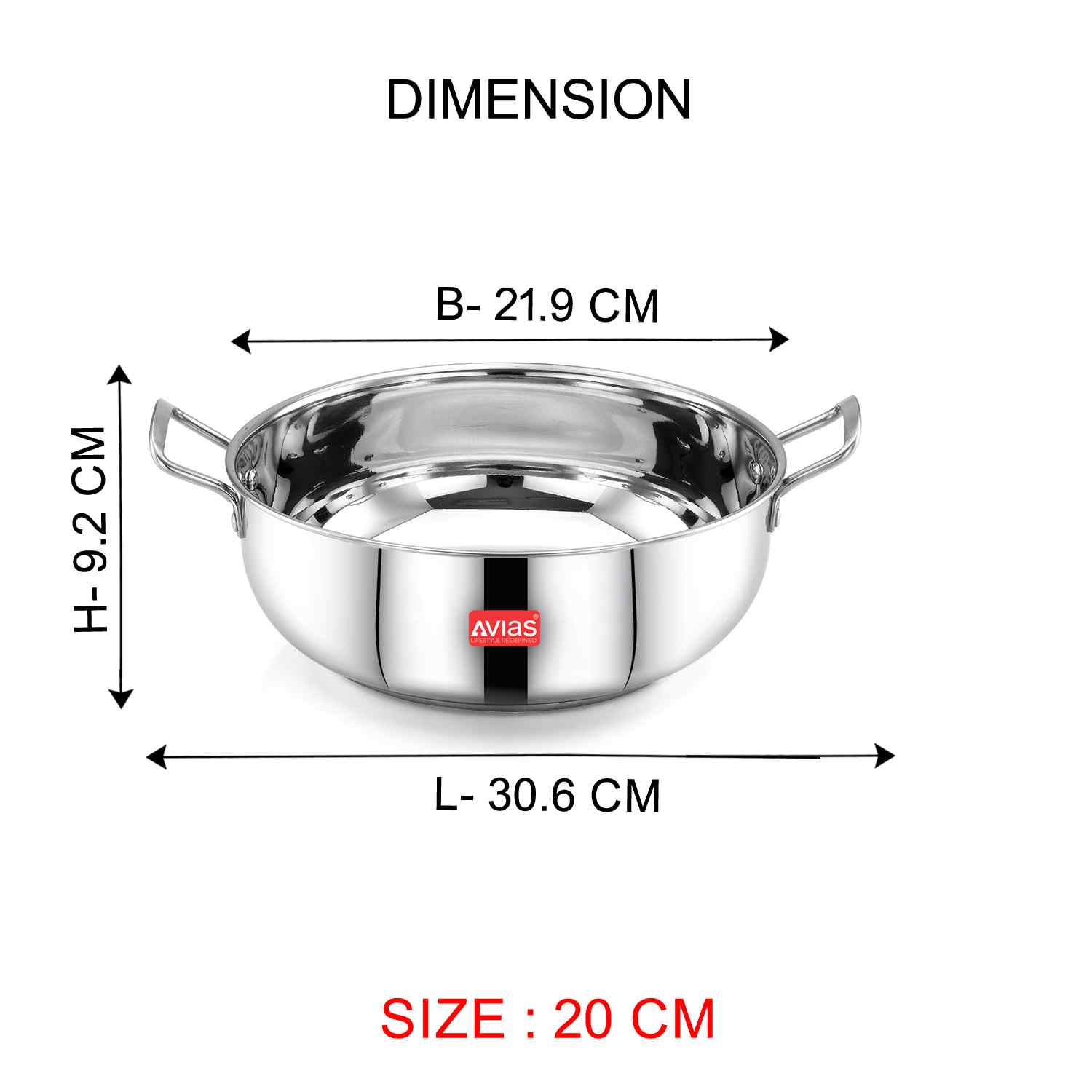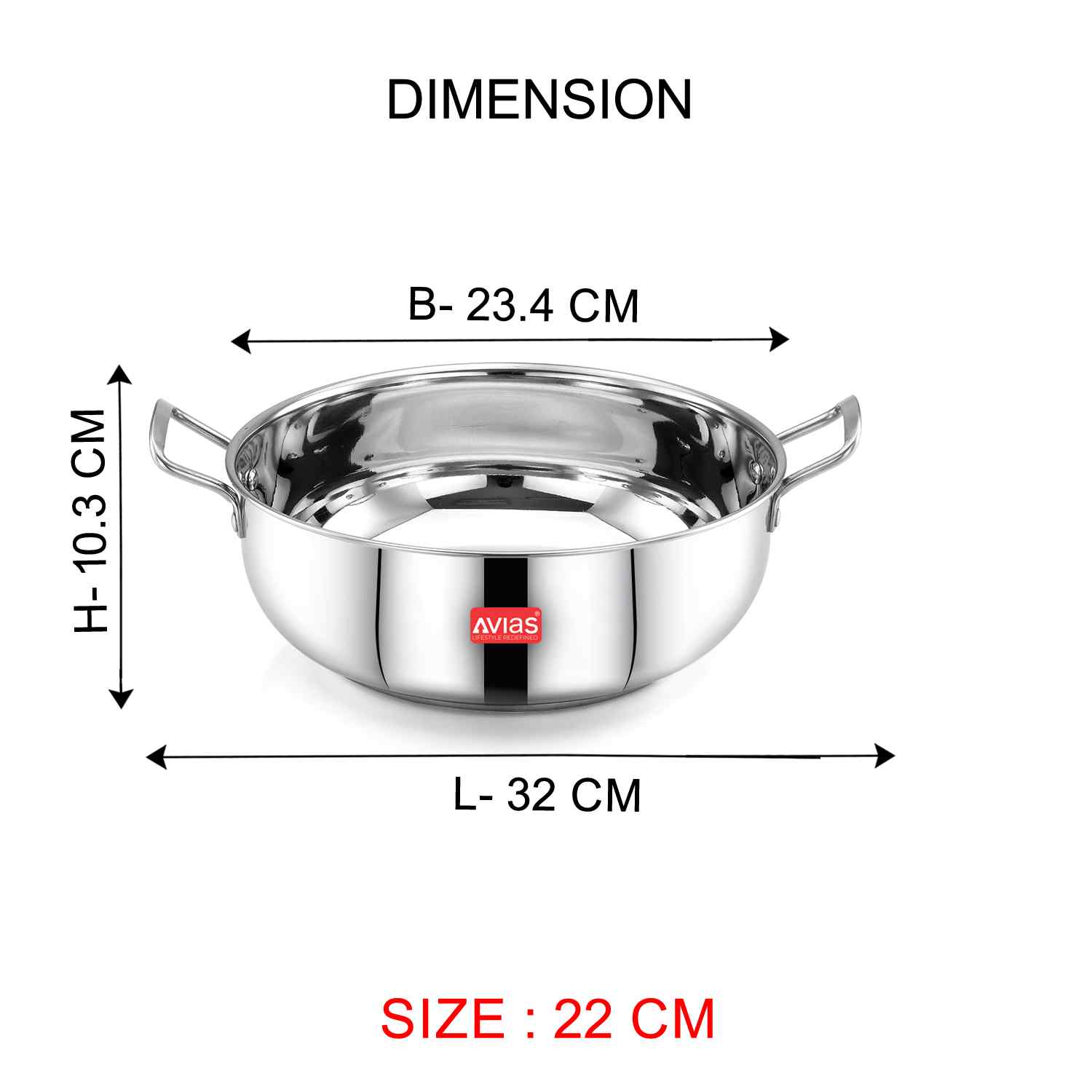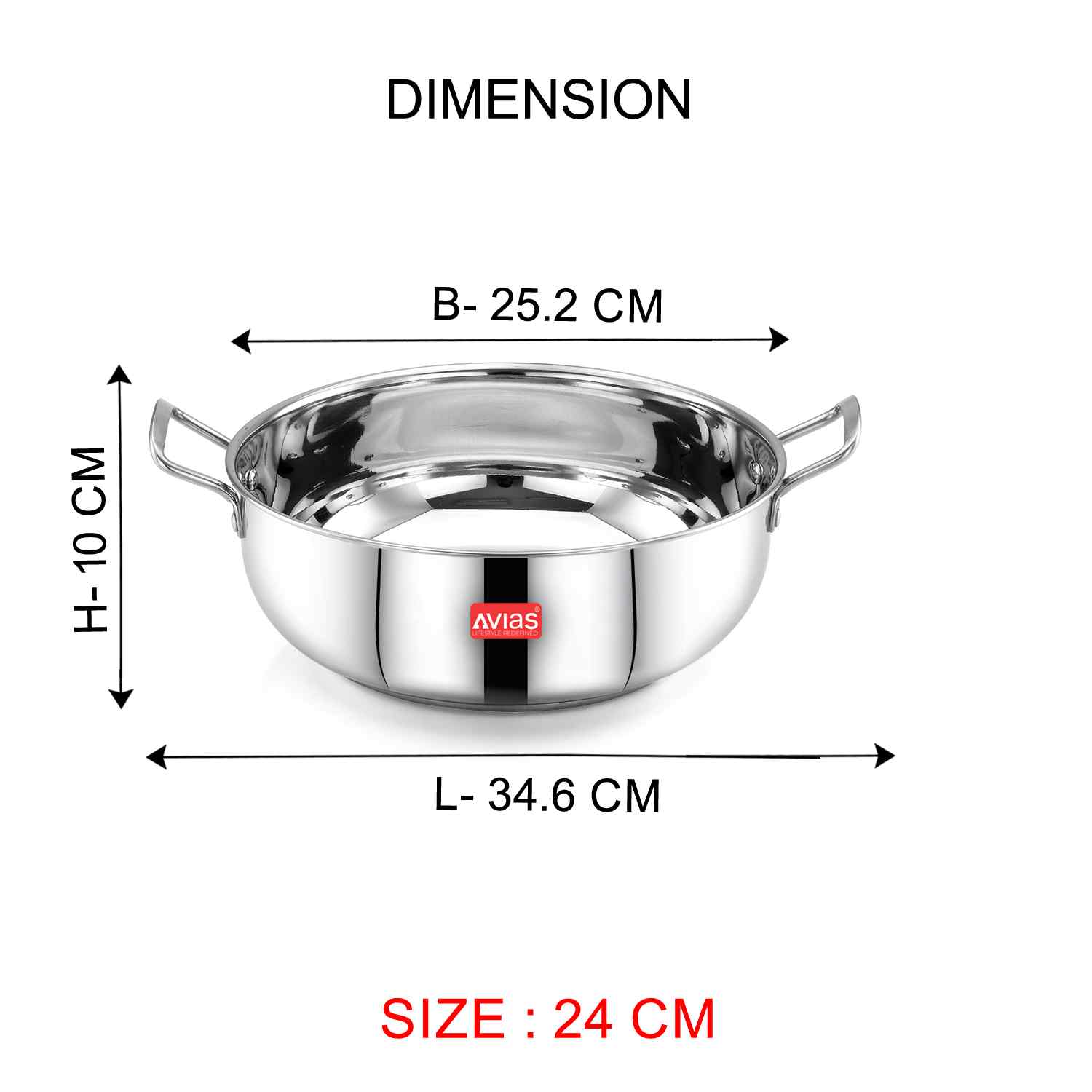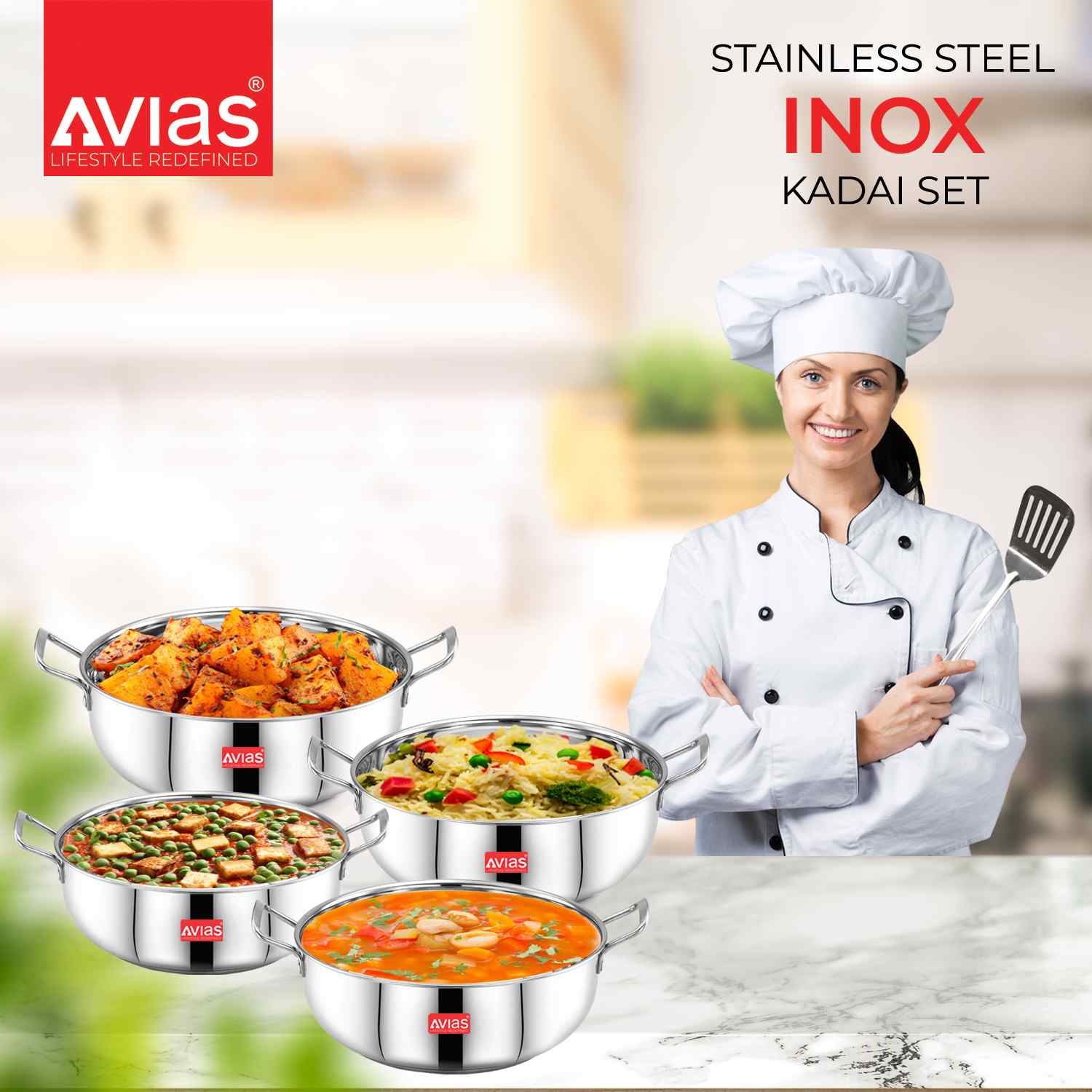 AVIAS Inox IB stainless steel kadai set of 4 | High Quality Stainless Steel | Silver glossy finish | Riveted handles | Sandwich bottom | 18cm/ 20cm/ 22cm/ 24cm
Price:

Rs. 2,175.00
MRP:

Rs. 3,020.00
save 28%
Incl. of all taxes
Premium cookware made with food-grade stainless steel
Thick sandwich bottom design provides even heat distribution
Sandwich base (SAS)
Satin interior and glossy exterior finishes
Strong and quite durable
Simple to clean
Riveted handles
Induction base stainless steel cookware that allows gas stoves
Avias offers you the Inox Kadai cookware stainless steel, which has an enclosed sandwich bottom made of two layers of stainless steel and an aluminium layer. By ensuring uniform dispersion of heat, the sandwich bottom technology prevents food from sticking or burning.
It is extremely sturdy and rust-resistant because it is composed of high-quality food-grade stainless steel. It has riveted handles so that it will survive a long time. this stainless steel cookware has an exquisite appearance for both cooking and serving meals thanks to the shiny finish.
It is an induction base stainless steel cookware that also allows gas stoves and is simple to clean. Little appalams, fryums, porous, and the list goes on can all be fried in it. Also good for Kitchen Gifts, Marriage gifts, Birthday gifts, Anniversary gifts, Festival gifts like Diwali gifts, Christmas gifts, Pongal gifts, etc.
Material: Heavy gauge stainless steel
Weight: 2935gm
Dimensions: 10cm/20cm/22cm/24cm(diameter)
Package content: 1 piece of Inox IB kadai with handle and warranty card.
Country of origin - India
Manufacturer/ packer - Avias India- 3rd floor, Twins Chambers, 824, Poonamallee High Rd, above Canara Bank, Kilpauk, Chennai, Tamil Nadu 600010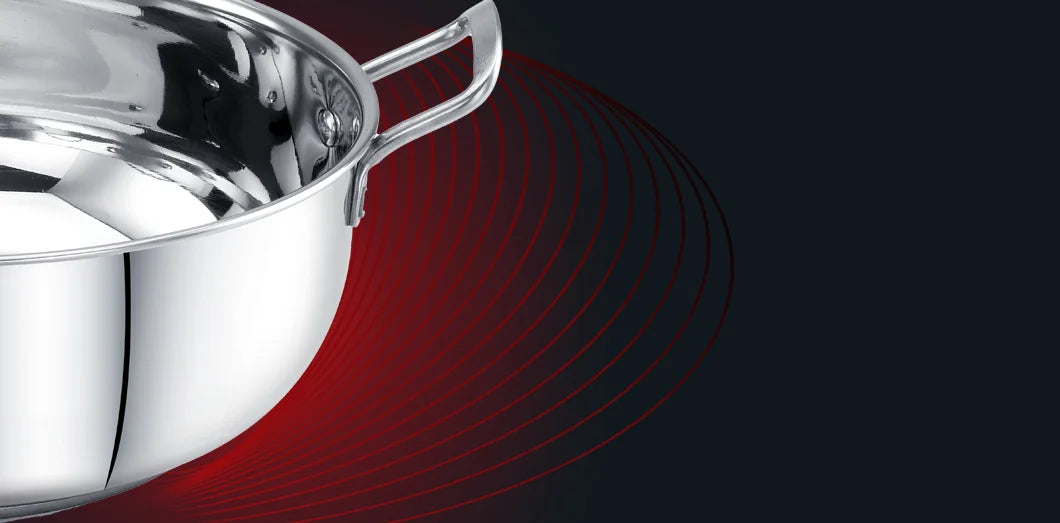 The thick sandwich bottom construction offers even distribution of heat
Made of premium quality food grade stainless steel with robust and highly durable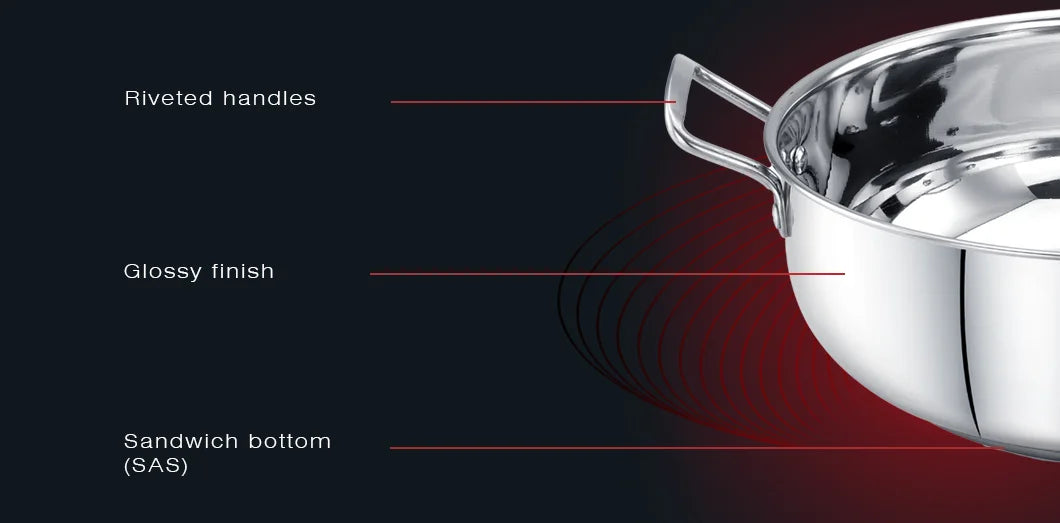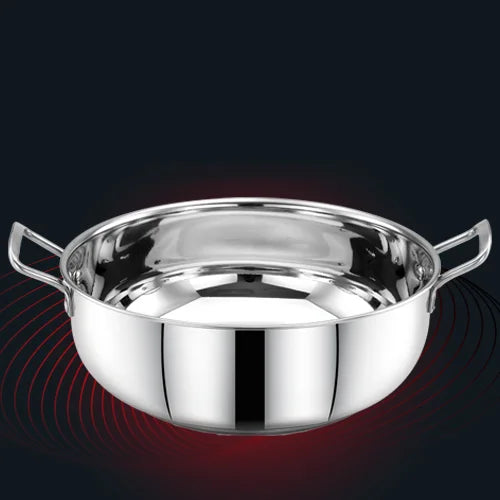 About This Product
Avias brings to you Inox Kadai which has encapsulated sandwich bottom wherein an layer of aluminium is sandwiched between two layers of stainless steel. The sandwich bottom technology ensures even distribution of heat whereby avoiding sticking or burning of food.
It is made of good quality food grade stainless steel making it highly durable and rust resistant. It comes with riveted handles for it too long last.
The glossy finish gives it an elegant look for cooking as well as serving food It is easy to clean and can be used on various stovetops.
It can be used to fry small appalams, fryums, porous and the list goes on!
FAQs
Is stainless steel Kadai good for cooking?
Avias Inox stainless steel kadai set is a great option for non-toxic, long-lasting, durable cookware ideal for boiling, sautéing, and baking. It is especially good for small-batch baking as it retains heat well and cooks foods evenly.
Is this kadai good for gifting?
Avias stainless steel kadai set are great as a gift for many festival gifts, anniversary gifts, marriage gifts, corporate gifts, etc.
Which Kadai is better aluminium or steel?
Stainless Steel Cookware is often the better choice than Aluminum Cookware because it's more durable and has better heat retention.
What are the advantages of using a stainless steel kadai?
Avias stainless steel kadais offer several advantages, including durability, even heat distribution, resistance to rust and corrosion, and ease of cleaning. They are also non-reactive, meaning they won't interact with acidic or alkaline foods during cooking, preserving the taste and quality of the dishes.
Can I use a stainless steel kadai on a gas stove?
Yes, Avias stainless steel kadais are well-suited for gas stoves and can be used on most other types of induction as well. They are versatile and compatible with various heat sources.