AVIAS Stainless Steel My Binge Box/ Square Lunch Pack/ snacks box | Airtight Leakproof Containers with lid| Set of 4
Price:

Rs. 742.50
MRP:

Rs. 1,485.00
save 50%
Incl. of all taxes
Made of premium stainless steel
Leak-proof covers
Robust and rust-resistant
Mirror polish
Simple to clean and wash
Comes in a set of 4 different sizes.
Avias My Binge Box Set is available in a range of sizes to suit your individual requirements. It is the perfect snack box for use at school, college, the gym, movies, picnics, and offices, as well as a kitchen storage container for use at home.
It also comes in a variety of sizes. The containers' leak-proof lids enable them to retain solid and semi-solid food items, keeping things fresh and hygienic for longer. Give the gift of convenience with the Lunch Box. Also good for Kitchen Gifts, Marriage gifts, Birthday gifts, Anniversary gifts, Festival gifts like Diwali gifts, Christmas gifts, Pongal gifts, etc.
Color: Silver
Heavy gauge stainless steel
Weight: 142, 162, 176, 205
Dimensions: 500ml, 600ml, 700ml, 800ml
Package content: 4 square storage containers with lids, and warranty card.
Country of origin - India
Manufacturer/ packer - Avias India- 3rd floor, Twins Chambers, 824, Poonamallee High Rd, above Canara Bank, Kilpauk, Chennai, Tamil Nadu 600010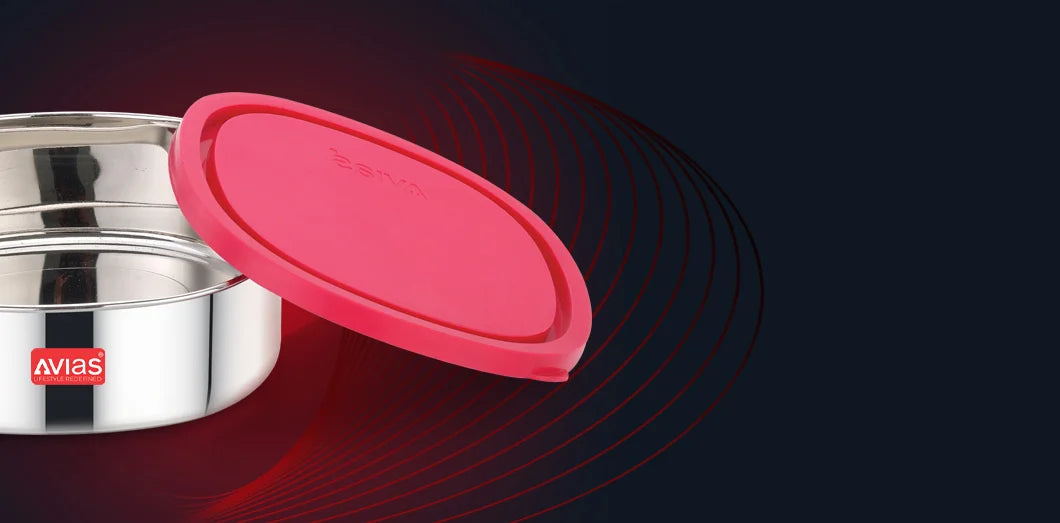 Now Binge Consciously with My Binge Box
Rust-Resistant Body & Leak-Proof Lids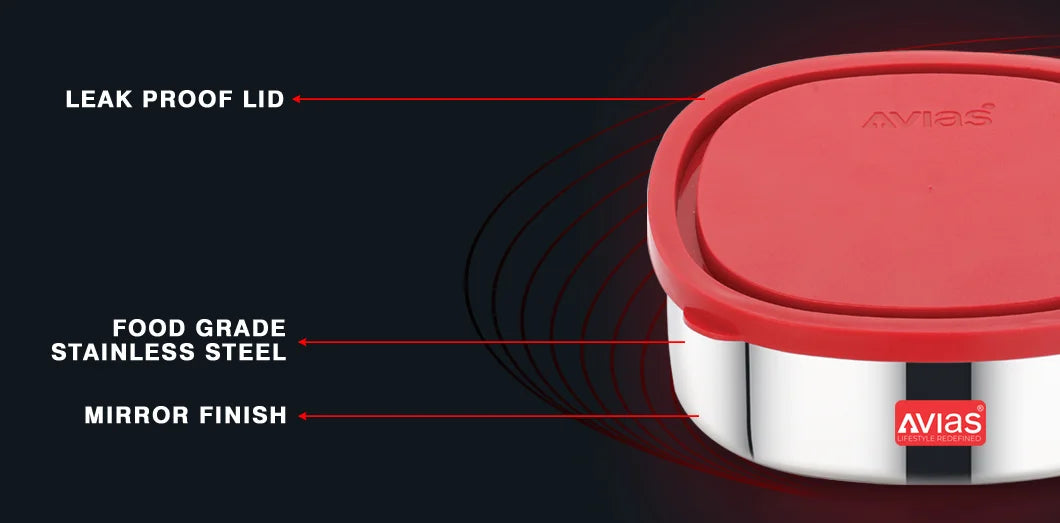 Why My Binge Box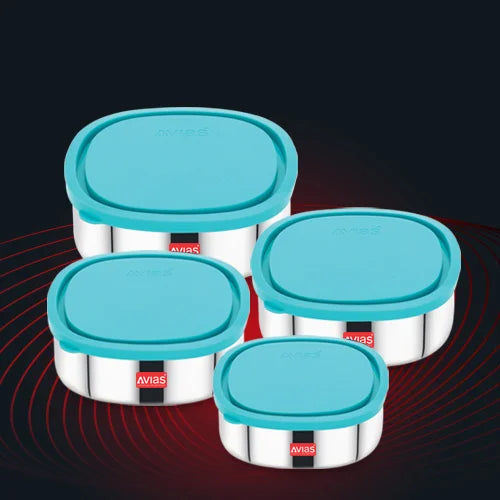 My binge box set is made of high quality, food grade stainless steel.
It has Leak proof lids
The containers are durable and rust resistant
The containers have a mirror polish which makes them attractive
They are easy to wash and clean
They come in a set of 4 of different sizes
FAQs
Can I use a stainless steel canister for liquid items?
Stainless steel canisters are not designed for storing liquids, as they are not leak-proof. They are best suited for dry goods to maintain their freshness and prevent moisture exposure.
Can I stack stainless steel canisters on top of each other?
Yes, you can stack the stainless steel canister boxes on top of each other, it is strong and durable.
Is the stainless steel canister dishwasher safe?
Yes, all Avias stainless steel canister storage boxes are dishwasher-safe.
Can I use a stainless steel canister for outdoor camping or travel?
Stainless steel canisters are durable and travel-friendly, making them suitable for outdoor camping or travel. They can help keep your dry food items organized and protected during your trip.
What are the advantages of using a stainless steel canister?
Durable, resistant to dents and scratches
Airtight seal keeps contents fresh
Corrosion-resistant, suitable for various dry goods
Hygienic and easy to clean
Environmentally friendly, recyclable material
Long-lasting and versatile for hot or cold storage
Does not retain odors