AVIAS Inox IB Stainless Steel Tope set of 5 | High Quality Stainless Steel | Glossy finish | Strong riveted handles | Sandwich bottom | 14cm/16cm/18cm/20cm/22cm
Price:

Rs. 2,059.20
MRP:

Rs. 2,860.00
save 28%
Incl. of all taxes
Premium cookware made with foodgrade stainless steel
Even heat distribution because of thick sandwich bottom design
Sandwich base (SAS)
Satin interior and glossy exterior finishes
Strong and quite durable
Simple to clean
Riveted handles
Induction base stainless steel cookware that allows gas stoves

The Avias Inox IB cookware stainless steel tope is a highly durable and rust-resistant product. It is made of premium quality food-grade stainless steel. It has a wide rim for drip-free pouring and simple handling.
This stainless steel cookware has an exquisite appearance for both cooking and serving meals thanks to the shiny finish. It is an induction base stainless steel cookware that also allows gas stoves and is simple to clean.
You may boil milk or water with the Avias Inox IB Tope to make your favorite rasam, sambhar, and so much more! Also good for Kitchen Gifts, Marriage gifts, Birthday gifts, Anniversary gifts, Festival gifts like Diwali gifts, Christmas gifts, Pongal gifts, etc.
Material: Heavy gauge stainless steel
Weight: 2800gm
Dimensions: 14cm/16cm/18cm/20cm/22cm(diameter)
Package content: 1 set of Inox IB tope(5 pcs), and warranty card.
Country of origin - India
Manufacturer/ packer - Avias India- 3rd floor, Twins Chambers, 824, Poonamallee High Rd, above Canara Bank, Kilpauk, Chennai, Tamil Nadu 600010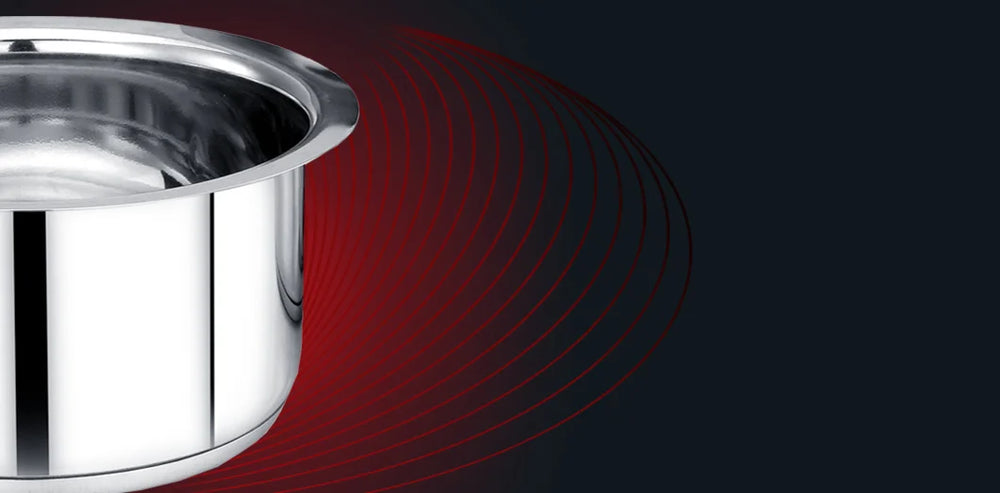 The thick sandwich bottom construction offers even distribution of heat
Made of premium quality food grade stainless steel with robust and highly durable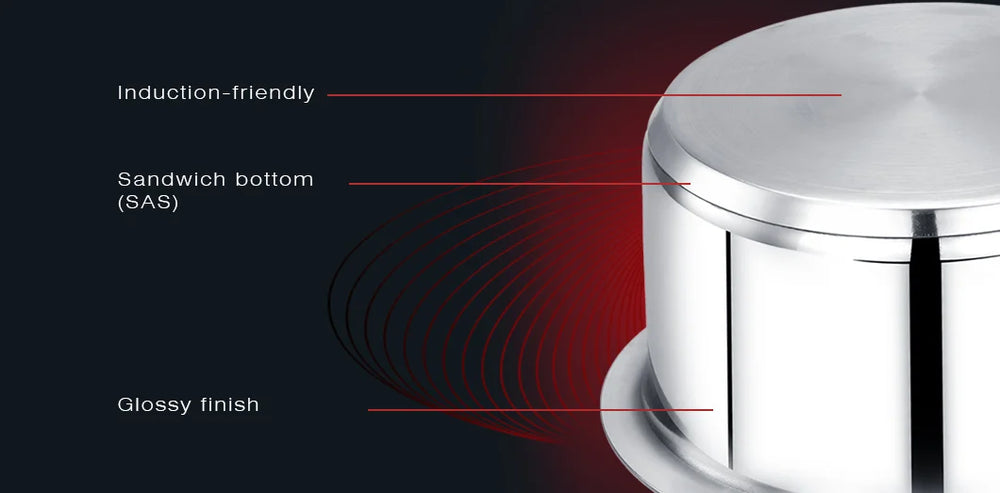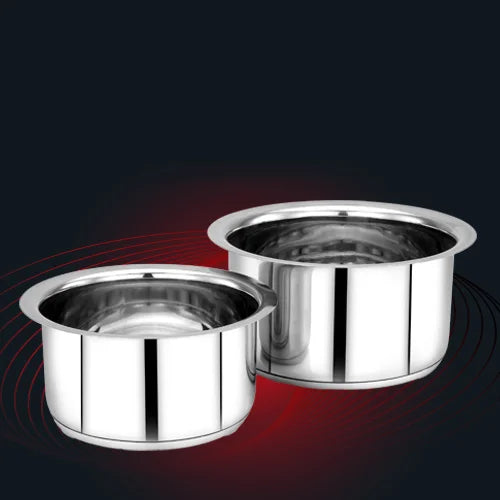 About This Product
Avias brings to you Inox IB Tope which is made of supreme quality food grade stainless steel making it highly durable and rust resistant.
It comes with a flared rim for easy dripless pouring and easy management.
The glossy finish gives it an elegant look for cooking as well as serving food It is easy to clean and can be used on various stovetops and is induction friendly.
FAQs
What is Tope cookware?
This set of Avias stainless steel topes (pots) is durable for everyday cooking and preserves nutrition so your recipes turn out beautifully. These high-quality topes/patila are extremely durable and fuel savers.
What is the purpose of using a stainless steel tope?
Avias stainless steel tope can be used for cooking a wide range of dishes, including curries, stews, soups, and boiling water and vegetables. It is especially popular in Indian and South Asian cooking due to its versatile nature.
Can a stainless steel tope be used on a gas stove?
Yes, Avias stainless steel tope is well-suited for use on gas stoves. It can also be used on other types of stoves like electric and induction cooktops, making it a versatile cookware option.
How to clean and maintain a stainless steel tope?
To clean Avias stainless steel tope, allow it to cool down after cooking, then soak it in warm soapy water to loosen any residue. Use a soft sponge or scrubber to clean the surface. Avoid using harsh chemicals or abrasive cleaners to prevent scratching the stainless steel. After washing, dry the tope thoroughly to prevent water spots.
Is a stainless steel tope dishwasher-safe?
Yes, the Avias stainless steel tope sets are dishwasher safe.