Cast Iron Deep Kadai/ Irumbhu Kadai/ Cast Iron Wok Pre-Seasoned Cookware | Induction Friendly | 100% Natural & Toxin-Free
Price:

Rs. 2,151.00
MRP:

Rs. 2,390.00
save 10%
Incl. of all taxes
Made of pure cast iron

100% food-safe and toxin-free

Cast Iron Deep Kadai

No harmful chemical coating

Even heat distribution

Heat retention properties

Safe to use on gas stove, induction stove, OTG and campfire

Thick, sturdy and durable body with handles

cast iron cookware lasts longer than any other cookware
The Avias Cast Iron Deep Kadhai/ Iron Wok with handles is manufactured entirely from 100% pure cast iron, ensuring it remains completely free from chemicals, meaning there are no harmful artificial or chemical coatings. As a result, this best cast iron kadai in India presents a healthier alternative when compared to non-stick kadais, which often come with toxic coatings.
What sets cast iron cookware pot apart is its ability to infuse the food you prepare with additional iron content, a notable health benefit. This particular cast iron Irumbhu kadai with handles comes pre-seasoned with 100% vegetable oil, lending it a smooth and polished finish.
The smooth pre-seasoned cast iron kadai/ iron wok also elevates the overall flavor of your culinary creations, delivering a chef-like touch to your dishes.
Cast iron cookware set is well-regarded for its versatility in day-to-day cooking, and this pure cast iron kadai/ Irumbhu kadai is no exception. With its two sturdy handles, it ensures a secure grip, making cooking easy and safe.
You can confidently use this deep cast iron kadai/ Irumbhu kadai with handles on an induction stove, gas stove, OTG, and even over a campfire. Undoubtedly, the cast iron kadhai will enhance your overall cooking experience.
This pre-seasoned cast iron kadhai/ iron wok promotes even heating and is excellent at retaining heat for extended periods. Additionally, it cooks food faster, translating into fuel and gas savings.
When you purchase this deep cast iron kadai online from Avias India, you can be certain of superior performance and consistently excellent cooking results.
Furthermore, the cast iron cookware set is renowned for its longevity. There is no need to replace a cast iron kadai/ cast iron wok every 1-2 years, as is often the case with non-stick cookware. This translates to significant cost savings in terms of gas and induction cast iron kadais with handles, making it a wise long-term investment.
So, cease your search for the best-cast iron kadai in India! At Avias, you are guaranteed to discover the finest cast iron kadai with handles available online.
Material: Cast Iron
Weight: 2.85kgs
Dimensions: 31x25x11.5 cm
Package content: 1 Iron Deep Kadai and Warranty Card.
Manufacturer/ Packer: Avias India- 3rd floor, Twins Chambers, 824, Poonamallee High Rd, above Canara Bank, Kilpauk, Chennai, Tamil Nadu 600010
Avias All Rounder Multikadai Plus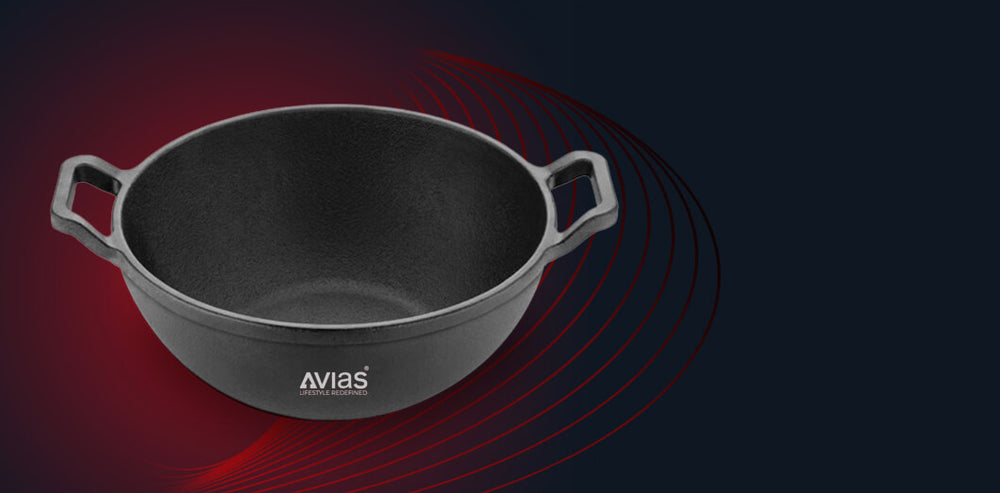 Enriches Food With Iron & helps Improve the Iron Intake in your Body.
Heats Evenly. Cook Better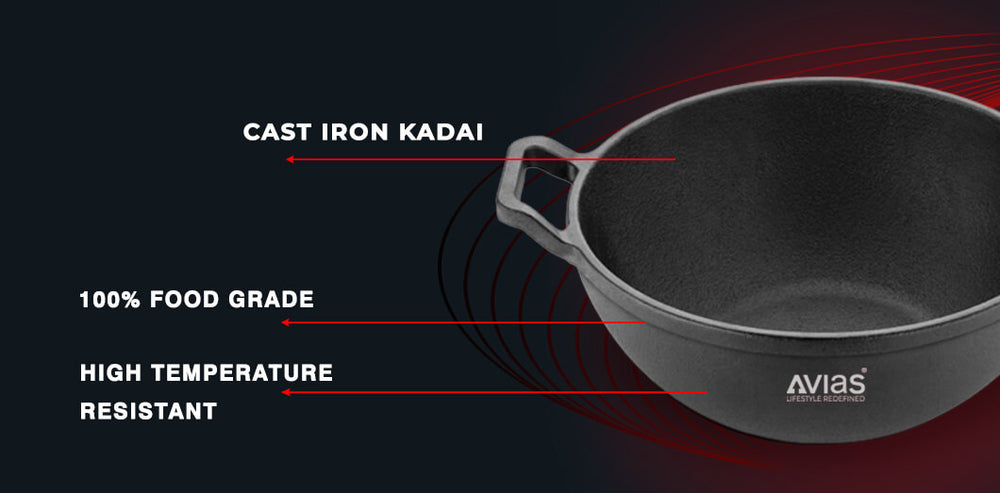 Cast Iron Deep Kadai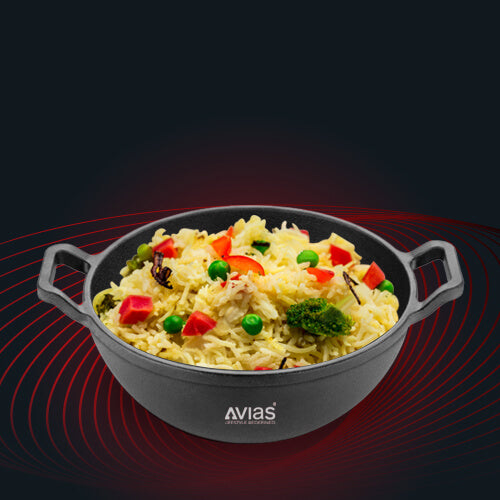 About This Product
Natural & Toxin-Free
Enriches Your Food With Iron
Excellent Cooking Results
Naturally Non-Stick
Makes Your Food Tastier
Long Lasting Kadai
FAQs
Can we use cast iron kadai for deep frying?
Yes, you can use Avias cast iron kadai for deep frying because this kadai has more depth to it and has a flat bottom that provides even heat distribution, Cast iron is an excellent choice for deep frying.
How do you clean iron kadai after deep frying?
Cleaning an Avias cast iron deep kadai after deep frying is relatively straightforward. Here are the steps to clean it effectively:
1. Cool Down Safely - Allow the cast iron kadai to cool down to a safe temperature before handling it.
2. Dispose of Used Oil - Carefully pour the used frying oil into a container for disposal or recycling.
3. Scrape Off Residue - Use a wooden spatula or spoon to scrape off any food residue or stuck-on bits from the kadai's surface. Be gentle to avoid damaging the seasoning.
4. Wash with Hot Water - Rinse the cast iron kadai under hot running water to remove any remaining debris. You can use a soft brush or non-abrasive scrubber to help with this step.
5. Dry Thoroughly - After rinsing, dry the kadai thoroughly with a clean cloth or paper towel.
6. Re-season If Necessary - You may need to re-season the iron kadai for future use.
7. Store Properly - Store the Avias cast iron kadai in a dry place to prevent rust.
How do you season & maintain cast iron kadai?
Here's a step-by-step guide on how to season Avias cast iron deep kadai:
Step 1: Clean the Avias cast iron deep kadai - Use a scrub brush or steel wool to gently scrub away any stuck-on food particles or rust. Avoid using harsh abrasives that can damage the cast iron's seasoning.
Step 2: Dry the Iron Kadai- Thoroughly dry the cast iron deep Kadai using clean, dry towels or paper towels. It's essential to remove all moisture to prevent rust.
Step 3: Apply a thin layer of oil - Pour a small amount of cooking oil into the cast iron kadai, then use a small cloth to spread an even layer of oil over the entire interior & exterior surface of the kadai. Make sure to wipe off any excess oil.
Step 4: Heat the cast Iron kadai- Heat the cast iron deep kadai well until it has smoke and then turn off the heat to cool the kadai.
Step 5: Cool and repeat (optional) - Allow the cast iron kadai to cool off. It's a good idea to leave it overnight to ensure the seasoning sets properly. You can repeat the seasoning process 2-3 times if you're starting with a new or heavily rusted piece of cast iron.
Step 6: Maintain the seasoning - After each use, follow these easy steps to season and maintain your Avias Cast Iron Deep Kadai.
What is deep kadai used for?
Avias cast iron deep kadai, also known as a deep frying iron kadai or deep frying pan, is a versatile cooking vessel used primarily for deep-frying food, and also it can be used for other cooking techniques. Here are some common uses for a deep kadai:
1. Deep-frying puri, papads, pakoras, samosas, bhajis, French fries, and other deep-frying foods.
2. Stir-frying vegetables, paneer, or tofu.
3. Making Indian gravies, sauces, stews and soups.
4. Boiling pasta, rice, noodles, and other grains.
5. Steaming momos, idlis, or dumplings.
6. You can prepare one-pot meals in a deep kadai, combining ingredients like rice, vegetables, dals, and spices to create a complete dish.
Which Kadai is best for cooking, iron or cast iron?
Cast iron deep kadai/ cooking pot/ iron wok is considered to be better than regular iron kadai for most cooking purposes. Avias cast iron kadai has excellent heat retention, even cooking, and durability, making it a preferred choice for many cooks. Traditional iron kadai is often less refined and can be more prone to rusting and uneven heating.