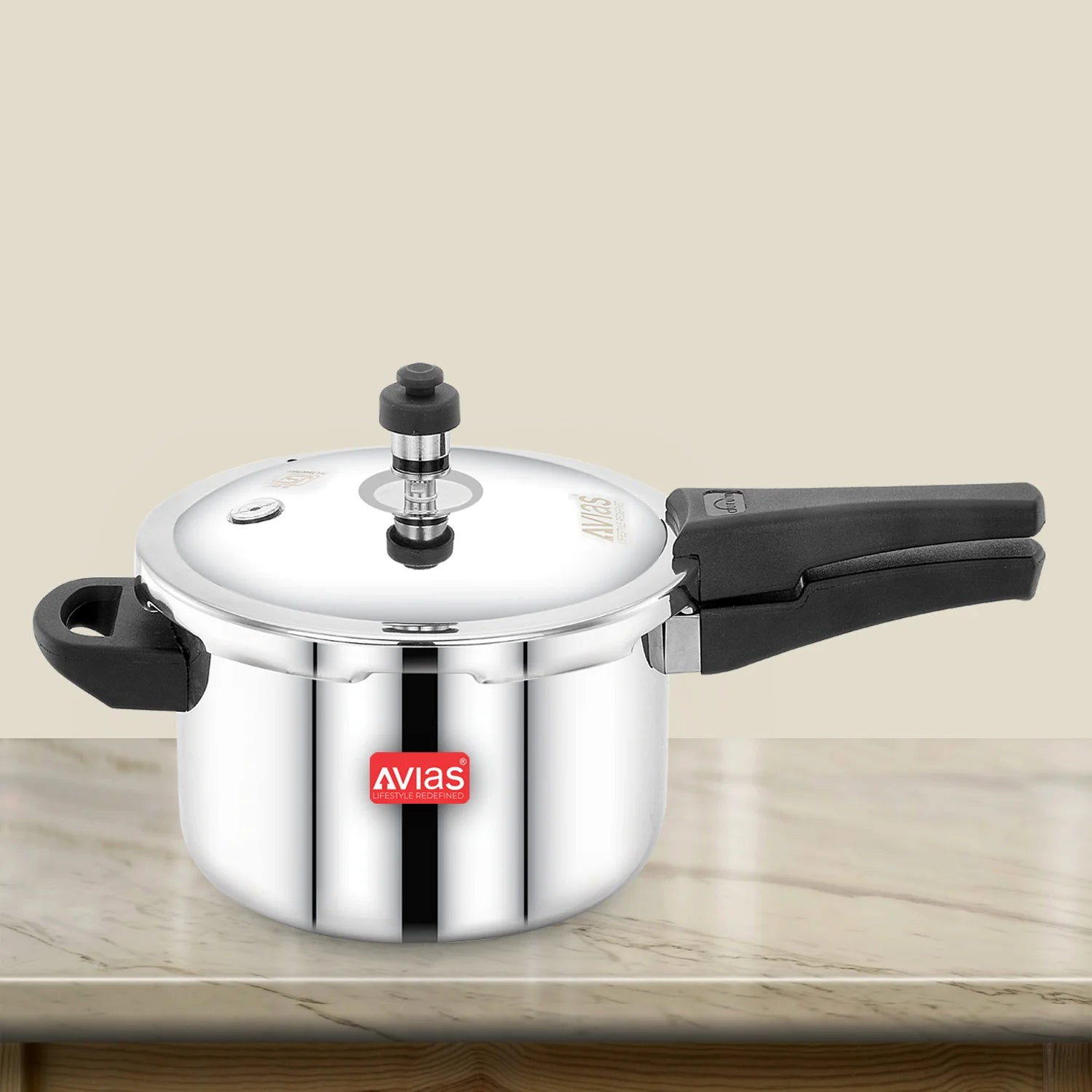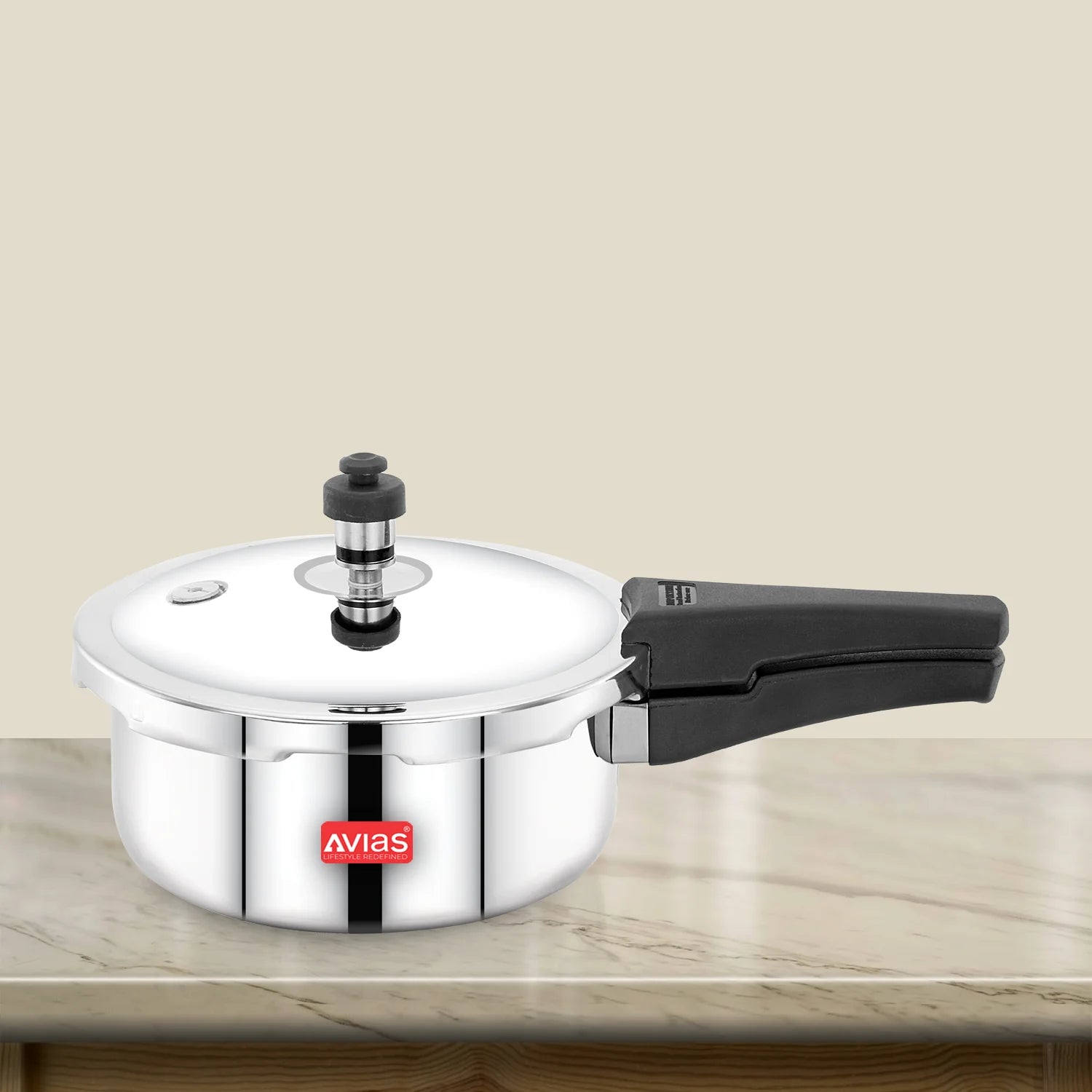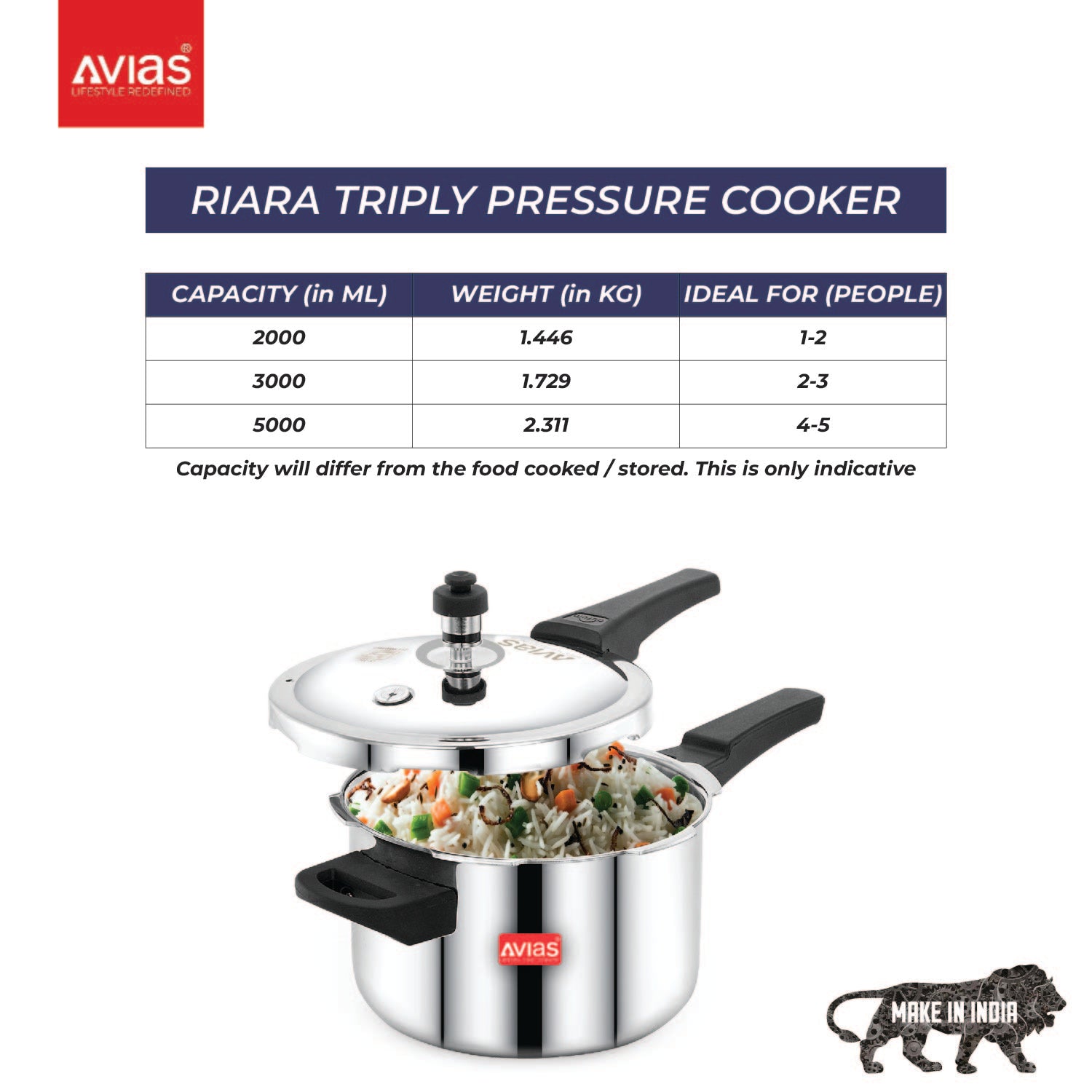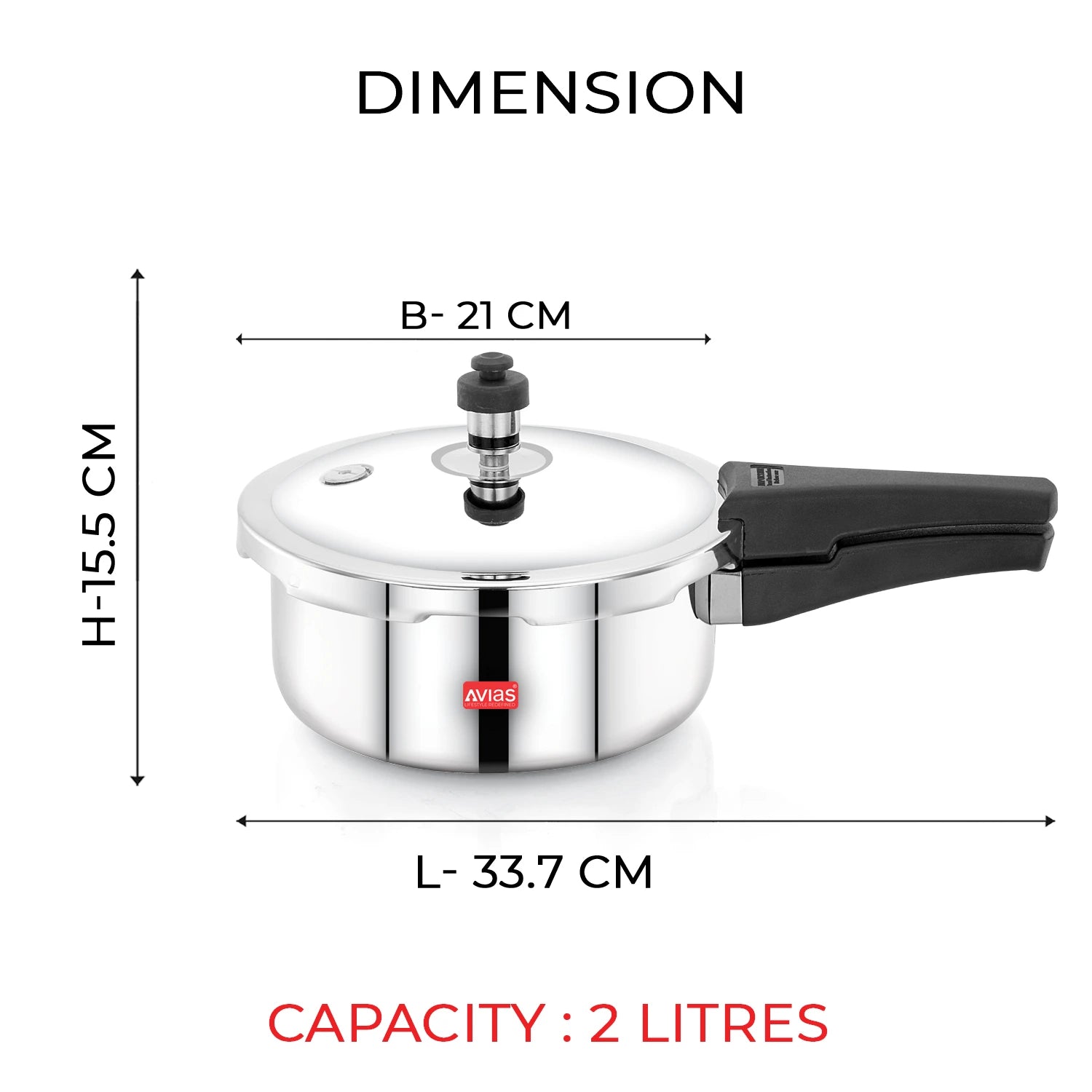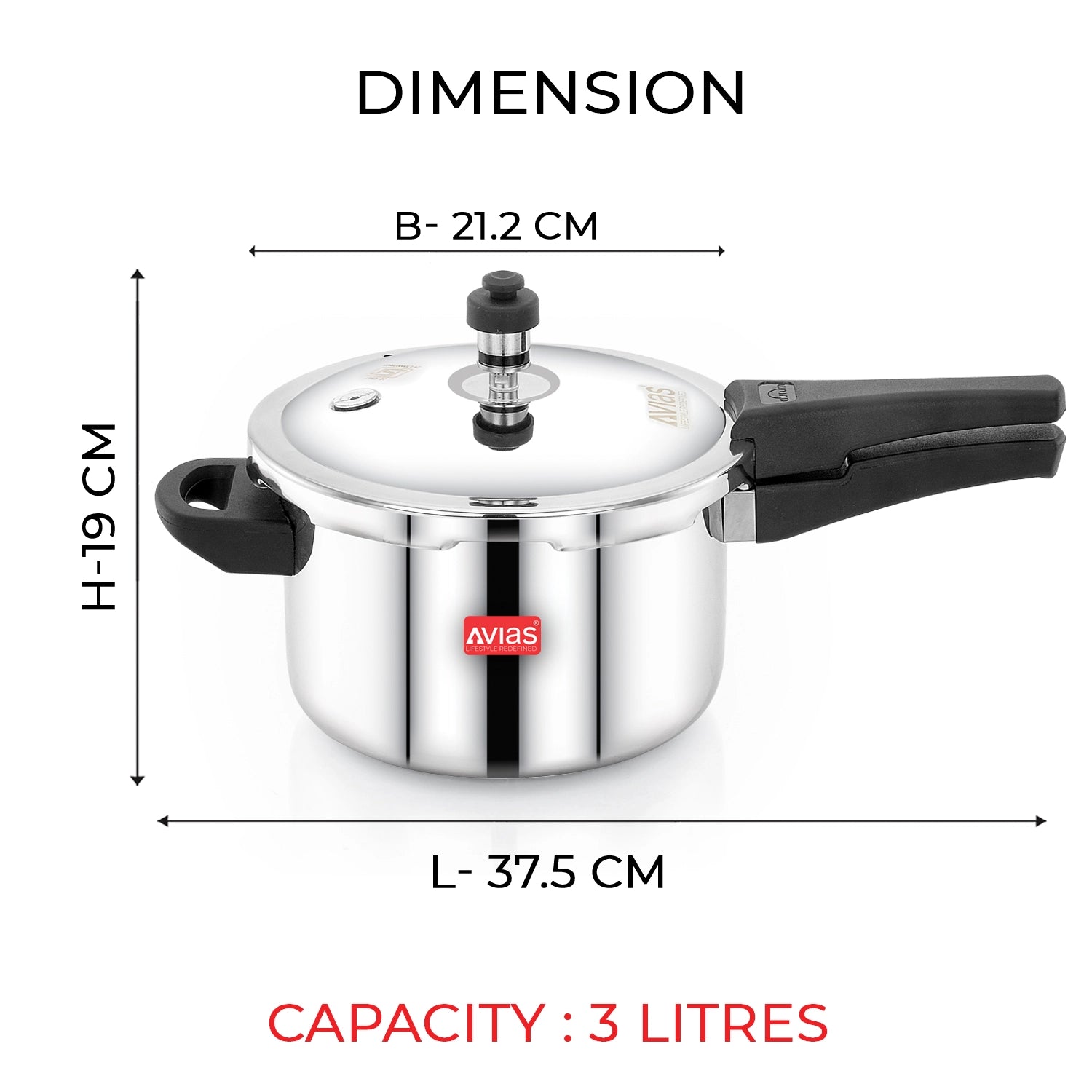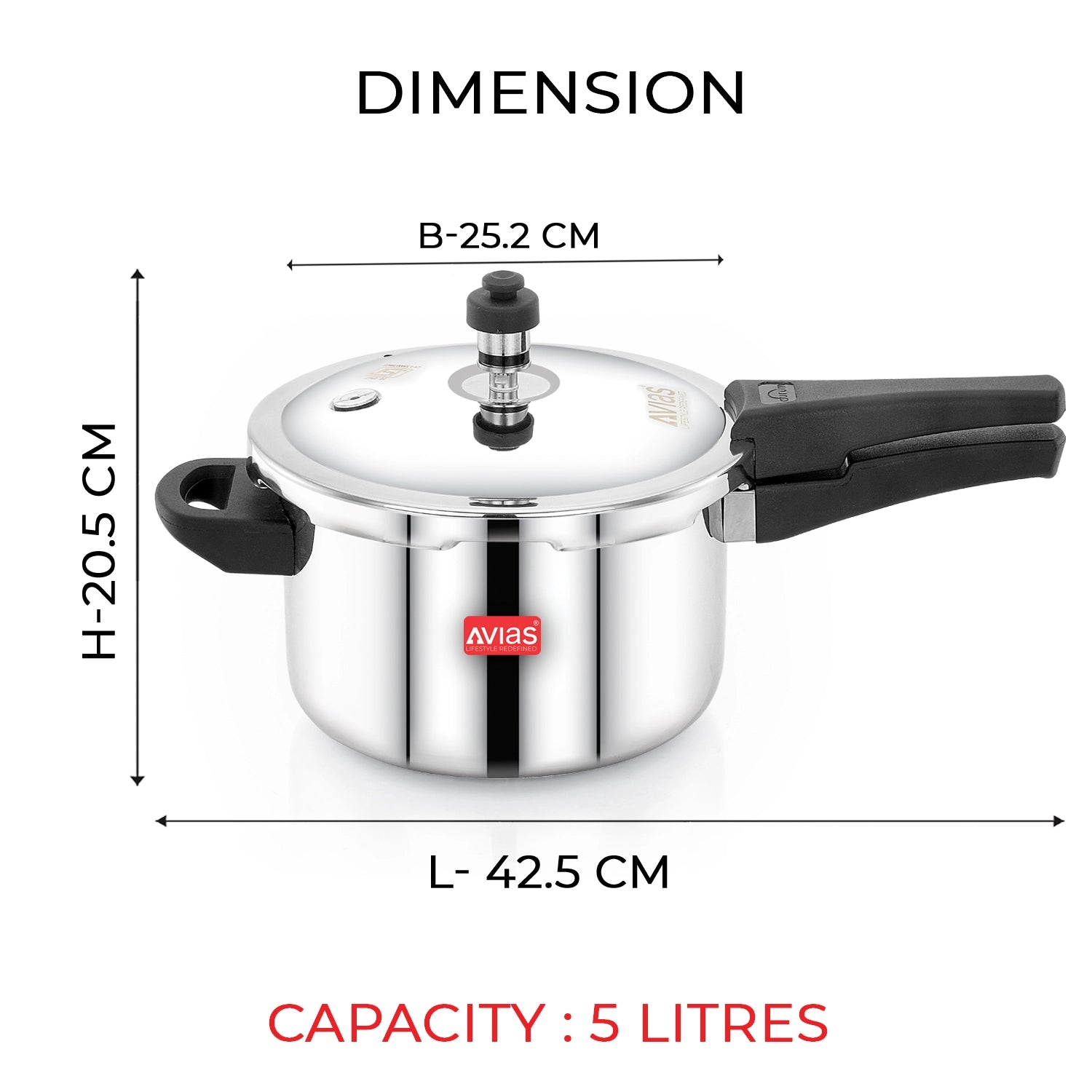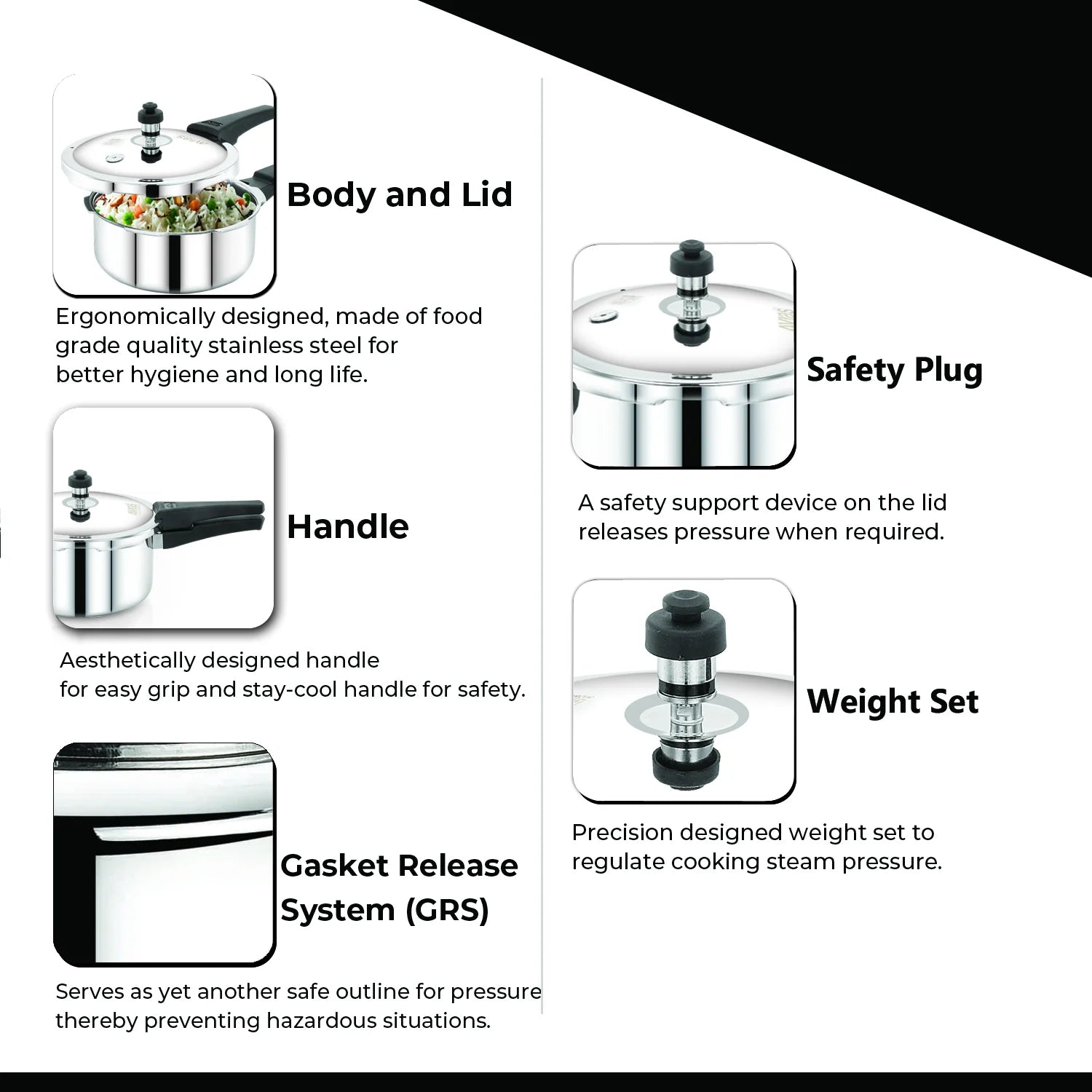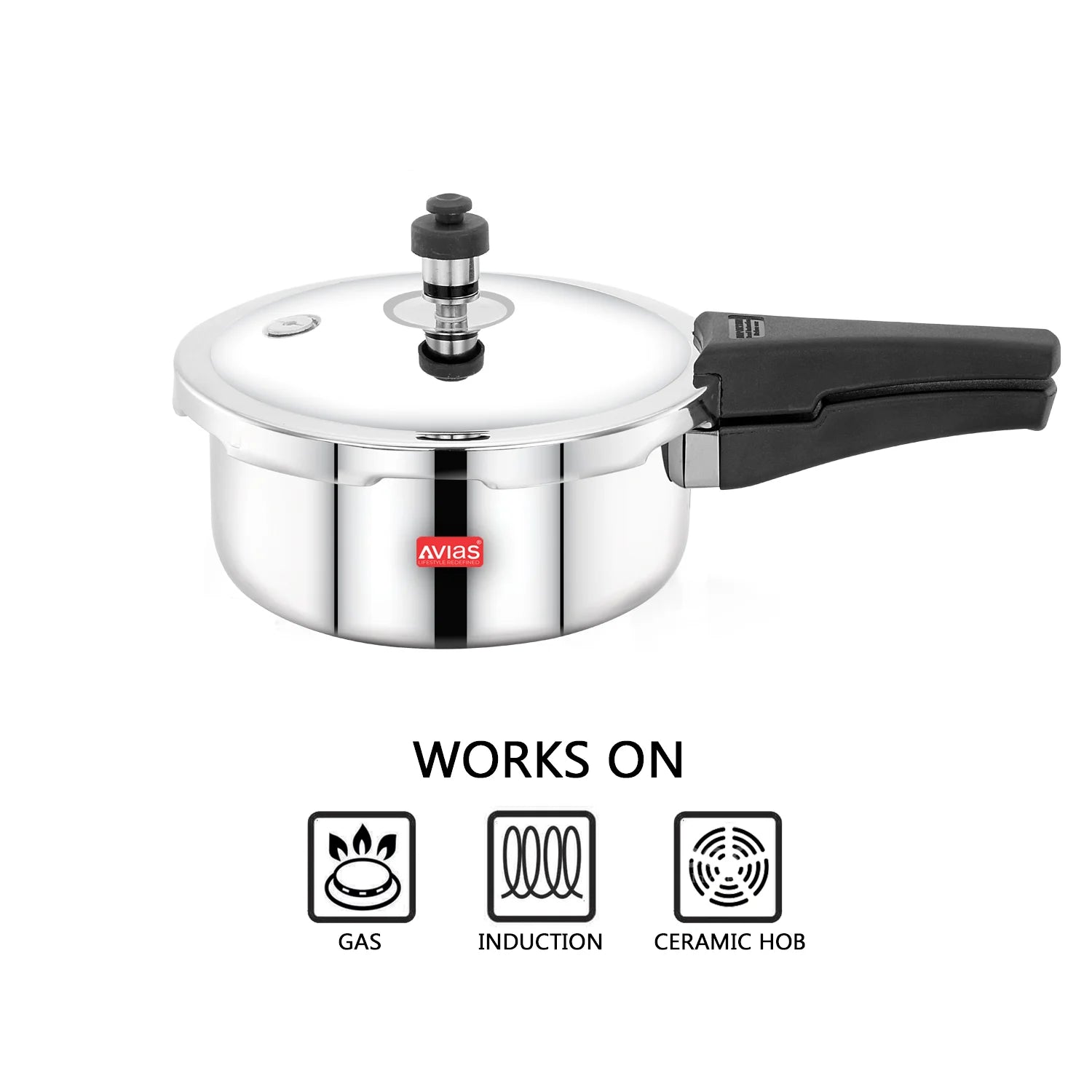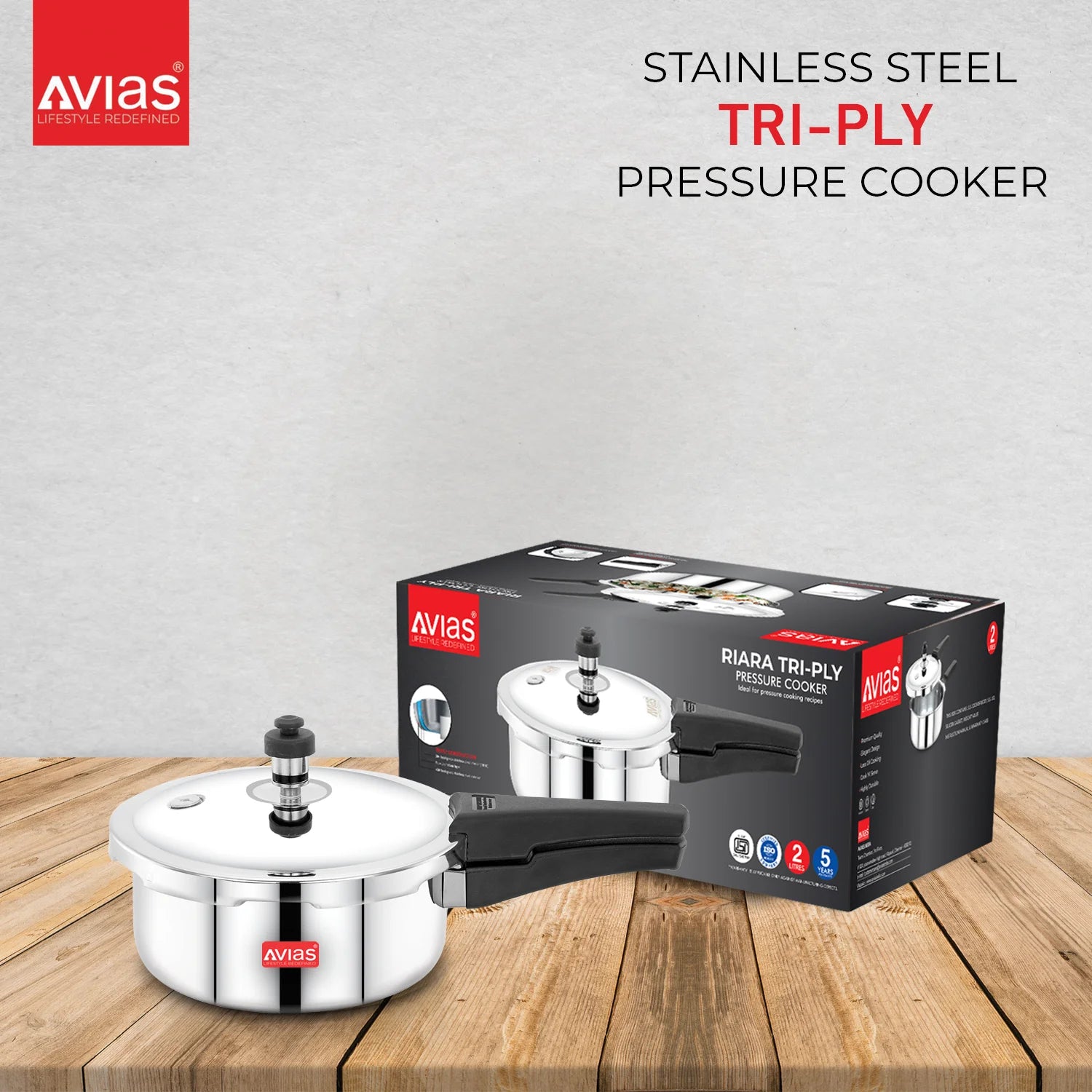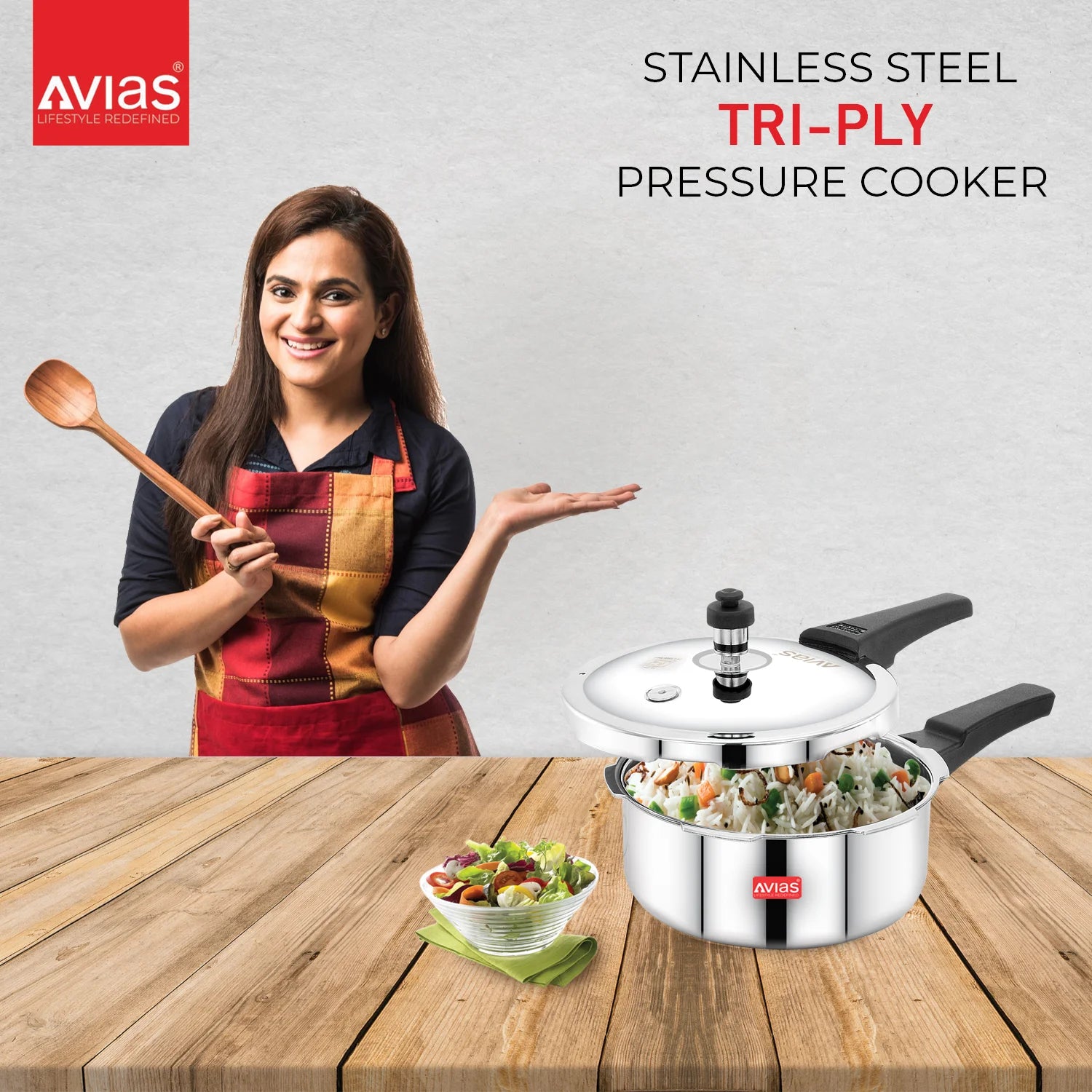 AVIAS Riara Premium Stainless Steel Triply Pressure Cooker with outer lid | triple-layered body | bakelite handles | induction and gas stove friendly | 1.2 mm thick | 3L/ 5L
Price:

Rs. 2,617.50
MRP:

Rs. 5,190.00
save 25%
Incl. of all taxes
360° Heating
Easy Clean
Lasts Longer
Less Oil
Less Sticky
No Burnt
Save Fuel
Spill Proof
1. Triply cookware body with three layers:
           The inner layer: 304 stainless steel
           Aluminium in the middle layer
           The layer outside is made of 430 stainless steel
2. Outer lid with whistle mechanism
3. Induction base stainless steel cookware
4. Sturdy bakelite handles
5. 5-year warranty guaranteed

Avias Riara triply stainless steel pressure cookware has three layers: an inner layer made of 18/10 (SS304) food-grade steel, a middle layer made of heat-conducting aluminum, and an outer layer made of 304 stainless steel. The inner layer is safe for use during cooking, the middle layer promotes even heat distribution, and the outer layer enables the use of the cookware with a variety of heat sources. It is an induction base stainless steel cookware that also allows gas, electricity, and halogen.
It is one of the most-liked and generally accessible varieties of our cookers. Our carefully designed cooker effectively steams food while using less oil, producing consistently healthy and nourishing meals. It is extremely hygienic and has a superior shine.
Moreover, stainless steel will not corrode when exposed to acidic foods like tomatoes or tamarind, ensuring clean, contamination-free cooking. The difficult days spent cooking are passed.
With the help of this cooker, you can quickly steam fresh veggies and make mouthwatering soups, sauces, rice, and dal meals. It is a perfect balance of attractive design and efficiency which is a steal at this price point. It's the perfect gift to elevate their cooking experience.
Thickness: 1.2 mm/li>
Weight: 1905 GMS (3L), 2650 GMS (5L)
Package content: 1-Pressure cooker, 1 whistle, instruction manual , warranty card
Country of origin - India
Manufacturer/ packer: Avias India - 3rd floor, Twins Chambers, 824, Poonamallee High Rd, above Canara Bank, Kilpauk, Chennai, Tamil Nadu 600010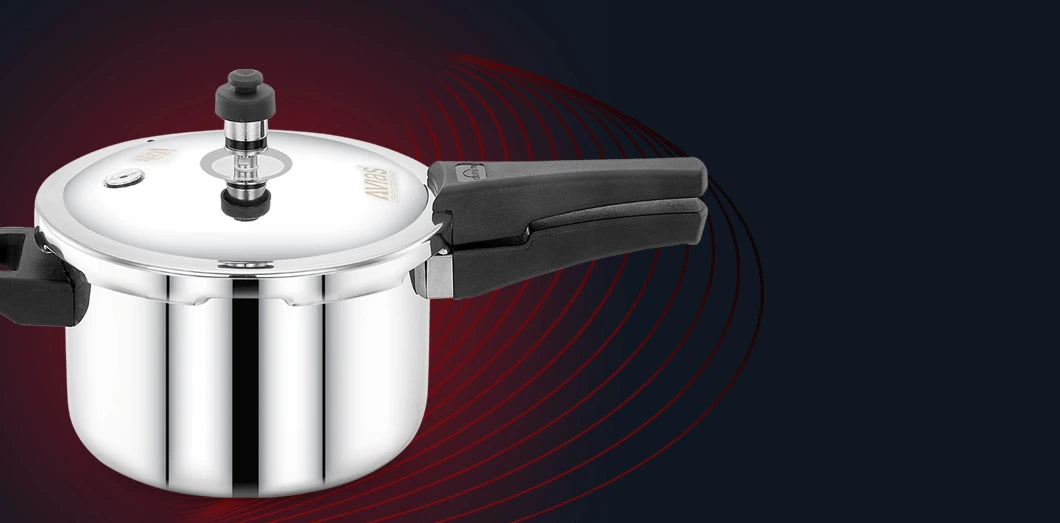 Sleek Design and Polished Finishing
Ergonomically Designed, Made Of Quality Stainless Steel Tri-Ply For Better Hygiene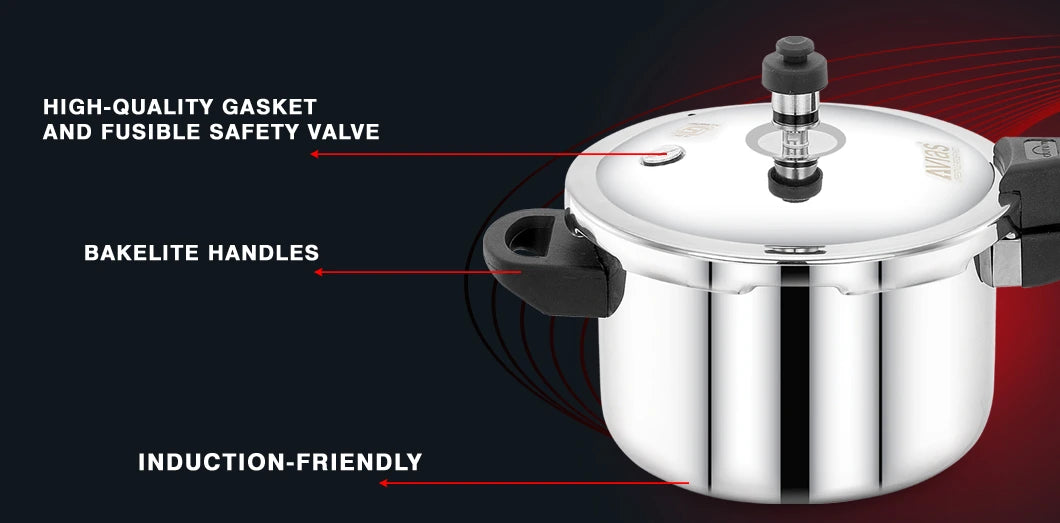 Why Triply Pressure Cooker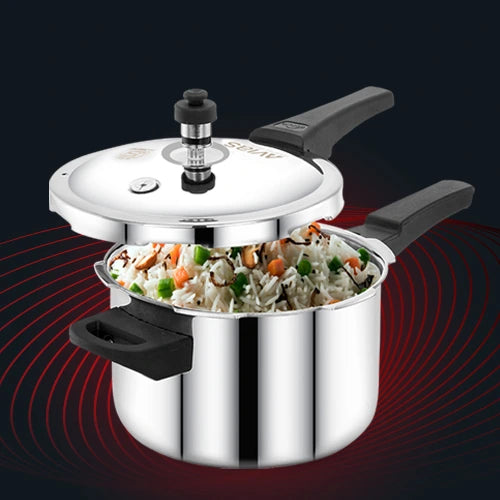 About this Products
Layer1- Food grade 18/8 stainless steel used in the inner surface for healthy cooking.
Layer 2- Encapsulated layer of aluminum right throughtout the cookware which helps in even heat distribution and avoids food from getting burnt.
Layer 3- 430 Magnetic stainless steel used as the third layer, making cookware induction friendly.
Fusible safety valve for added safety & gasket release system for maximum safety.
Induction friendly, easy to clean.
Package Content: 1-Pressure cooker, 1 whistle, instruction manual, warranty card.
FAQs
Is stainless steel good for high pressure?
Yes, Avias stainless steel pressure cookers are built so strong and It is capable of handling extreme conditions such as high pressure and temperature.
Can this be used on Induction?
Yes, our pressure cookers are all induction friendly.
Is the gasket rubber or silicone?
The gasket we use in our pressure cookers is silicone because it is long-lasting.
What size pressure cooker is for 5 people?
5 Liter pressure cooker will be suitable for 5 people.
What is the difference between outer lid and inner lid pressure cooker?
Inner lid cooker: The lid is inside the main body, pressure release on the lid. Outer lid cooker: The lid is outside, and pressure release on the body.