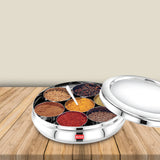 AVIAS Stainless Steel Elegant Spice box/Organiser with See-through lid for Kitchen | rust resistant steel masala dabba | masala dani with 7 compartments and steel spoon | Small/ medium
Price:

Rs. 975.00
MRP:

Rs. 1,440.00
save 25%
Incl. of all taxes
1. Spice box constructed using premium food-grade stainless steel.
2. It comes with a firm steel lid that is see-through and is break-resistant
3. Simple-to-close lids.
4. Multipurpose spicebox consisting of SAIL/JINDAL coil.
5. Prevents rust.
6. Smooth mirror finish body
Keeping in mind our Indian household needs, Avias Elegant Spice Box is designed using stainless steel mirror finish body and the lid can be used to store spices, dry fruits, or mouth fresheners.
The spicebox is made from premium quality, food-grade stainless steel that is rust-resistant and has a mirror polish. This Indian spice box is available in small and medium sizes and 2 lid variants - stainless steel lid and see-through lid.
It is an easy-to-close, break-resistant acrylic sheet glass lid on the box that makes it possible to see the contents clearly. There won't be any mixing of the contents because this box has 7 steel containers and a tiny steel spoon.
Due to its modern style, the box makes a perfect addition to your urban kitchen which can be used to store mouth fresheners, dry fruits, and spices. Also good for Kitchen Gifts, Marriage gifts, Birthday gifts, Anniversary gifts, Festival gifts like Diwali gifts, Christmas gifts, Pongal gifts, etc.
Heavy gauge stainless steel
Weight: 950gm/ 1100gm
Dimension: Available in 216mm/ 235mm (diameter)
Package content: 1 piece of stainless steel bottom container, 1 piece of stainless steel lid with glass/ SS steel, 7 pieces of SS containers, 1 spoon, warranty card
Country of origin - India
Manufacturer/ packer - Avias India- 3rd floor, Twins Chambers, 824, Poonamallee High Rd, above Canara Bank, Kilpauk, Chennai, Tamil Nadu 600010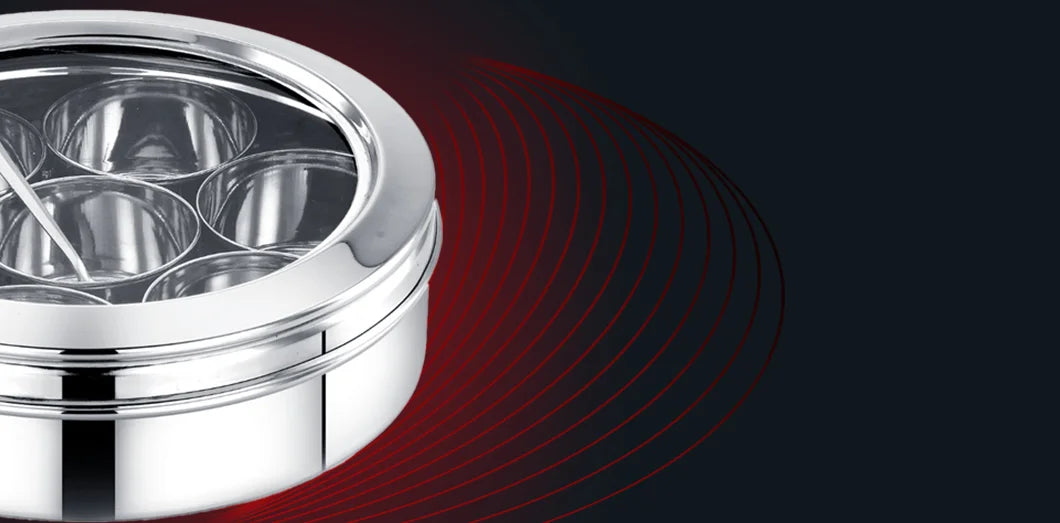 The glass lid and box can be efficiently cleaned using just soap and water
Food-grade Stainless Steel, Sleek, stylish design, Rust-resistant, See-through glass lid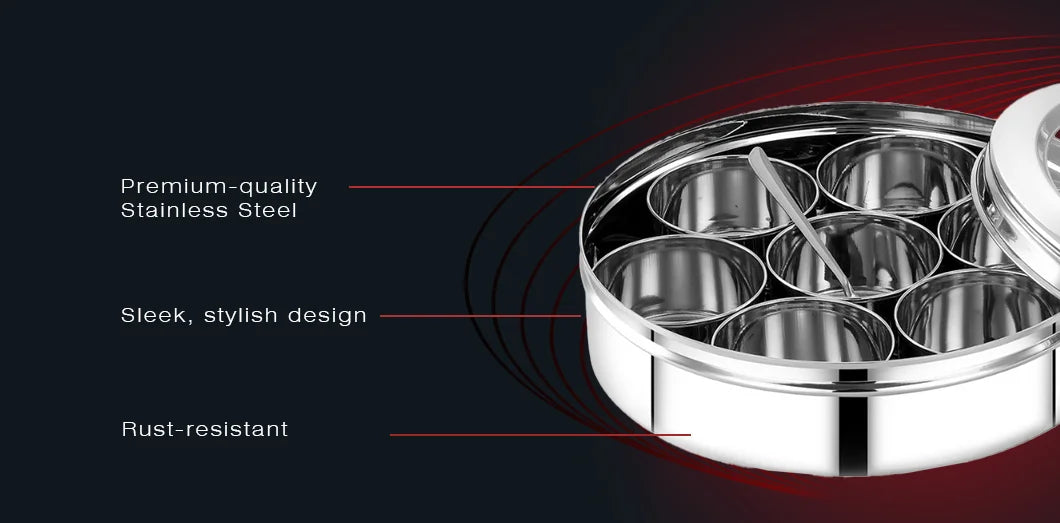 Why Spice Box Elegant Glass Lid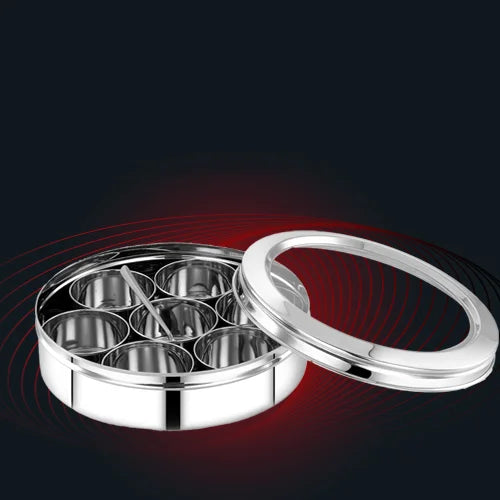 About This Products
Stainless Steel elegant Spice Container, Spice Container 7 with a spoon, Stainless Steel Lid
Capacity: 175 ml
Includes: Masala Dubba Bottom, Lid, Containers 7 No's & Spoon
FAQs
Is stainless steel good for spices?
Avias spice boxes are made of premium quality food-grade stainless steel which is highly durable and rust resistant and comes with mirror finish polish.
Is it dishwasher safe?
Yes, our stainless steel spice boxes are all dishwasher-safe.
Does it have a glass lid or plastic?
Avias stainless steel spice boxes have both break-resistant acrylic sheet glass lids and stainless steel lids, not plastic.
Is the spice box lid airtight?
Yes, Avias stainless steel spice boxes all have airtight lids.