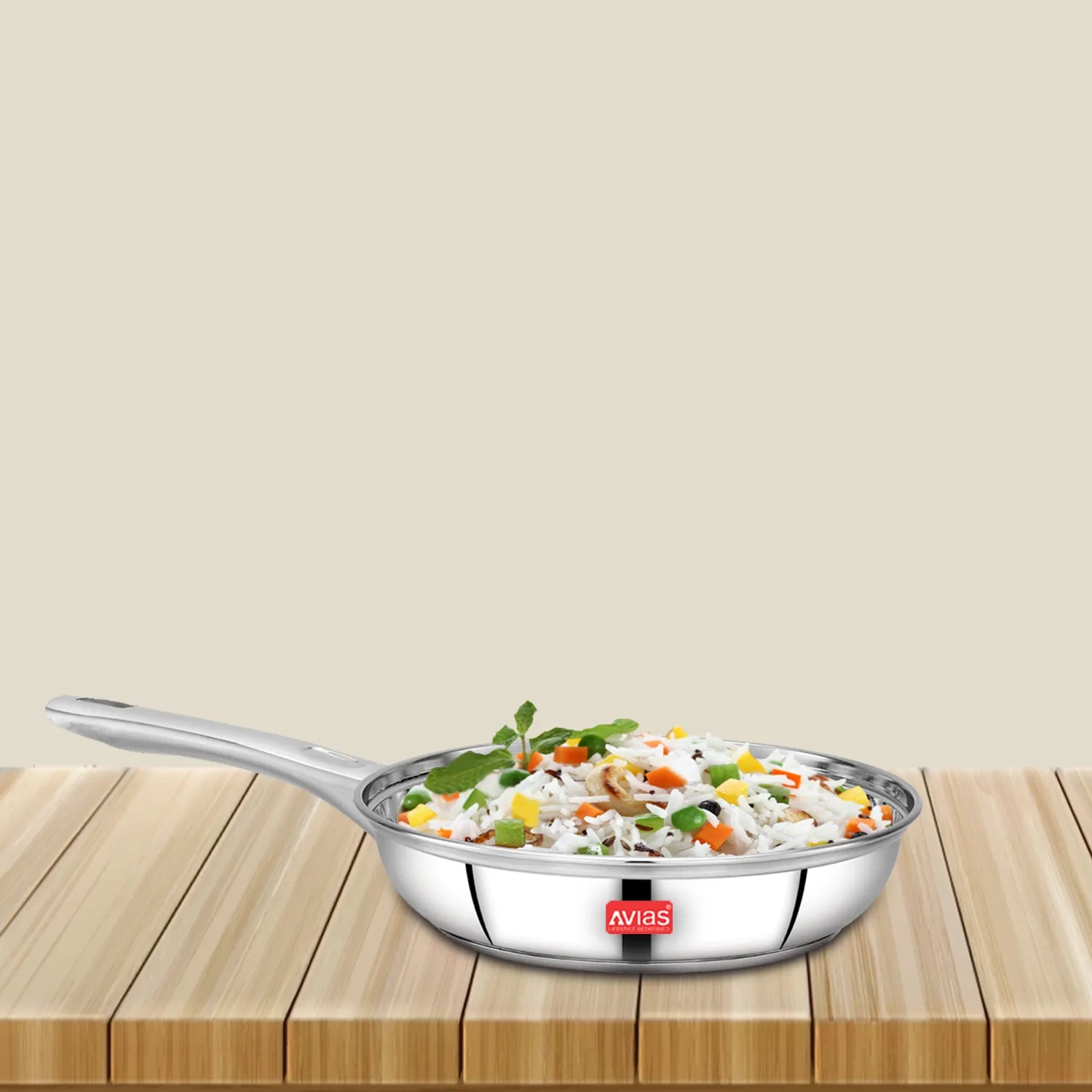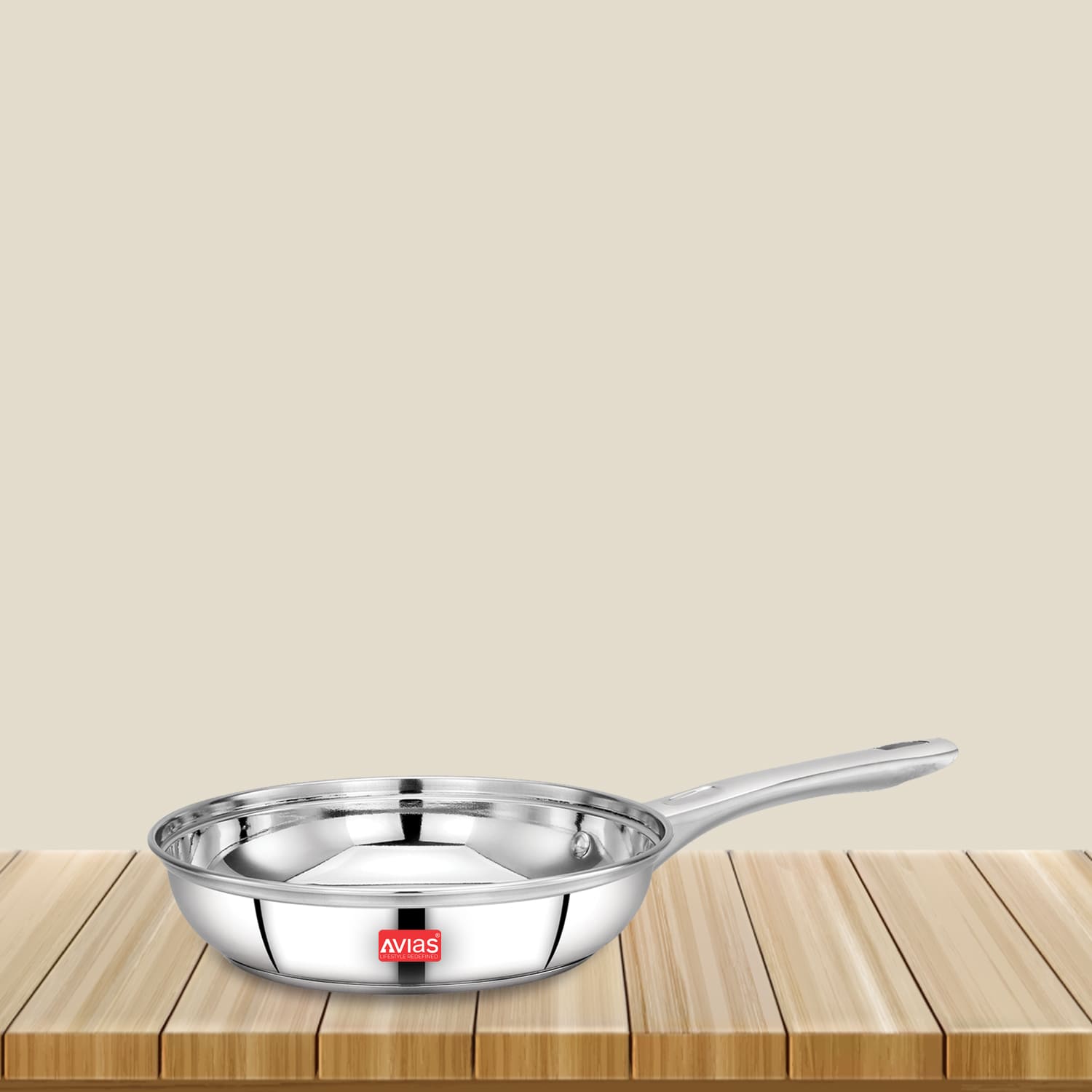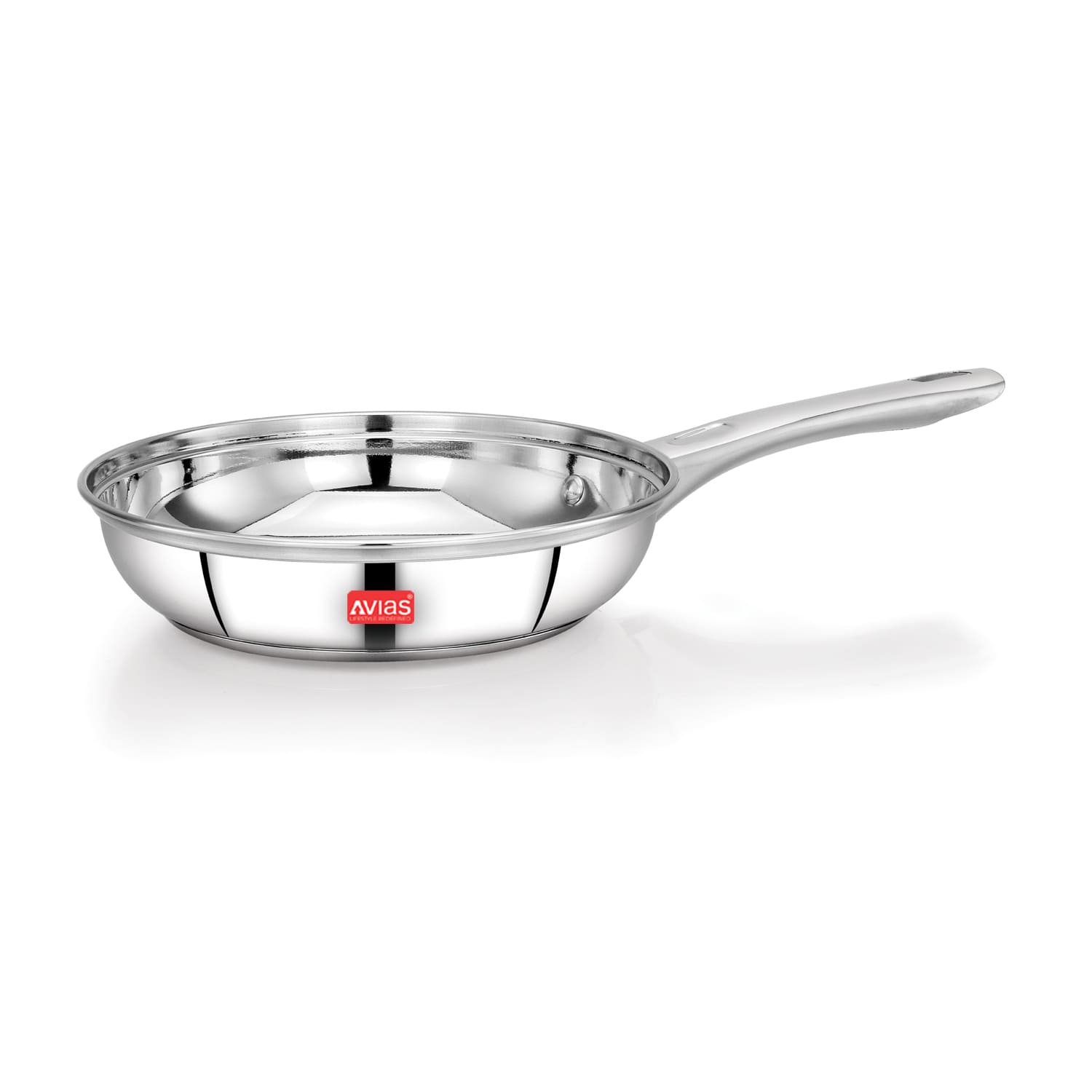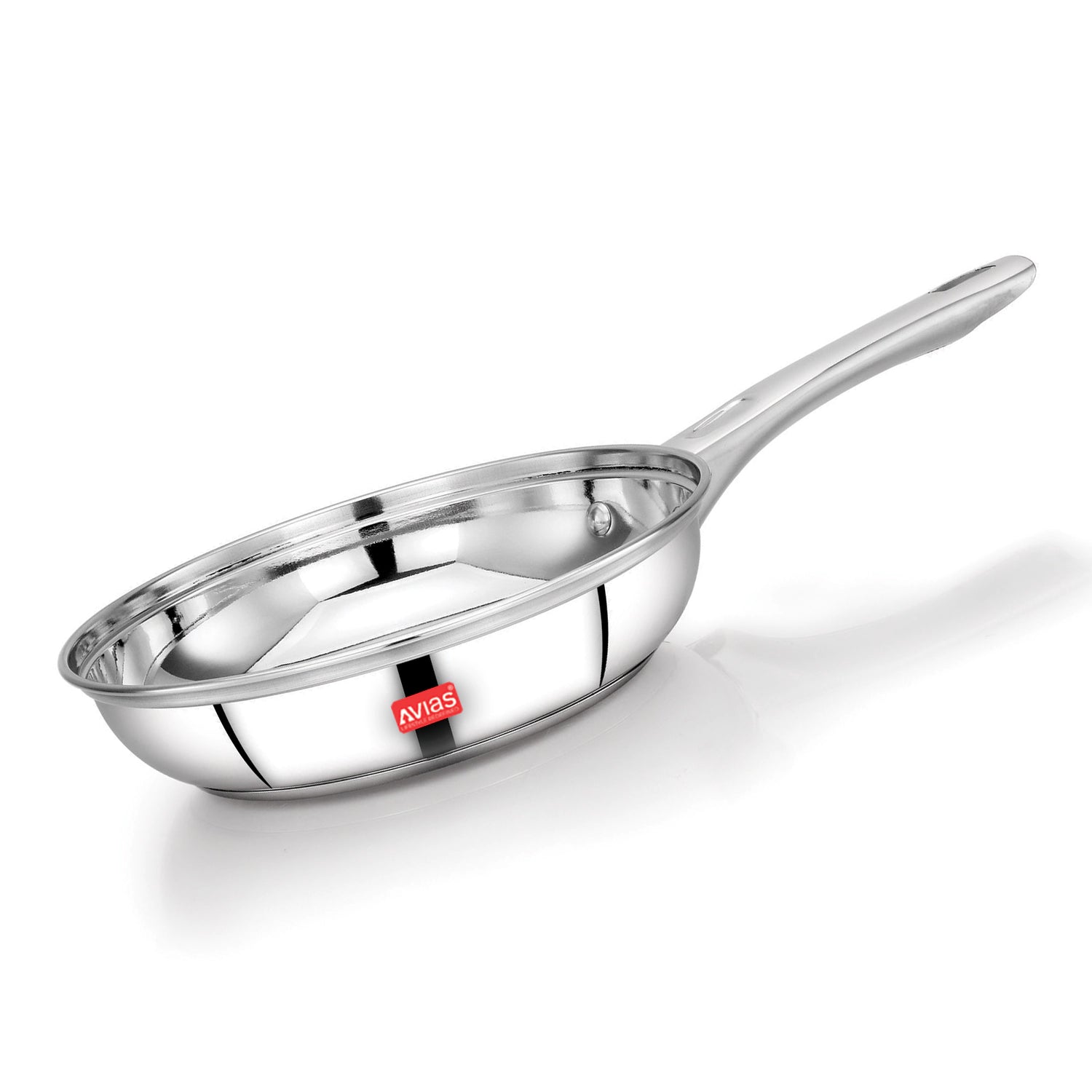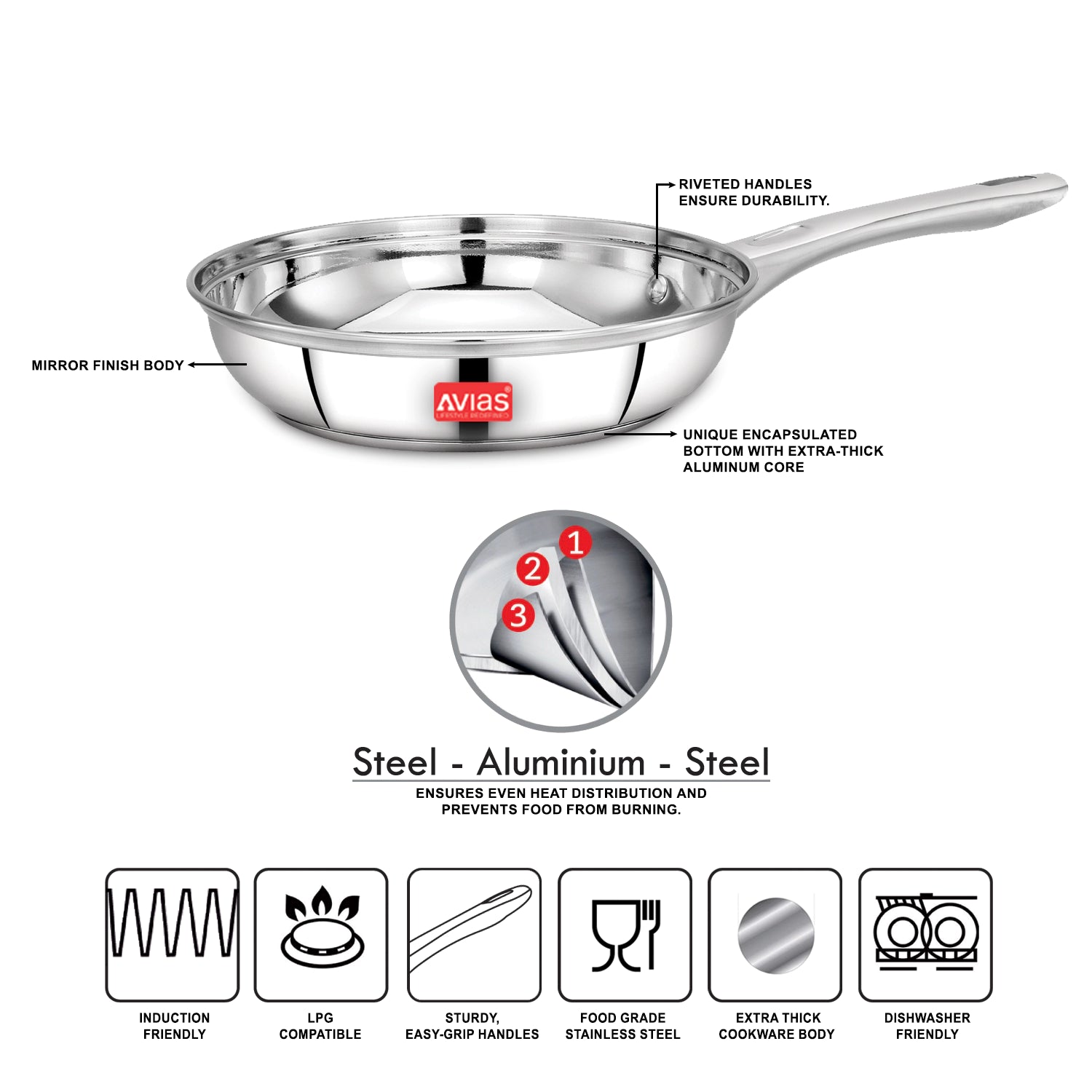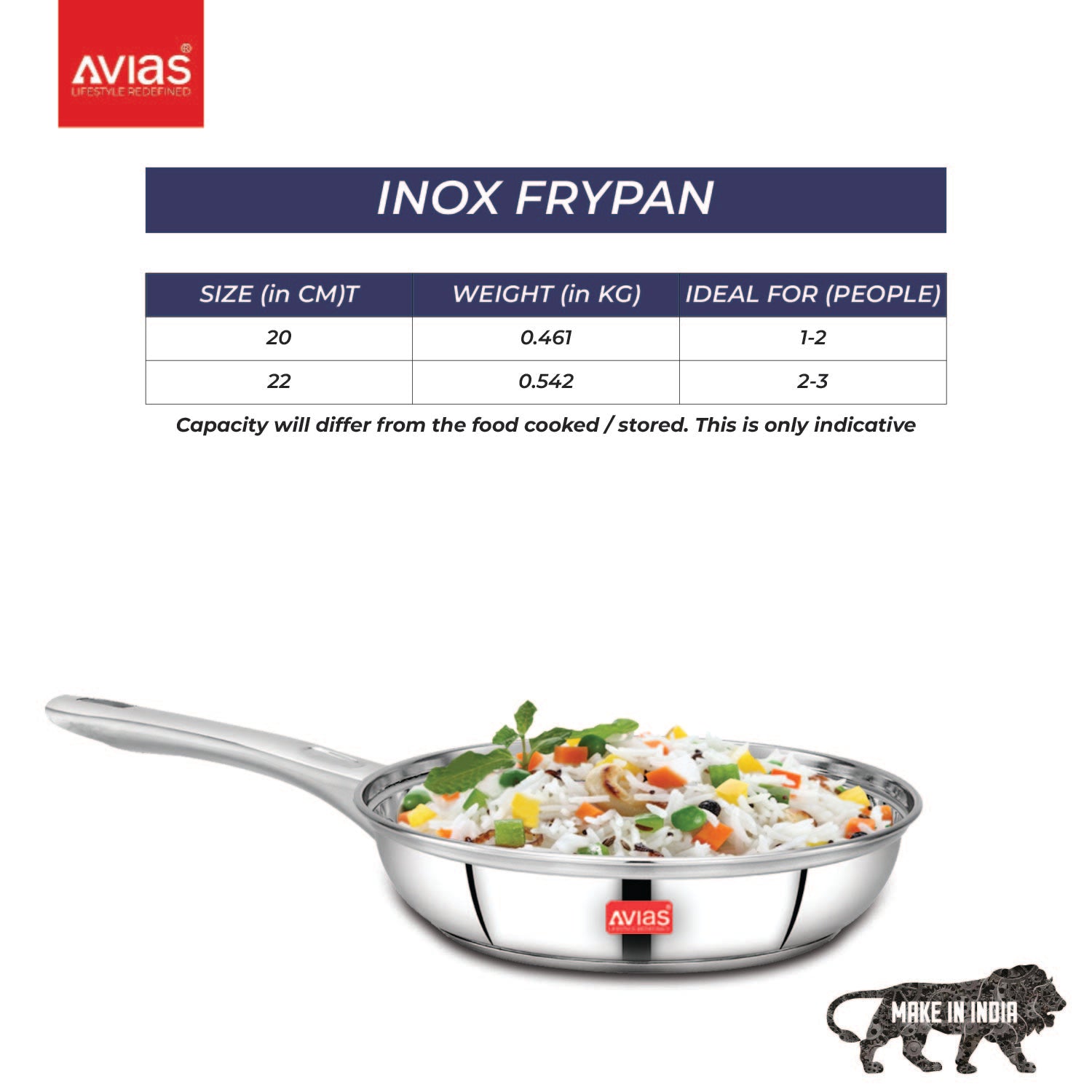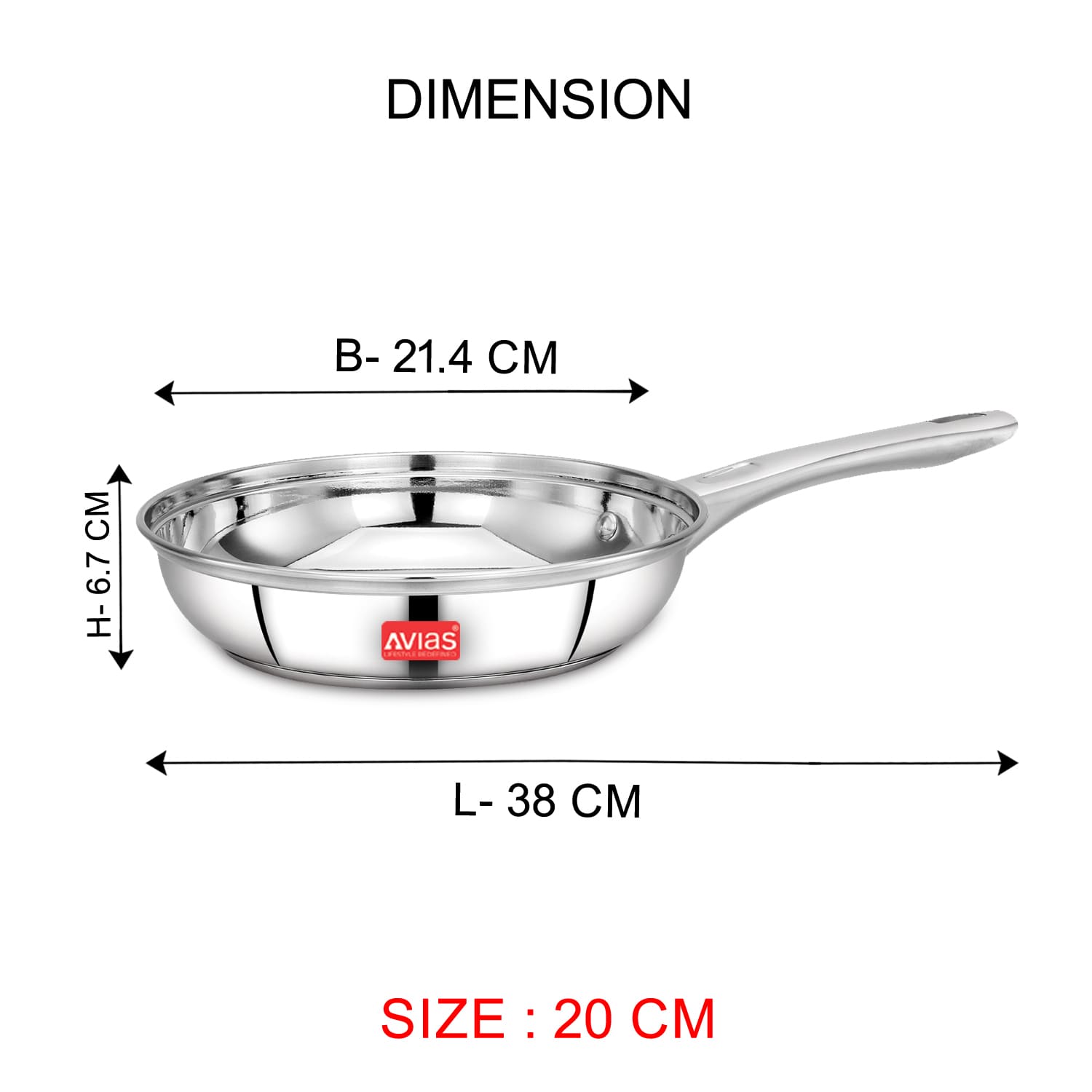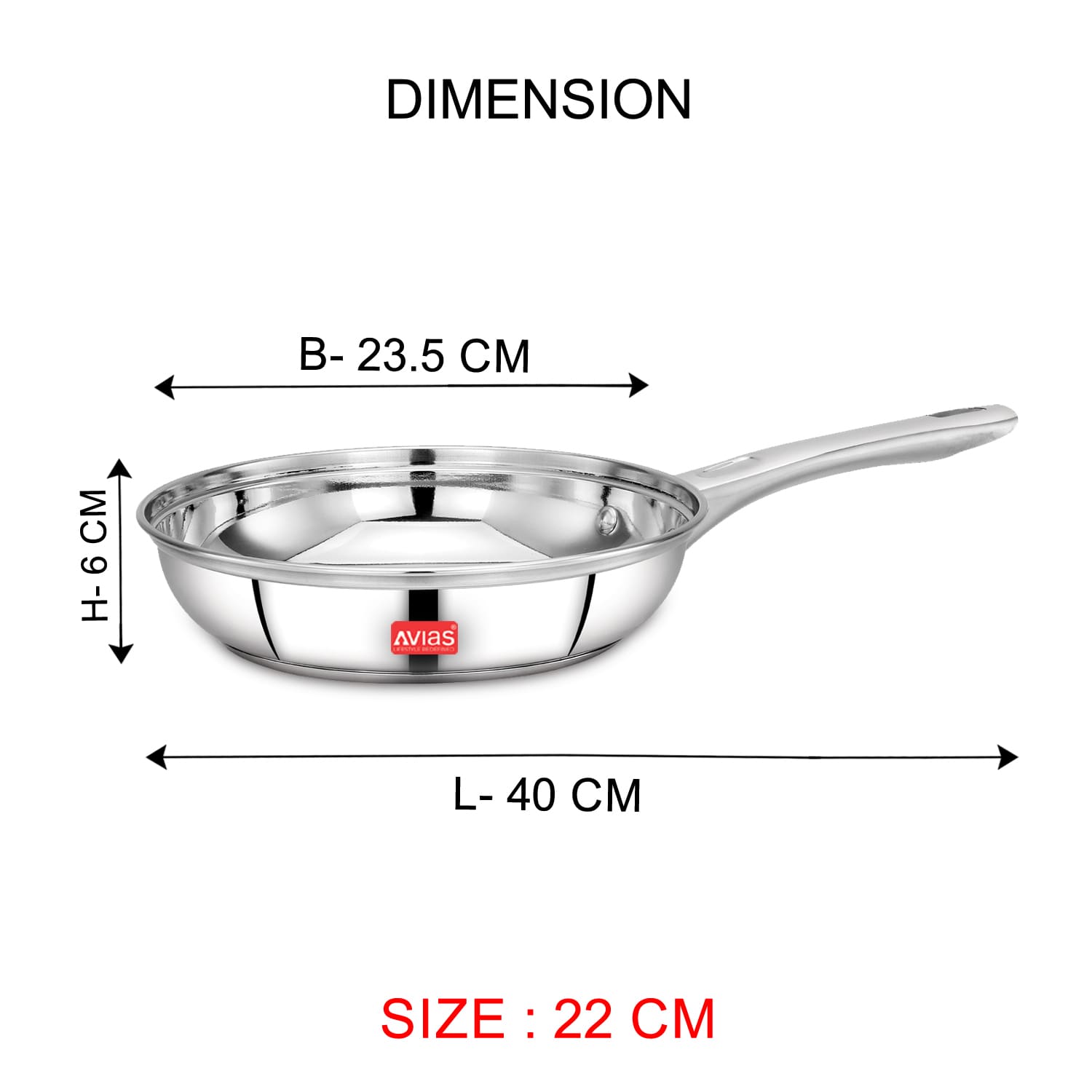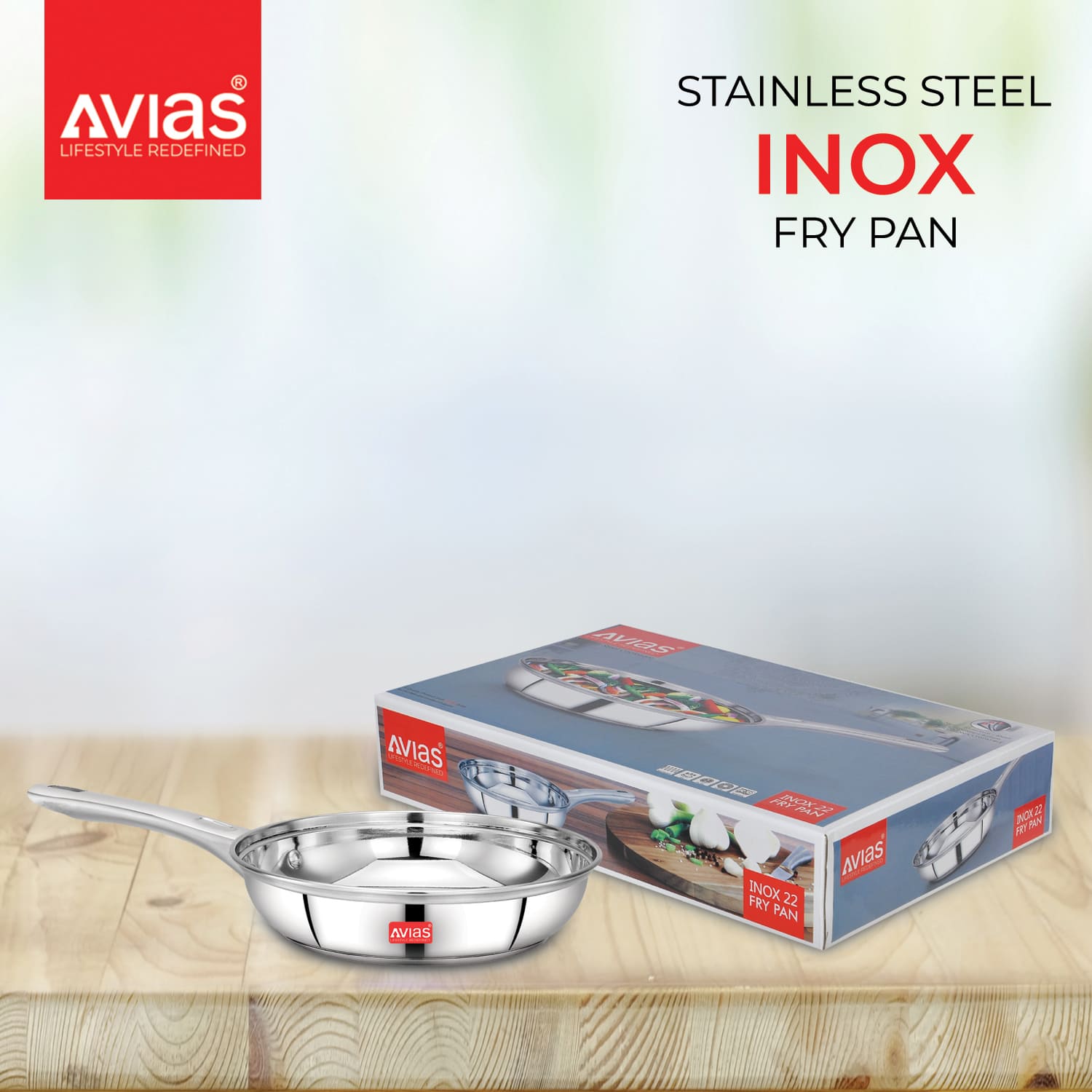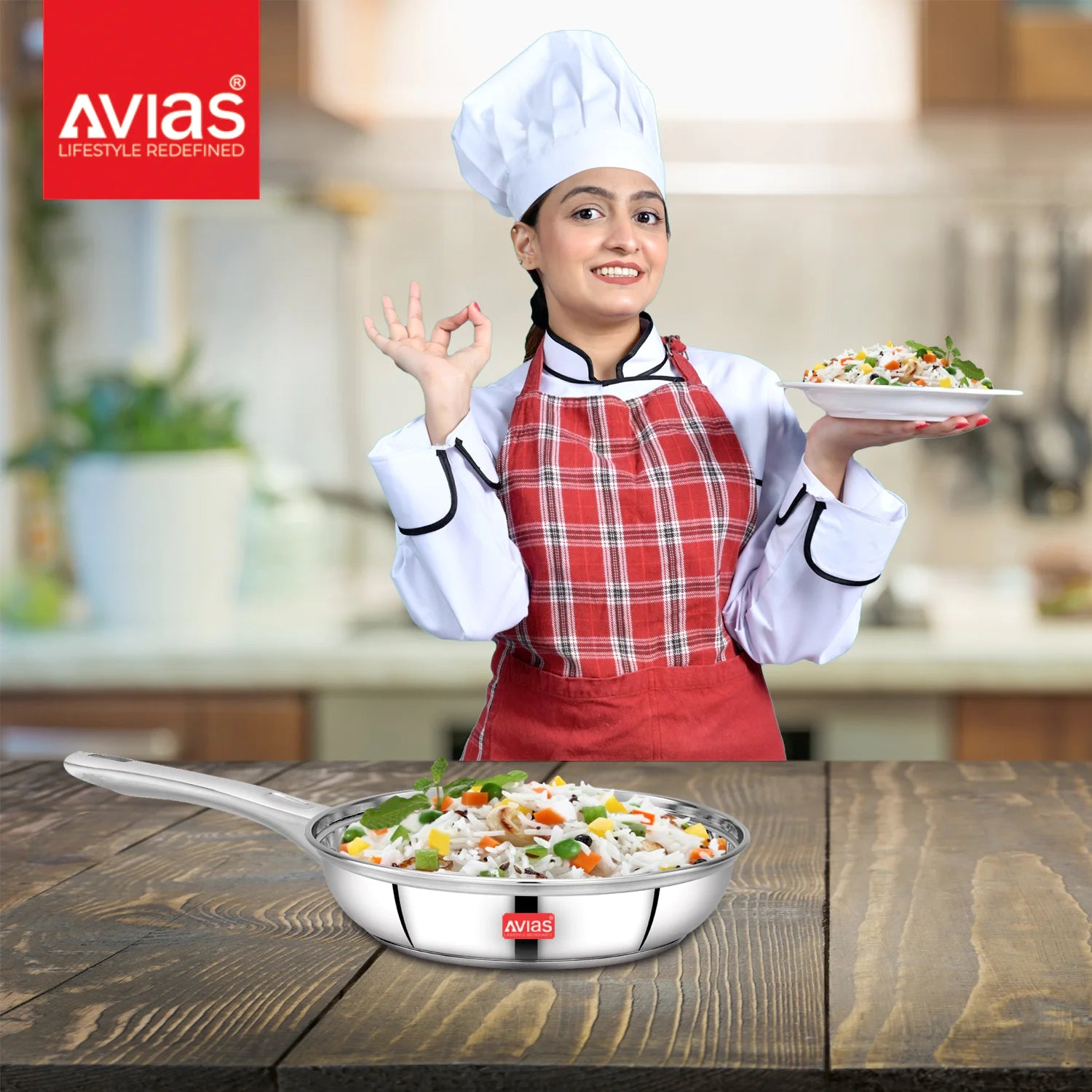 AVIAS Inox IB stainless steel Frypan | Induction friendly | Sandwich bottom | Robust | Silver Satin finish | 20cm/ 22cm
Price:

Rs. 517.50
MRP:

Rs. 730.00
save 25%
Incl. of all taxes
Premium cookware made with food-grade stainless steel
The thick sandwich bottom design provides even heat distribution
Sandwich base (SAS)
Satin interior and glossy exterior finishes
Strong and quite durable
Simple to clean
Riveted handles
Induction base stainless steel cookware that allows both gas stoves and other heat sources
Inox IB Fry pan stainless steel by Avias is a premium cookware made with food-grade stainless steel, making it incredibly rust-resistant and durable. It has a riveted handle for simple handling.
It has an exquisite appearance for both cooking and serving meals thanks to the shiny finish. This stainless steel cookware is an induction base stainless steel cookware that also allows gas stoves and other heated sources and is very simple to clean. Also good for Kitchen Gifts, Marriage gifts, Birthday gifts, Anniversary gifts, Festival gifts like Diwali gifts, Christmas gifts, Pongal gifts, etc.
Material: Heavy gauge stainless steel
Weight: 700gm/ 800gm
Dimensions: 20cm/ 22cm (diameter)
Package content: 1 piece of Inox IB frypan with handle and warranty card.
Country of origin - India
Manufacturer/ packer - Avias India- 3rd floor, Twins Chambers, 824, Poonamallee High Rd, above Canara Bank, Kilpauk, Chennai, Tamil Nadu 600010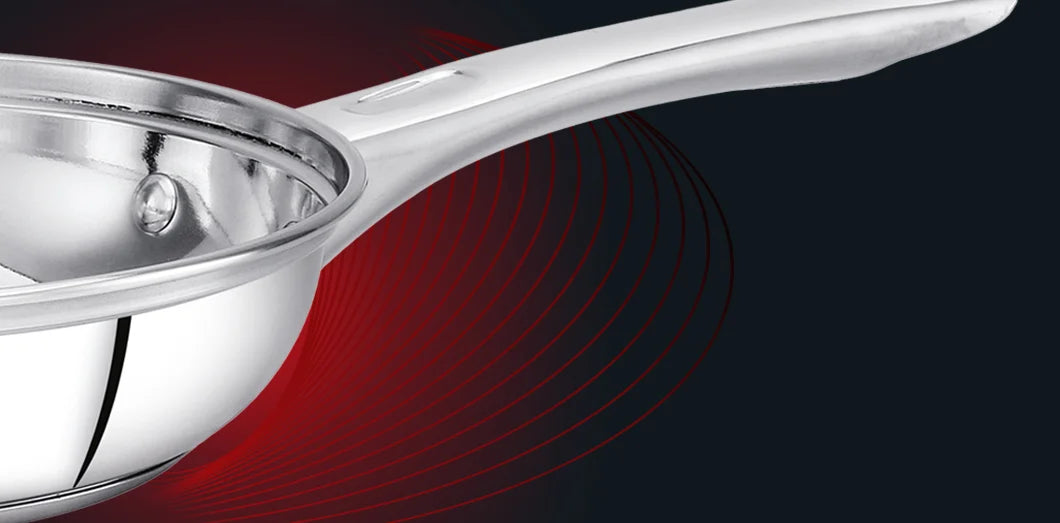 The thick sandwich bottom construction offers even distribution of heat
Made of premium quality food grade stainless steel with robust and highly durable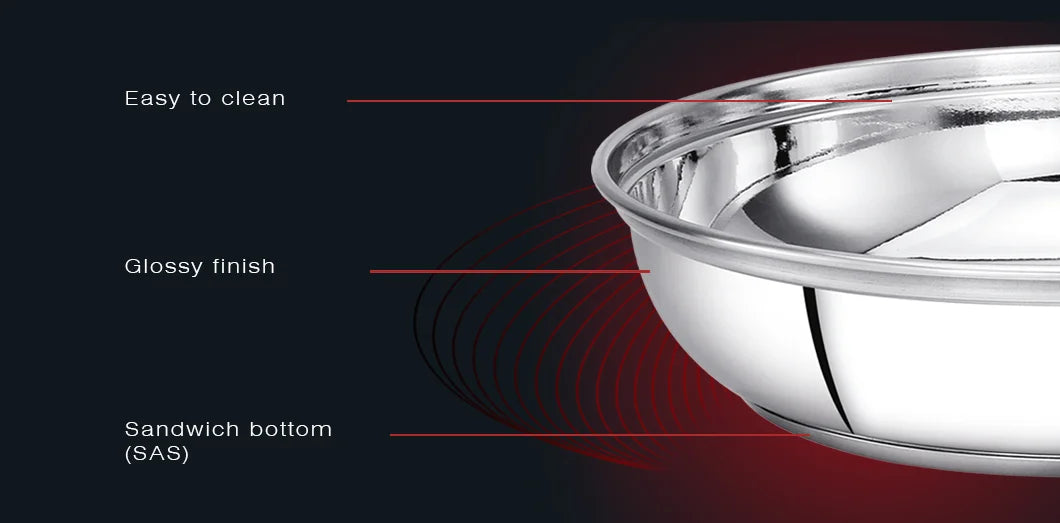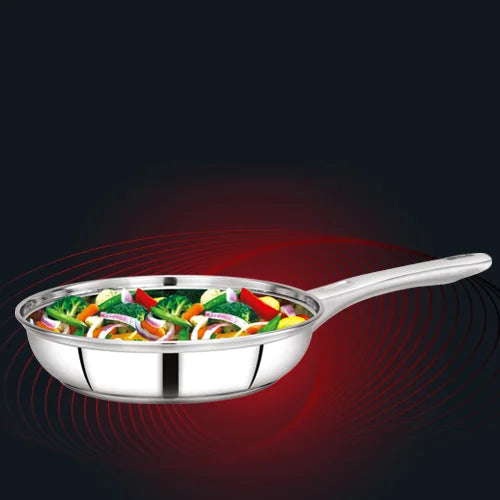 About This Product
Avias brings to you Inox IB Frypan which is made of supreme quality food grade stainless steel making it highly durable and rust resistant.
It comes with a riveted handle for easy management.
The glossy finish gives it an elegant look for cooking as well as serving food It is easy to clean and can be used on various stovetops.
It can be used for cooking vegetables, stir-fry and so much more!
FAQs
Is a stainless steel frypan safe to use?
Yes, Avias stainless steel frypans are safe to use for all types of cooking.
How do I season a stainless steel frypan?
A stainless steel frypan is a cooking pan made from stainless steel, which is a durable, non-reactive, and rust-resistant material. Unlike non-stick pans, stainless steel frypans do not have a coating, making them ideal for high-heat cooking and achieving excellent browning on food.
How do I clean a stainless steel frypan?
Stainless steel frypans do not require seasoning like cast iron pans. To prepare the pan for first-time use, wash it with warm, soapy water, rinse thoroughly, and dry it completely before cooking.
How do I clean a stainless steel frypan?
Allow the frypan to cool slightly before cleaning. Wash it with warm, soapy water using a soft sponge or cloth to avoid scratching the surface. For stubborn stains, soak the pan or use a mixture of baking soda and water to gently scrub the affected area.
Are there different sizes of Inox stainless steel frypans available?
Yes, Avias Inox IB stainless steel frypans comes in 2 sizes (20cm & 22cm)