AVIAS Riara premium stainless steel Triply Fry pan/ skillet | Cool touch handles | 2.5 mm Thick body | Induction friendly |1.25L/1.5L/1.75L
Price:

Rs. 1,736.25
MRP:

Rs. 3,065.00
save 25%
Incl. of all taxes
Cook with style and efficiency at the same time!
360° Heating
Easy Clean
Lasts Longer
Less Oil
Less Sticky
No Burnt
Save Fuel
Spill Proof
1. Triply cookware body made with three layers:
       The inner layer: 304 stainless steel
       Aluminum in the middle layer
       The layer outside is 430 stainless steel
2. Cool touch handles made of casted steel
3. Compatible with all cooktops
4. Triply cookware provides 2X faster cooking
5. Even heat distribution
6. 5-year warranty

Avias Riara Triply stainless steel frying pan has three layers: an inner layer made of 18/10 (SS304) food-grade steel, a middle layer made of heat-conducting aluminum, and an outer layer made of magnetic steel (SS430).
This Triply cookware comprises the inner layer which is safe for cooking, the middle layer promotes even heat distribution, and the outer layer enables the use of the cookware with a variety of heat sources.
It is an induction base stainless steel cookware that also allows cooking on the gas stove, halogen, and electric making them a versatile addition to any kitchen. They are ideal for cooking a variety of food items such as gravies, pancakes, pasta, and sauteed vegetables. It's the perfect gift to elevate their cooking experience.
Thickness: 2.5 mm
Capacity: Available in 1.25 liters/1.5 liters/1.75 liters
Dimensions: Available in 22cm/24cm/26cm (diameter)
Package content: 1 piece frypan, instruction manual, warranty card
Country of origin - India
Manufacturer/ packer: Avias India - 3rd floor, Twins Chambers, 824, Poonamallee High Rd, above Canara Bank, Kilpauk, Chennai, Tamil Nadu 600010
Avias: The Only Triply Engineered For Flavor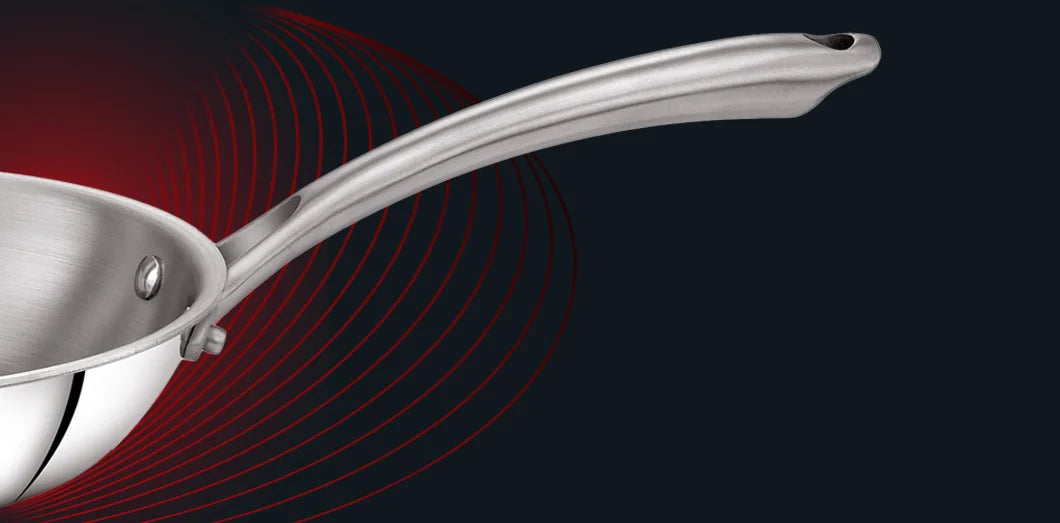 Stay cool and easy handling
Why Triply Frypan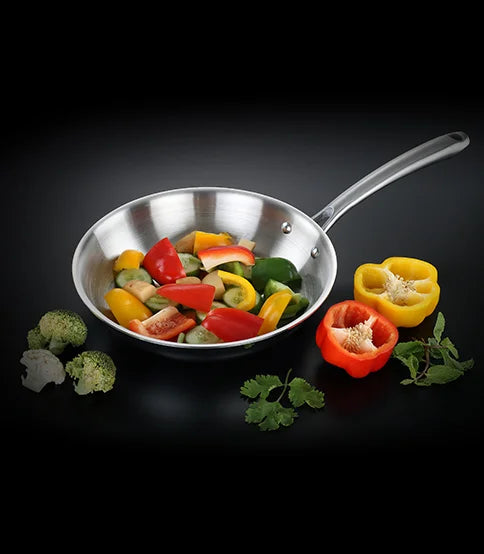 About This Product
Made with 3 layers of metals cladded together.
304 Stainless steel + Aluminum + 430 Stainless Steel.
Stainless Steel Hollow Cast handle to ensure handles stay cool and for easy handling.
Helps to cook food 2 times faster, than normal stainless steel cookware.
Highly Versatile - Can be used for frying, steaming, sautéing, boiling, stewing.
Works on all cooking ranges - Gas Stove, Induction, Coil Stoves, Ovens.
Features
TRIPLY
REGULAR
STAINLESS
STEEL
Food Grade Stainless Steel
Fully Clad Material (Entirely from Stainless Steel)
Preserves Food Nutrients
Doesn't Go Out of Shape
Even heat distribution
Easy Cleaning
Rust-free Cookware
FAQs
Is triply better than normal stainless steel cookware?
Yes, triply cookware is better than normal stainless steel cookware because Triply cookware's body is made with three layers: The inner layer: is 304 stainless steel, aluminum in the middle layer, and the outside layer is 430 stainless steel whereas the regular stainless steel cookware is made of only 1 layer of metal, i.e., stainless steel.
Is triply stainless steel good for health?
Yes, the triply stainless steel cookware is good for your health because of the non-toxic metal.
Is the triply only at the bottom base?
Avias Riara triply cookware products are made of triple-layer construction of stainless steel, aluminium, and stainless steel.
What are the advantages of triply?
Stainless steel triply cookware offers excellent heat distribution, precise temperature control, durability, and compatibility with induction cooktops. It is energy-efficient, non-reactive, and easy to maintain, making it a popular and versatile choice for cooks.
Is handle will be cool during cooking?
Yes, the handles of all the triply cookware will be cool while cooking.