AVIAS Stainless Steel Milk Boiler/Milk pot/ Milk Cooker with lid | Double walled with whistle indicator | 1L/ 1.5L/ 2L
Price:

Rs. 667.50
MRP:

Rs. 1,090.00
save 25%
Incl. of all taxes
Milk cooker made with food-grade stainless steel
more durable gauge with thicker material
Rust-resistant and hygienic plates
Induction base stainless steel cookware
Bakelite handles for better insulation and grip
Whistle indicator to let you know when its done
A double-walled stainless steel cookware container with a food-grade finish makes up the Avias Milk Boiler. In order to avoid the milk in the bottom from burning or thickening, it must be filled with water before boiling.
It is a premium stainless steel cookware made of extremely hygienic stainless steel, which is both safe and effective in retaining flavor and important nutrients.
This milk cooker contains a whistle that triggers when the milk reaches its highest temperature, preventing spills. It has a curved edge for easy pouring and is induction compatible. It can be cleaned in a dishwasher, and the boiler is made to prevent milk from overflowing. Also good for Kitchen Gifts, Marriage gifts, Birthday gifts, Anniversary gifts, Festival gifts like Diwali gifts, Christmas gifts, Pongal gifts, etc.
Material: stainless steel
Weight: 800 gms / 950 gms / 1075 gms
Dimensions: 21X21X10 cm / 22X22X12 cm/ 24X24X14 cm
Package content: 1 Milk Pot with lid, 2 Bakelite Handle, 1 Nob, 1 Whistle and warranty card.
Country of origin - India
Manufacturer/ packer - Avias India- 3rd floor, Twins Chambers, 824, Poonamallee High Rd, above Canara Bank, Kilpauk, Chennai, Tamil Nadu 600010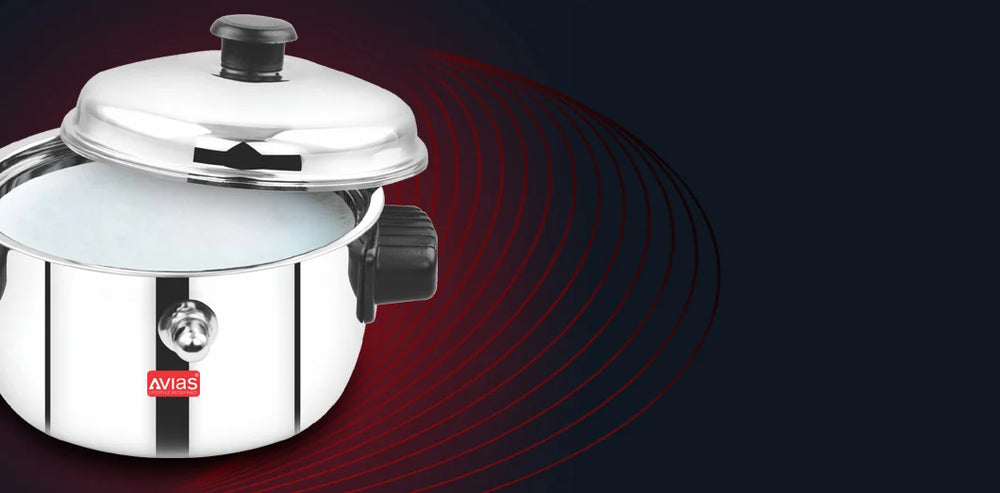 It comes with a curved edge for convenient pouring and is induction-friendly
Double-walled, anti-rust, stainless steel interior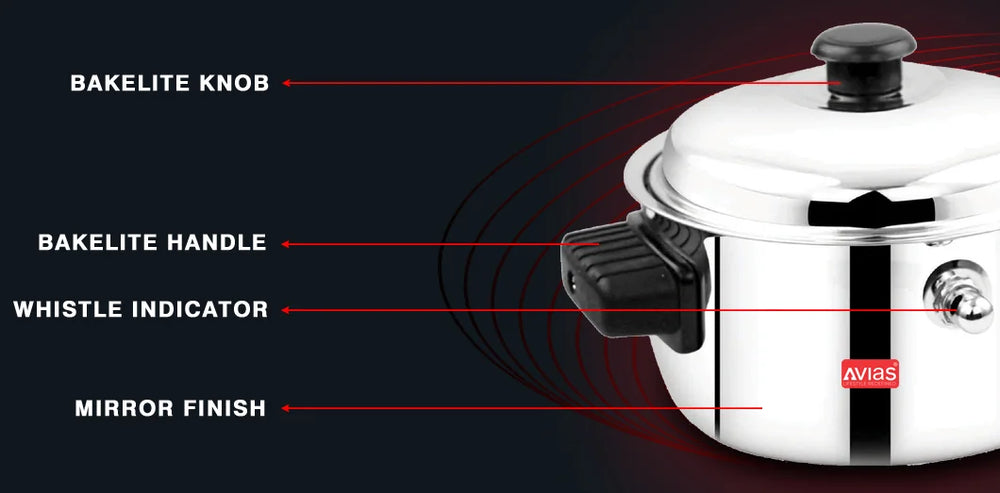 Why Milk Boiler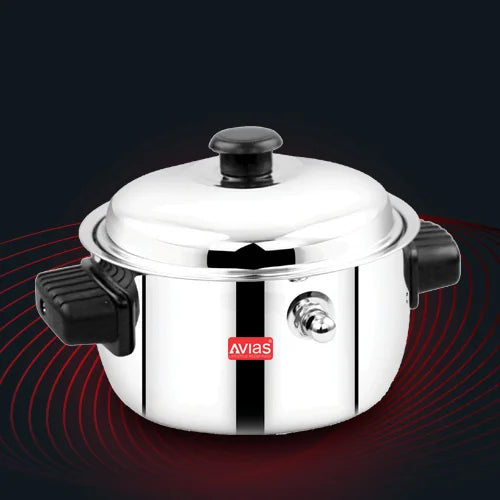 About This Product
Food grade 18/8 stainless steel which is hygienic & easy to clean.
Fusible safety valve for added safety & Gasket release system for maximum safety.
Ideal, heat resistant handle designed to fit the curve of your palm.
Package Content: 1-Pressure cooker, Whistle, instruction manual and warranty card.
FAQs
How do I use a stainless steel milk boiler?
To use Avias stainless steel milk boiler, simply pour the desired quantity of milk into the pot and heat it on a stove over medium heat. Stir occasionally to prevent scorching, and remove from heat once the milk reaches the desired temperature.
Can I use a stainless steel milk boiler for other purposes?
While the primary purpose of a milk boiler is to heat milk, you can use it to warm other liquids or prepare certain beverages.
How do I clean and maintain a stainless steel milk boiler?
Cleaning Avias stainless steel milk boiler is straightforward. After each use, wash it with warm soapy water, rinse thoroughly, and dry it with a soft cloth. Avoid using abrasive cleaners or metal scrubbers that may damage the surface.
Are there different sizes of stainless steel milk boilers available?
Yes, Avias stainless steel milk boilers come in various sizes, ranging from small capacities suitable for personal use to larger ones for commercial purposes.
How long does it take to boil milk in a stainless steel milk boiler?
The time it takes to boil milk depends on the quantity and heat level. On average, it may take 5 to 10 minutes to bring a small quantity of milk to a gentle boil.